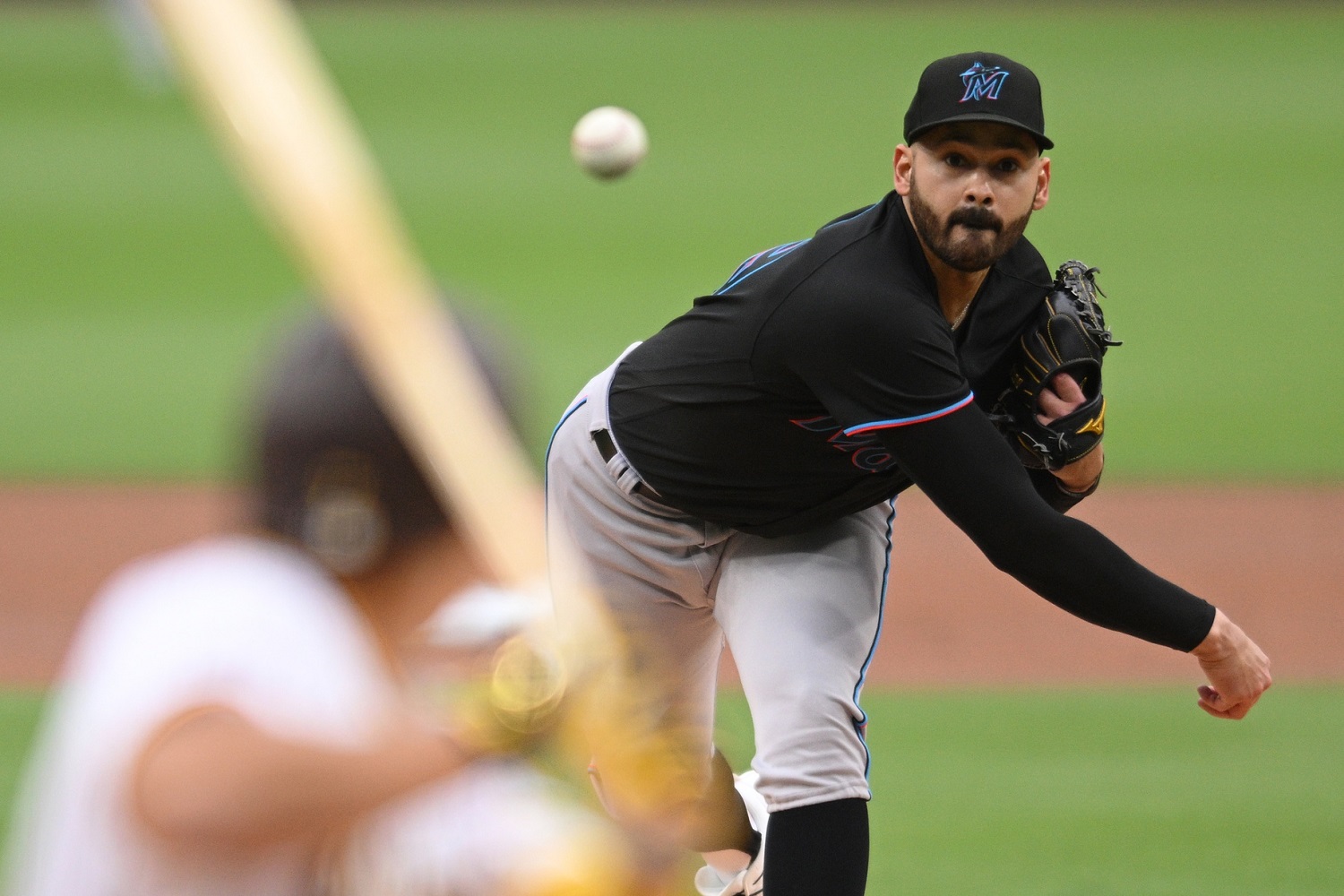 Image courtesy of © Orlando Ramirez-USA TODAY Sports
Pablo López , who will turn 27 in March, has five pitches, and he's tinkered with his arsenal several times in the past few years, as he and the Marlins have tried to accomplish the ascension from mid-rotation starter with upside to ace. The Twins will try to further refine that mix. It all starts, though, with the two pitches that require little in the way of further polish: his fastball and his changeup.
When it comes to heaters, the Twins have a type, in more ways than one. Firstly, they like four-seamers, not sinkers. Only the Dodgers threw more four-seamers than did the Twins in 2022, and only the Dodgers threw fewer sinkers. 
Fastball Usage, MLB Teams, 2022
Highest Four-Seam %

Lowest Sinker %

Team

%

Team

%

Dodgers

43.9

Dodgers

6.1

Twins

42.3

Twins

6.9

Reds

41.7

Guardians

8.3

Astros

41.1

Reds

9.5

White Sox

40.1

Mariners

10.0
Source: Pitch Info, via FanGraphs
López has both pitches, and the Twins aren't dogmatic about this, so it's possible they'll allow him to keep using each. (Sonny Gray , who came over from a team with similar fastball tendencies in the Reds, threw his sinker more than a quarter of the time last year–though he did throw the four-seamer more, for the first time since 2019.) On balance, though, they're much more likely to have him eliminate the sinker, because (like Gray) he has a four-seamer with the other characteristic they love: a very flat Vertical Approach Angle (VAA).
In the world of pitching nerds, VAA is all the rage. We'll take a deep dive into why, and also discuss why Lopez's best pitch - his notorious changeup - is such an unusual weapon. Plus, we'll touch on the pitch selection adjustments he is likely to make. But that kind of 1800-word deep-dive analytics-driven story can't be financially supported by ad revenue in this world, so we reserve it for our Caretakers, who support that kind of content. Eventually, we hope we'll have enough Caretakers to provide it on a regular basis for everyone, but in the meantime, you can see it by becoming a Caretaker. 
You'll love it. You'll get more meaty stories like this, plus get perks like Winter Meltdown tickets, and other special recognition. And you can join for as little as $4/moth. You can read all about it and signup here. 
Those benefits are all nice, but the real reason to sign up is this: 100% of all Caretaker money is channeled directly back into the site. By signing up to be a caretaker, you're supporting writers you value, and enabling deeper dive Twins-specific content like this that isn't dependent on ad revenue. We hope you'll consider it. We expect you'll love the benefits, and we would love to have you take the next step in supporting the Twins Daily community.