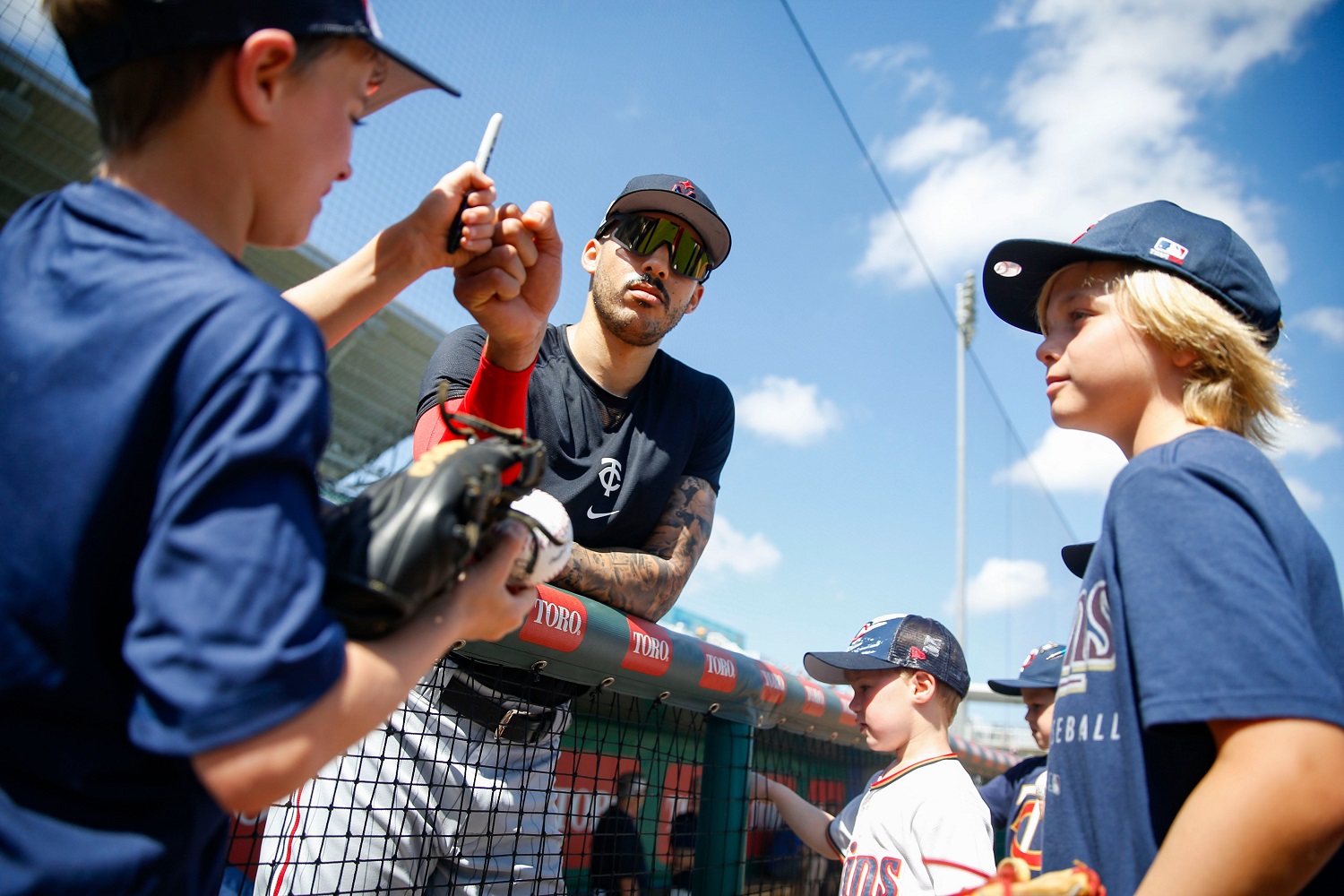 Image courtesy of Jonah Hinebaugh/Naples Daily News / USA TODAY NETWORK
Last year, Carlos Correa found himself in Twins camp following a lengthy lockout and an odd free agency process. He was thrust into action while only getting a handful of game at-bats. Despite the challenges, he parlayed it into a successful first year in Minnesota.
Across 136 games, held back only by an unfortunate hit by pitch and a bout with Covid, Correa posted an .834 OPS, which translated to a 140 OPS+. He blasted 22 homers in his first year calling Target Field home, and while the defensive metrics were slightly down on him, he played a solid shortstop.
However, if you watched the Twins consistently last year, you know there were stretches where it seemed Correa got lost. What if a complete spring training and traditional lead-up to the season unlocks a new level?
The reality is that Correa could be embarking on a path that leads him to the Hall of Fame. His career trajectory is already impressive, and continued production for the Twins will have him in the conversation when he hangs up his cleats. Still in the prime of his career at just 28 years old, this should be another high-producing season for the superstar shortstop.
Correa's 140 OPS+ last year trailed only his 155 OPS+ during 2017 when he was named to his first All-Star team. Last season was odd in that offense was down due to MLB again tampering with the baseball. We don't yet know how this season's ball will play, and we don't know to what extent it will be manipulated on a per-game basis. What we can look into is Correa's production as a whole.
Through his first 24 games last season, Correa owned just a .693 OPS. It's unsurprising that a player would start slow, even less so when playing in a cold-temperature state like Minnesota. His next 47 games culminated in an impressive .876 OPS and saw the former Houston Astros post nearly a .400 on-base percentage. 
Correa hit the skids from the end of July into early September, though. While teammates were dropping like flies, he remained in the lineup but had little protection. He hit just three homers in his next 36 games and owned an ugly .695 OPS with just seven total extra-base hits.
During the final month, over a span of 29 games, Correa did everything he could to produce for the Twins. Correa posted an impressive 1.032 OPS while batting a whopping .370. He had 15 extra-base hits, of which seven left the yard, and he was arguably the best hitter in baseball during that time.
Baseball is a sport of streaks, and while you will have cold streaks, Correa keeping his trends pointing up could go a long way in 2023. ZiPS and Steamer projections have him slated for slightly diminished OPS marks with two additional home runs. However, ZiPS sees the fWAR tally coming in at 5.9 after being 4.4 last season, which certainly accounts for enhanced defensive production.
For a guy who has twice topped a .900 OPS in his career, it's not unthinkable to believe he could do so again this season. The projection systems seem a bit light regarding how offense may change this year, and Correa has more comfort going for him in 2023. He likes hitting in Target Field, and knowing it's his home for the long haul could bring on an excellent show this summer.
How high do you expect Correa's stock to rise this season, and where is a reasonable expectation for his offensive production to check in at?