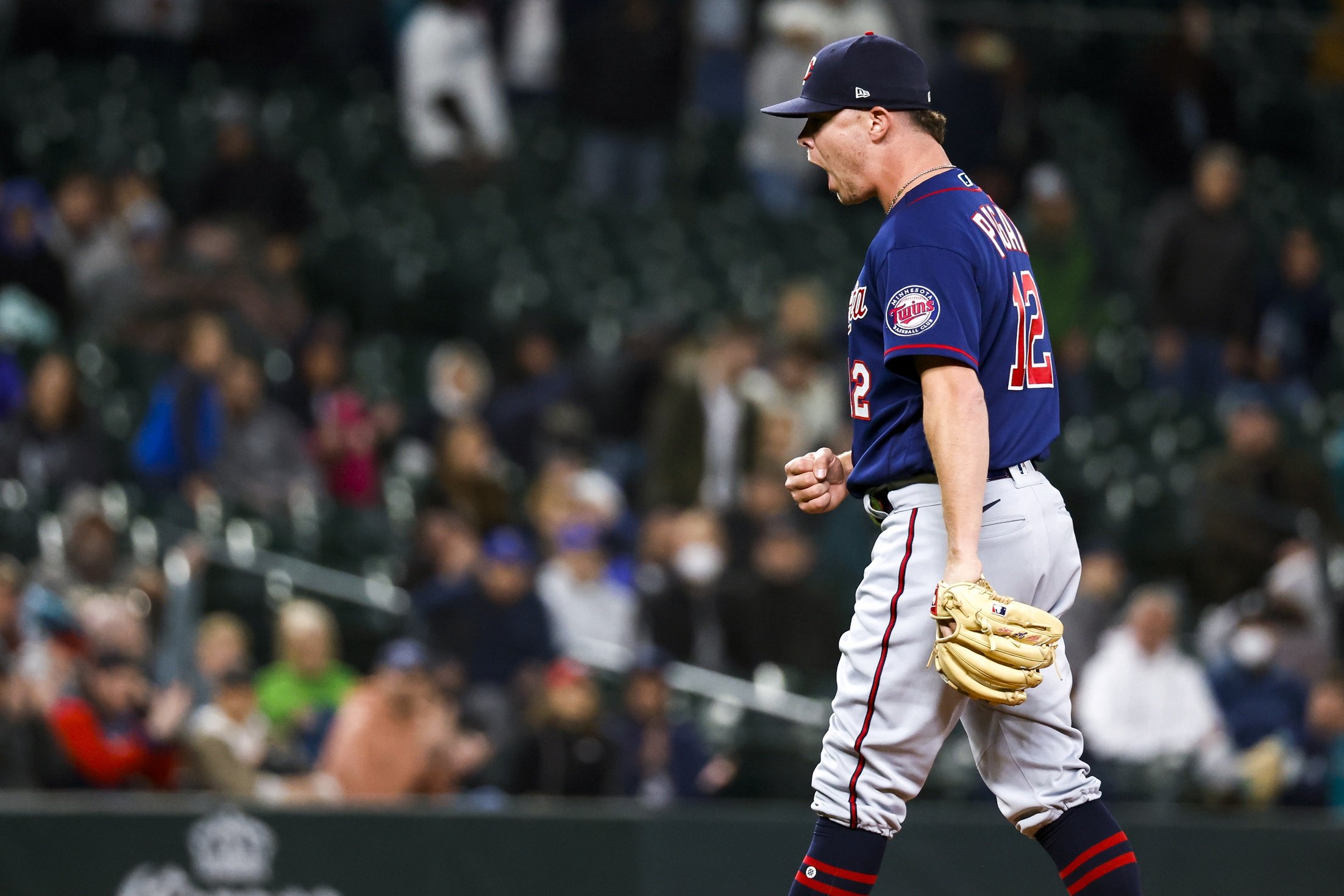 Image courtesy of Joe Nicholson-USA TODAY Sports
Before getting started, it's important to point that Emilio Pagán's 2022 struggles are exaggerated by the popular narrative. They just are.
He did not single-handedly tank the season. He was not without redeeming qualities. In fact, at no point during the season was he even the worst reliever in the bullpen.
But ... they're not THAT exaggerated. There's a large gap between "not the worst" and "good" in a bullpen constantly churning minor-league arms. Pagán's utmost low points came clustered in such a way – within a two-week span, against a top division foe, in repeatedly back-breaking fashion – as to maximize their impact and the associated mental anguish.
Our friend the Twins Geek summarized the lament that a lot of fans are probably feeling now:  
The bottom line here: Pagán has stacked three straight bad seasons, betraying his "quality stuff," and has now reached a price point where you can pretty easily find similar-caliber pitchers with a lot less baggage. 
Alas, the decision has been made. Unless the Twins can find a trade partner willing to look past these shortcomings – and if they could, why not trade him ahead of the deadline, like Gio Urshela? – Pagán figures to be part of the 2023 bullpen plan.
So let's try to make sense of it.
I actually wrote about this possible scenario midway through last season, in a column titled Emilio Pagán Doesn't Need to Be the Next Alexander Colomé. The premise was this: Colomé had a similarly painful low point with the Twins in 2021, but that clouded the big picture. Once you detach yourself from the emotional connection to those blow-up moments – always magnified for late-inning relievers – it becomes easier to see that, for the most part, they're going to balance out in the long run.
It happened for Colomé, who posted a 3.51 ERA after April in 2021. And it happened for Pagán, who posted a 3.67 ERA in 34 innings after I wrote the above column on July 6th, right in the wake of his AL Central bloodbath.
Of course, there's a big difference between these two pitchers. Colomé, even at his best, relies on jamming hitters and inducing weak contact, whereas Pagán possesses legitimately dominant bat-missing stuff. He's a pitching analytics darling without question, rating extremely well in metrics like Stuff+ that evaluate pitches based on physical properties, with a focus on variance between velocity and movement.
This definitely played out in Pagán's outcomes: despite poor results overall, he was a strikeout machine with a 32.7% K-rate (90th percentile MLB) and 14% swinging strikes (84th%). Unfortunately, consistent execution was the problem, and his lapses seemed to come with the worst timing possible.
One could generously make the case that Pagán and the Twins started to figure things out down the stretch. His final meltdown appearance of the season came on August 21st against Texas (2 IP, 6 H, 3 ER), but after that he posted a 2.16 ERA in 16 ⅔ innings, holding opponents to a .170/.279/.288 with – most notably – only one home run allowed. 
That's really what it all comes down to: the long ball. Pagán's historically unmatched susceptibility to home runs is what makes it hard for even the most analytically-inclined fans (i.e. Twins Geek) to see much upside. It's just literally impossible to be successful in a relief role of any leverage when you're that prone to homers.
Pagán and the Twins finally showed signs of progressively reining that in during the second half. Notably, that coincides with a coaching staff shakeup that moved Pete Maki into the pitching coach role and also elevated Colby Suggs as bullpen coach. There are signs that real changes were implemented to spur the reliever's late success.
As Parker Hageman noted in mid-September, Pagán appeared to be working in a new breaking ball, possibly as a replacement for his cutter: 
The right-hander's cutter was once one of his most formidable weapons, which helps explain why he's had a hard time quitting it. But that pitch was without question one of his primary weaknesses in 2022, with opponents slugging .698 against it and punishing Pagán for repeatedly turning to it at key points. 
Merely removing the cutter from his repertoire would've made a massive difference in his 2022 results, and as the graph below shows, Pagán had almost completely phased the pitch out by September.

So if we're looking for some logic in holding onto Pagán, there you have it: his pure stuff is undeniably great, and the Twins' new pitching braintrust feels like they have the right plan to fully unlock his potential, which has been untouched for several years. In the grand scheme, it's a relatively small risk, especially if they add at least one more reliever in the offseason who slots ahead of him in a bullpen that already has at least five superior arms. 
The big takeaway that's been sticking with me since I wrote a piece earlier his month reflecting on the Ryan Pressly trade and its fallout is this: bet on stuff. Bet on relief pitchers who show the ability to truly dominate and blow away opposing hitters while staying in the zone. 
Pagán, for all his pitfalls and perilous moments, can do that. There's a part of me that feels like this is simply the responsible application of a lesson learned.