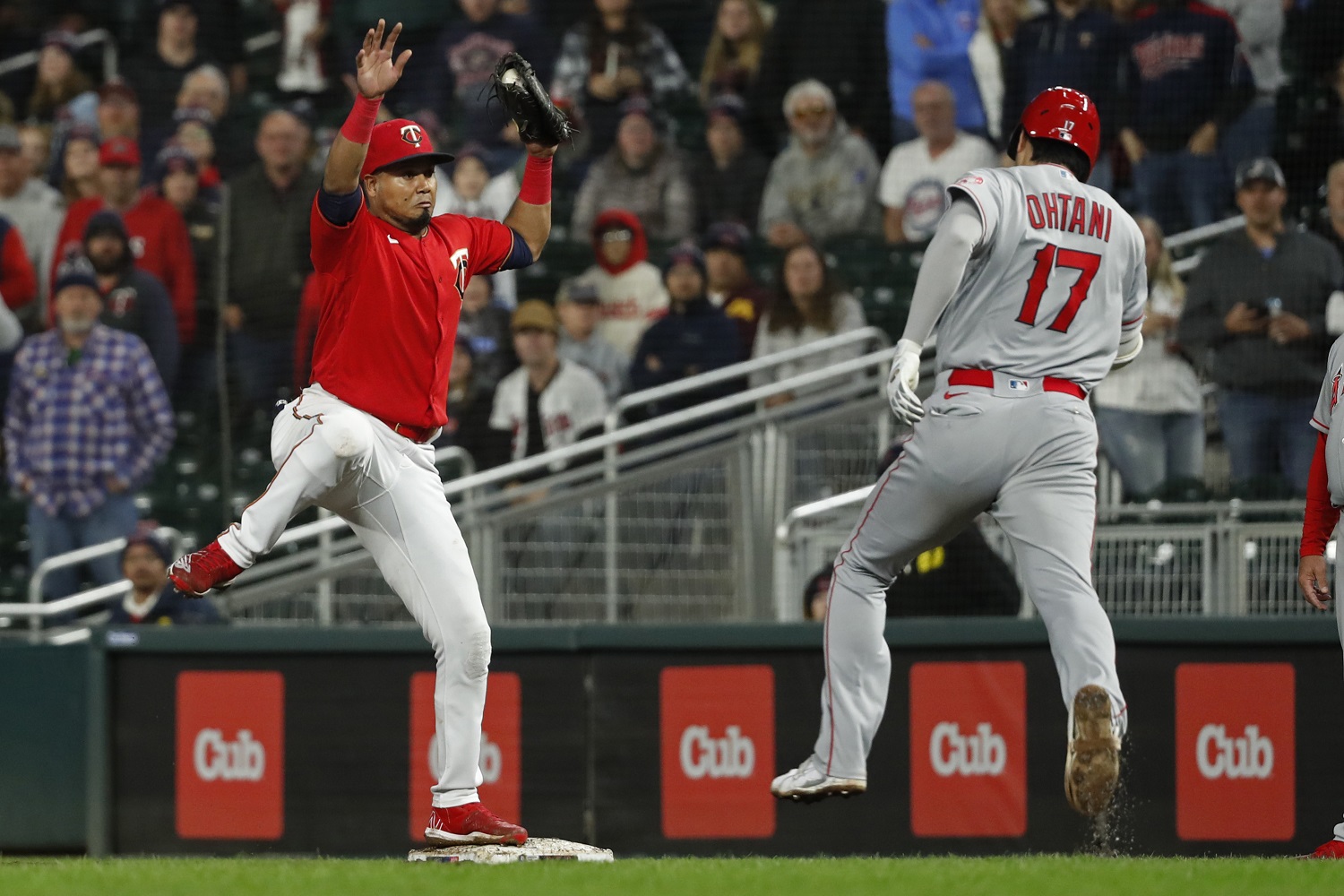 Image courtesy of Bruce Kluckhohn/USA Today
Last year, the Twins starting pitching ranked 20th in ERA, 18th in FIP, 23rd in K/9, and allowed the 11th most HR/9. If this team was going to improve from a .500ish team to a playoff team, starting pitching needed to be upgraded. Enter Pablo López.
In case you haven't seen, All-Star 1B/DH Luis Arraez was traded to the Miami Marlins for López, INF Jose Salas, and OF Byron Chourio. Arraez hit .316/.375/.420 last year with a 131 wRC+. López was 10-10 with a 3.75 ERA and a 3.71 FIP. Arraez put up a 3.2 fWAR season compared to López's 2.8. However, Arraez has an extra year of team control, which is why the Twins had such a high asking price for the 25 year old.
According to Baseball Prospectus, Salas is the 93rd-best prospect, and Chourio had a .838 OPS in the Dominican Summer League as a 17-year-old.
More than ever, pitching is at a premium in Major League Baseball. In the 2022-23 offseason, MLB teams usually receive more bang for their buck when signing position players instead of starting pitchers on the free agent market. As we have seen in the past few years, the current Twins front office prefers to trade for starting pitchers, and this premium on the free agent market could be the main reason.
Using Steamer's 2023 projection system, we can see how each player projects in the 2023 season. In the age of analytics, the primary statistic that gets players paid is Wins Above Replacement. On average, the top 31 free-agent starting pitchers this offseason signed for $7.21 million per WAR accumulated. On average, the top 31 free-agent position players signed for $6.44 million per win. This shows how much pitching is valued in today's game and how teams are willing to spend more money to get more pitching.
Like many professional sports executives, Derek Falvey was an economics major and knows that running a successful business or franchise is challenging. To get something, you must give something in return.
The first two economic principles you will learn in an ECON 101 class are scarcity and opportunity cost.
Scarcity means that the demand for a good (or, in our case, player) will always be greater than the availability of that good. In the current game of baseball, above-average pitching is more scarce than a first baseman with an OPS of around .800. Pitching is so valuable, and every team needs it. While Arraez is a great player and probably more valuable by WAR than López, he plays a position full of guys who can produce offensively, reducing his value. As we saw with the Twins last year, good pitching is scarce. López is not an ace by any means, but he would've led the Twins staff in pitching WAR (2.8) and innings pitched (180) in 2022. Above-average pitching isn't something the Twins have had much of in recent years, so López should significantly improve their pitching staff.
Opportunity cost is the second economic principle used in every business decision. Opportunity cost is the loss of potential gain from other alternatives when one alternative is chosen. Every dollar you spend on a player is a dollar you can't pay another player. Every dollar you give Correa is a dollar you can't spend on pitching, and vice versa. This Twins front office may see it advantageous to spend big money on position players, given the market premium for pitching.
The opportunity cost of trading Arraez is lower than one may think. You may get a slight decrease in production at first base from Jose Miranda and Alex Kirilloff, but both have shown that they are more than serviceable options. You are downgrading slightly in the infield and effectively upgrading from Bailey Ober to López while adding to the improved rotation depth.
Another reason the Twins could trade Arraez was their surplus of infielders. The Twins now have seven infielders on their 40-man roster. They are Correa, Jorge Polanco, Miranda, Kirilloff, Royce Lewis, Kyle Farmer, and Edouard Julien. Correa, Polanco, and Miranda are all but penciled into the opening-day lineup. Kirilloff has had some of the best batted-ball data in the league when his wrist has been healthy. Lewis looks to be a future difference-maker once he returns mid-season from his second torn ACL. Farmer is a utility infielder who is solid defensively everywhere and hits lefties well. Julien had a .931 OPS in AA last year and a 1.248 OPS in the Arizona Fall League across 96 plate appearances.
The only infielder among these seven who is worse defensively than Arraez is arguably Kirilloff, but he is first base only as a left-handed thrower. Arraez was only seen as a 1B/DH by the Twins' front office, significantly diminishing his value as a player.
Once Lewis is ready to go, and Brooks Lee gets to the majors, Miranda would move to first, creating an odd-man-out situation. Having so many infield options that could be plugged in and perform well is a good problem.
Economics always factor into these decisions that can make or break a franchise. Many decisions come down to opportunity cost and all the different routes front offices can take from offseason to offseason.
Nobody likes it when their favorite player is traded. It sucks. It can make it less enjoyable to watch a team, and Arraez is one of the most fun Twins players in the last ten years. But putting all personal bias aside, from a business standpoint, this move makes sense. You are giving up a player at a position where you have a surplus of options in exchange for a position with less talent.
Thank you for reading, and Go, Twins!