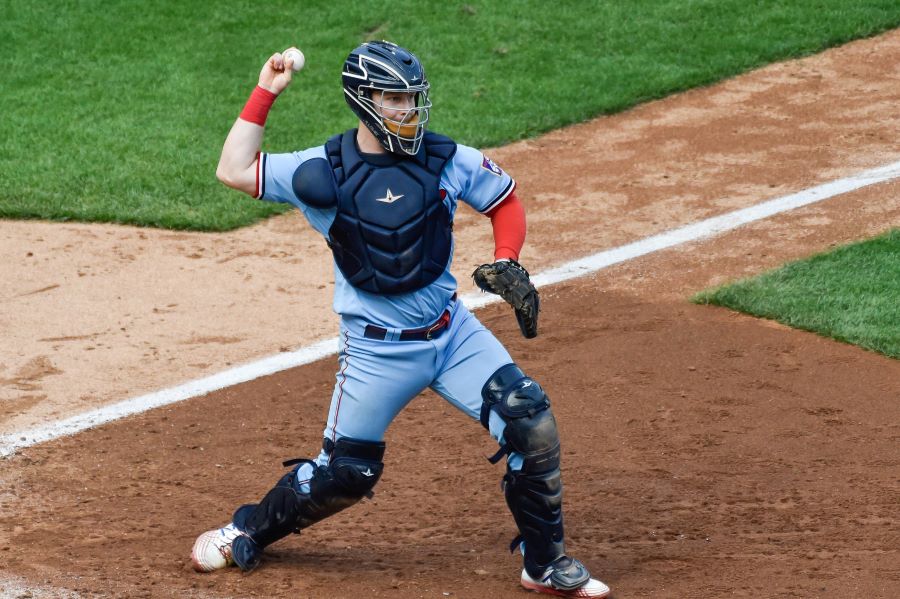 Image courtesy of © Jeffrey Becker - USA Today Sports
After a season for the ages in 2019, it's hard to paint Garver's 2020 as anything but a complete disaster. Granted it's a small sample and Garver's been banged up (including a recent stint on the IL), but after slashing a Piazza-like .273/.365/.630 (155 wRC+) last season, Garver's .148/.243/.197 (25 wRC+) likely has Drew Butera blushing. He's striking out at a 42.9% clip, and hasn't turned things around since coming off the IL (1-for-9 against the Cubs with 66.7% K-rate).
Garver's obviously not as bad as his disastrous shortened season would suggest, but he's running out of time to turn things around and rookie Ryan Jeffers has made a compelling case to get the majority of the starts come October. It makes sense to get Garver as many reps as possible to try to get right for the remainder of the regular season, but beyond that it's an open question.
Since receiving his call-up, Jeffers has been somewhat of a revelation on both sides of the ball. He's slashed a really good .283/.365/.478 (132 wRC+) in 23 games, and although he's swinging and missing a bit more than he did in the minor leagues (32.7 K% vs. 19.2% at AA in 2019), his bat basically hasn't skipped a beat (he hit.287/.374/.483 at AA).
For the time being, Jeffers definitely looks to be a better bet with the bat than either Garver or backup Alex Avila (who's only plus skill at this point in this career is his propensity for taking walks). If we turn to the other side of the ball, Jeffers also seems to be the preferred defensive option. He had the reputation of being an elite pitch framer in the minors and thus far that has shaken out in the big leagues as well. His Statcast numbers put him in the 87th percentile for framing (compared to the 34th percentile for Garver and 28th percentile for Avila), confirming what the eye-test already told us. Garver has worked hard to improve his framing and defense, but Jeffers brings a defensive skill-set that Garver will never approach.
Considering Garver's struggles and the limited amount of season left, it makes sense to lean heavily on Jeffers in the postseason. When Garver was out, Jeffers was able to handle a fairly heavy workload (especially relative to the rest-heavy Twins) and his pitch framing skills and potent bat make him the obvious choice for the present. As we've seen, the Twins could use all the help they can get scoring runs, and Jeffers has hit.
Although it's early, I do think it's fair to question the future of the catching position in Minnesota. The Twins are in a great position with two talented backstops who are under team control well into the future. With the emphasis the Twins (and growingly the rest of the MLB and sports world as a whole) place on rest and recovery, there's undoubtably a path forward for both, but it wouldn't be too surprising to see something like a 60/40 spit in Jeffers' favor.
Jeffers is just 23-years-old, while Garver is four months shy of turning 30, an age where it is not uncommon to see MLB bats begin to decline. Jeffers recently snuck his way into FanGraphs top-100 prospect list at number 97, so it's not only the Twins who are high on Jeffers, and he's already hit a ball 112.9 mph (for context, Garver's career high max exit velo is 111.0 mph). As the better defender, Jeffers will also have the higher floor going forward, making offensive slumps more palatable.
2021 feels a bit reminiscent of 2019 when Garver was the newcomer who looked all but sure to steal reps from veteran Jason Castro as the season wore on. Of course, Garver had an astounding season that Jeffers is unlikely to ever match, but if we're being honest, Garver's not going to either. How quickly things can change, as it's now Garver who has the target on his back, and Jeffers whose future shines bright. Here's hoping for a binary star.