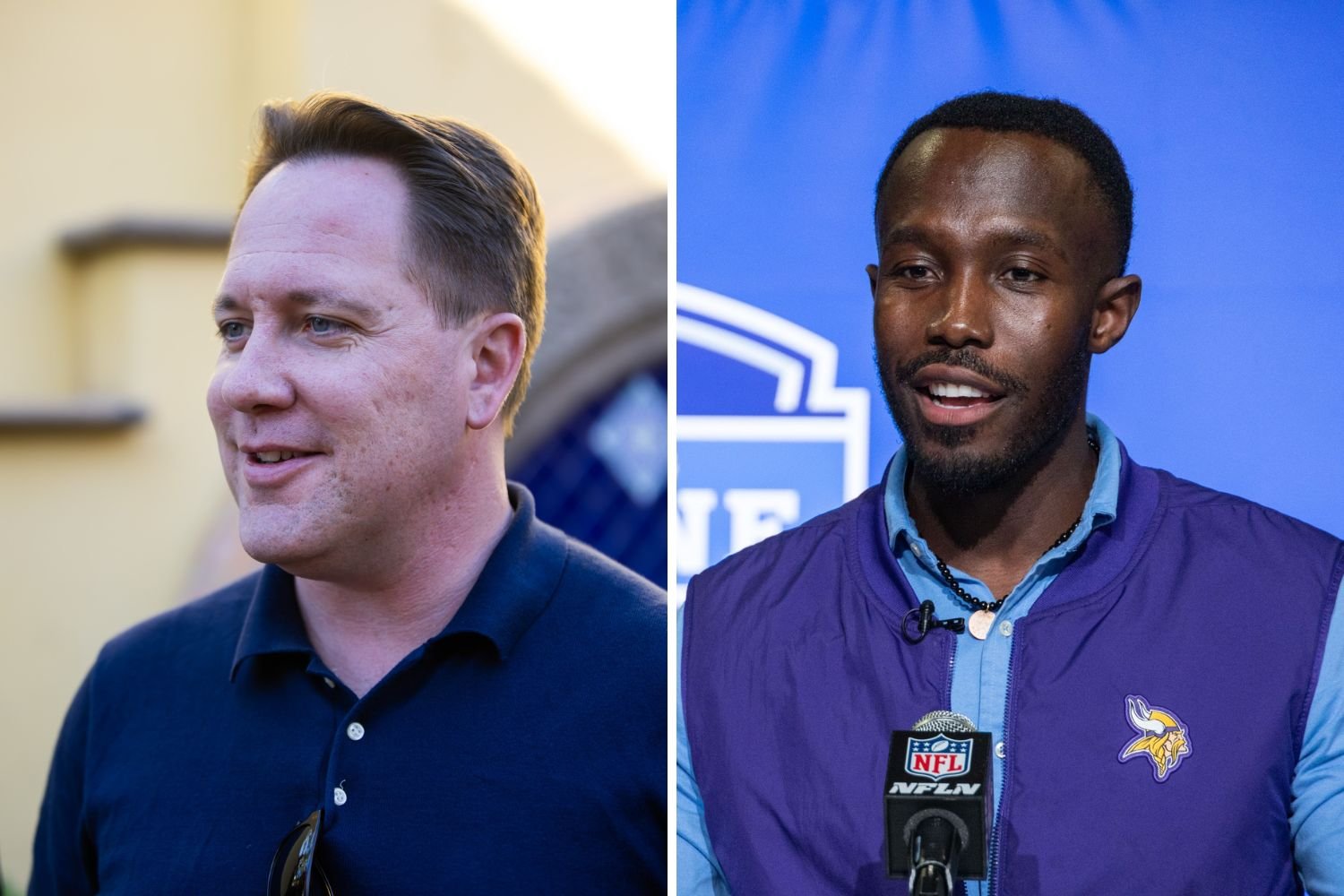 Image courtesy of Mark J. Rebilas and Trevor Ruszkowski-USA TODAY Sports
The all-encompassing term "analytics" underwent much scrutiny among baseball fans and writers alike during the 2023 MLB Postseason. (What else is new?)
Was the scrutiny justified? What is the overall perception of analytics, and why do executives use them when making decisions? To help answer these important questions, I wanted to get the perspective of someone who understands analytics and how they are used in a sport different from the one written about on Twins Daily.
To pursue this, I reached out to Vikings/NFL writer and podcaster Arif Hasan of the Wide Left Substack and the Norse Code podcast with co-host James Pogatshnik fame. Hasan, who began writing about football because his college debate team at the University of Minnesota required him to join their fantasy football league, describes himself as "an enthusiast of analytical insights into football. I used analytics because that's just how my brain thinks – I want to have as much evidence in front of me as possible to make a claim." 
Hasan wouldn't describe himself as an analytics writer in the same sense that Eno Sarris or Dan Szymborski of baseball or Timo Riske or Tej Seth of football, "whose writing on the concepts are informed by deeper statistical insight than what can be gleaned from a two-decades-old memory of AP Statistics," are but rather as someone who wanted to "use analytics much more aggressively than a number of other writers and enjoyed explaining the concepts just as much as (he) enjoyed using them." A football Aaron Gleeman, if you will. 
Using Hasan's immense knowledge, I wanted his perspective on a handful of Twins and analytics-centric questions. First, it would be appropriate to delve into a more recent event where data found itself in the national spotlight.
Critical Nature of Analytics 
During and after Game 2 of the American Wild Card Series between the Minnesota Twins and Toronto Blue Jays, where the Twins ended up winning their first postseason series since 2002, many baseball fans and writers alike were hypercritical of Blue Jays' manager John Schneider pulling starting pitcher Jose Berríos after just three innings pitched and 47 pitches thrown.
In a piece he wrote following the game, MLB writer and insider Ken Rosenthal, Hasan's former colleague at The Athletic, stated Schneider pulling Berríos is a decision he will "never understand" and subsequently went on to express a desire for teams to "bring back feel" and that he "(does not) care how much disdain (he) might incur from those who enjoy numbers dictating how baseball games are played." 
Rosenthal, arguably the most prominent media figure in baseball today, went out of his way to criticize what has been one of the more essential aspects of the sports he covers since Bill James released his first "Baseball Abstracts" in 1977. The umbrella term "analytics" has long been a punching bag for those who don't understand or agree with its usage in baseball, and Rosenthal's article was yet another example of that phenomenon occurring. 
To get an outside perspective, I asked Hasan if he noticed whether NFL fans and writers have placed a "boogeyman" label on analytics and how they are used in in-game strategy and overall decision-making. Hasan states, "What's nice is that the overriding emotional tone of football matches the analytical trend – which is to say that the nerds want football teams to be more aggressive, and football teams are wired for that aggression. While the tendency to tradition is strong, it's not surprising to see some of the teams most inclined to 'hard-nosed' style play, like the Detroit Lions and Baltimore Ravens, also comfortable with the notion of running a play on fourth down instead of giving up." 
What Hasan is referring to is the newfound trend of NFL teams aggressively running a play on fourth down, even sometimes deep in their own territory, instead of punting the ball away. Relating to controversy, aggressively running plays on fourth down is the NFL's version of pulling a starting pitcher to avoid having them face an opposing team's lineup a third time. However, it is a functionally different approach, as running a play is deemed aggressive, and pulling a pitcher is considered a conservative measure. 
Regardless, the functional difference between the desired outcomes data produces between the MLB and NFL exemplifies how analytics, the boogeyman that it has made out to be, doesn't tie managers and front offices hands behind their backs and force them to take pitchers out for the sake of playing it safe. Instead, the data guides decision-makers toward what is perceived to be the more favorable outcome, and whether that outcome is executed by being more aggressive or conservative has nothing to do with which action the data suggests to take. 
Differences and Similarities of How Analytics are Used in the NFL and MLB
Major League Baseball is the most evolved professional sports league regarding analytics and how they are used and implemented within front offices, down to those who write about the game. Though the National Football League is lagging behind the MLB in data usage, analytics are finding their way into NFL front offices, and one of the more prominent examples of that can be found with the Vikings.
Virtually every organization has analytically driven front offices that have invested resources in creating entire analytics departments. Andrew Miller, the Chief Operating Officer of the Vikings, used to be the Executive Vice President of Business Operations for the Toronto Blue Jays. 
Miller played a significant role in the Vikings' General Manager search after the 2021 season, ultimately leading to them hiring one of the most analytically driven GMs in the NFL in Kwesi Adofo-Mensah. An analytics revolution is occurring among NFL decision-makers, and former MLB executives may be the primary reason.
When asked about for his view on this evolution, Hasan stated, "NFL teams are becoming more willing to put people with analytics backgrounds in positions of power, not just the Vikings. The Baltimore Ravens, San Francisco 49ers, Philadelphia Eagles, and Cleveland Browns have given a fair amount of influence to those with analytics backgrounds."
"And, of course," Hasan added, "there's still a strain of skepticism surrounding analytics. A scout who knows football but who can incorporate data is generally seen as superior because experience inside of football is given a premium given the atmosphere of inscrutability surrounding the sport. How can you determine if a player is good if you can't tell the difference between man-match and man-coverage?"
Traditionally, as Hasan noted, NFL decision-makers have professional or college experience playing the game. That is often the case with MLB decision-makers as well. For example, Twins President of Baseball Operations Derek Falvey played college baseball at Trinity College. However, some of baseball's other prominent decision-makers, like David Stearns, Alex Anthopolous, and Erik Neander, didn't play baseball beyond the high school level. 
The same can be said for Adofo-Mensah of the Vikings. Similar to what happened with those who got hired as decision-makers for MLB front offices after the modern-day analytics revolution, which occurred sometime around 2014, NFL teams like the Vikings are now opting to hire more analytically-driven decision-makers instead of simply selecting a candidate because they have been around the game for a long time.
Since NFL franchises are hiring more analytically-driven general managers, are they also beginning to use analytics to make decisions as much as MLB front offices?
According to Hasan, the two leagues are close in this area of data usage, and a great example of that is happening in Minnesota.
"The Vikings seemingly have adopted an approach that is closer to using data-defined processes more than actual data to identify players for acquisition." Hasan states. He continues, adding, "That means process-oriented thinking, with Adofo-Mensah explaining his decisions using phrases like 'time horizons' and 'systems theory.'"
Time horizons are a fixed point of time in the future, at which point specific processes will be evaluated or assumed to end. In baseball terms, MLB teams have time horizons for deciding whether a prospect can be counted on to become an effective player at the major-league level eventually.
For example, with the Twins, Austin Martin's fixed point for being an effective big-league player appears to be upon us in 2024, while Keoni Cavaco's has unfortunately come to an assumed end.
Hasan added, "NFL general managers are incredibly secretive about their processes, so we can only infer from what they do what their biases are. They love to buy low on players who have played well but are not valued highly on the market, primarily for injury reasons. That can be in the draft or free agency. They tend to offer those players short deals and then hope to let them prove they deserve long deals. Not much else tells us what they value at certain positions – they establish a statistical tendency one year and then completely break it the next."
Does buying low on players who have played well but are not valued highly on the market, primarily for injury reasons, sound familiar? Not only are the Twins and other MLB front offices engaging in this practice, but decision-makers in other sports are also. It is easy to be hypercritical of the Twins and act like they are the only team signing low-risk, high-reward secondary market players. Yet, when put into perspective, it becomes evident that practices that are perceived to be Twins-centric are happening in entirely different sports leagues.
Some Misfortunes Not Even Analytics Can Explain
Finally, every Friday on his Wide Left Substack, Hasan makes note of Non-Football Related Work he enjoyed viewing that week, and earlier this year, he praised Chris Hanel's YouTube video on the Twins 18-game playoff losing streak titled "The Minnesota Twins and the Cruelest Streak in Sports."
Knowing he watched Hanel's incredibly in-depth video on the streak, I asked Hasan his opinion on the statistically anomalous cloud that hung over Twins Territory for nearly 20 years.
Hasan proclaimed, "I hesitate to say we'll never see a particular kind of statistical anomaly again because, in an infinite time frame, everything happens. But it is essentially unrepeatable – especially because it's a playoff streak; one has to be good enough to make the playoffs that often but not good enough to win them. If it were as simple as a losing or winning streak in the regular season, that would be much more likely."
He finished stating, "I'm going to say that we probably won't, at least not in our lifetimes. It's a truly boggling streak and doesn't make sense within its own context." There are things not even analytics can explain, and the Twins' 18-game playoff losing streak was undoubtedly one of them.
Nonetheless, when discussing how analytics are used in baseball, or anything in life for that matter, it is crucial to search for the perspective of someone who can view the matter with unbiased yet informed eyes. People are fallible to conscious and unconscious bias. Still, when attempting to understand why one's favorite sports team acts in a specific manner, it is important to understand the reasoning and method behind their actions. 
What are your thoughts on how analytics are used in baseball? Does the information Hasan provided change your thoughts on how analytics are used in baseball relative to other sports like football? Comment below.
Also, thank you to Arif Hasan for collaborating with me on this piece. Twins Daily readers can find Hasan on Twitter at ArifHasanNFL, Threads at arifmhasan, and on Bluesky at arif.bsky.social.