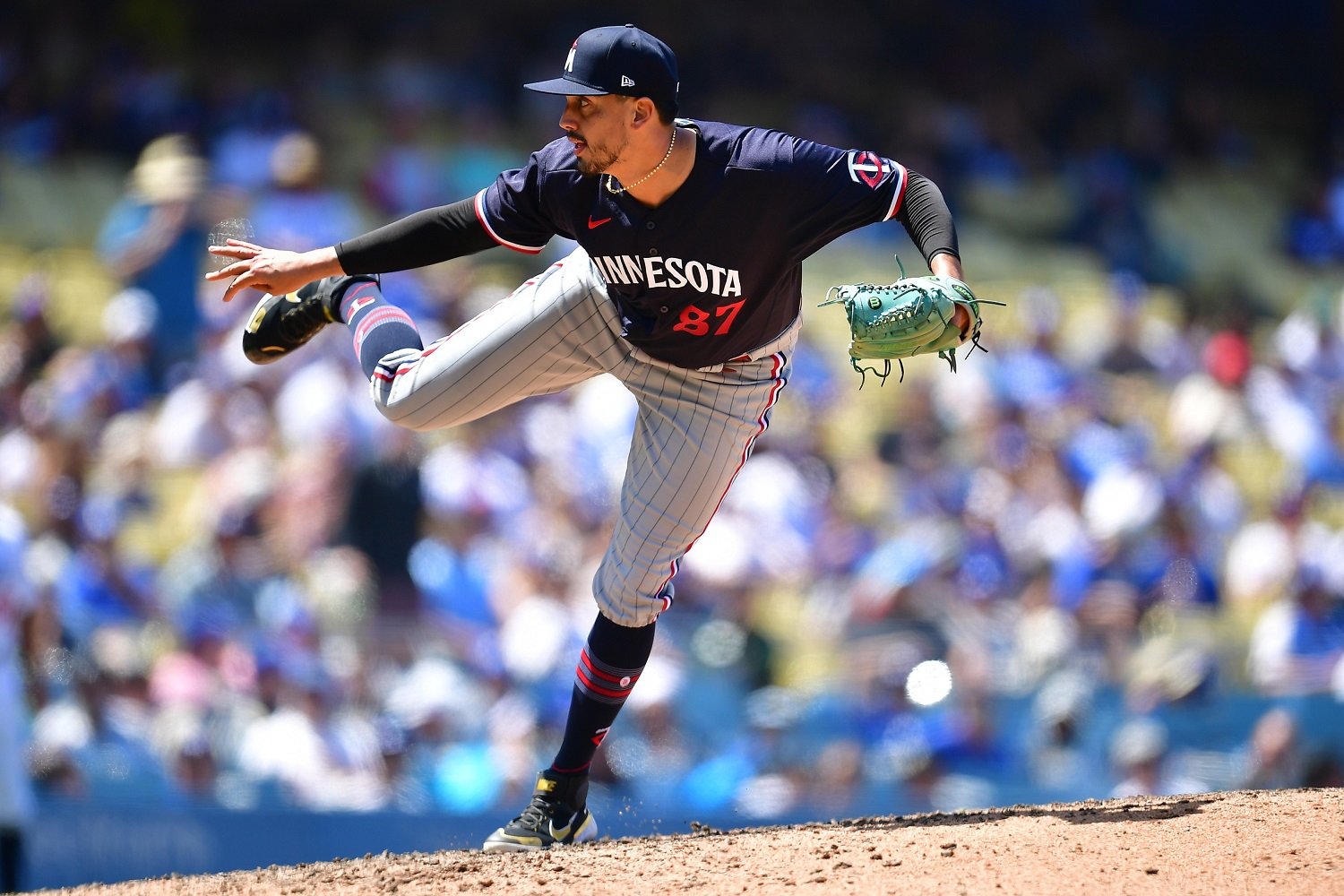 Image courtesy of © Gary A. Vasquez-USA TODAY Sports
With once reliable relief arm Griffin Jax struggling, Caleb Thielbar and Jorge Alcala injured, and dread-inducing Emilio Pagán inducing dread, it feels as if the only relief arms that Twins fan can trust are Jorge López, Jhoan Duran, and, unexpectedly, Brock Stewart. With the Twins front office struggling to both find arms and maintain adequate depth, the Twins will soon have to resort to taking flyers on young arms and veterans looking for another chance at the Major League level. 
On May 16th, the Twins selected the contract of a veteran right-handed pitcher looking for another chance at the Major League level, and that veteran's name is José De León. 
De León, who dons number 87, last worn by shortstop Jermaine Palacios in 2022, has pitched himself to a 3.62 ERA, 1.35 WHIP, 26 strikeouts, and 12 walks through 27.1 innings pitched with the Triple-A St. Paul Saints so far this year. Although reasonably limited, these numbers were encouraging enough for the front office to promote him and have him pitch both the sixth and seventh innings versus one of the best teams in baseball.
The 2023 World Baseball Classic introduced many Twins fans to José De León for the first time as he threw 5 1/3 perfect innings for Puerto Rico versus Israel on just 65 pitches, which is the maximum number of pitches that are allowed to be thrown by a starting pitcher in the World Baseball Classic. Since then, De León had likely fallen off the radar for most Twins before having his contract selected by the Twins on May 16th. 
On the surface, this addition to the 26-man roster may seem uninspiring, but what if José De León, unlike the Derek Laws and Jharel Cottons of years past, can, similarly to Brock Stewart, become a reliable setup man? This proposition may seem ludicrous on the surface. Still, during his first two relief appearances with the Twins, De León showed flashes of possessing the ability to handle mid-to-late high-level relief situations. 
De León, who made his Twins' debut in the sixth inning of a tied game versus the Los Angeles Dodgers on May 17th, struck out James Outman on five pitches, got Chris Taylor to lineout in nine pitches, and got Trayce Thompson to pop out to the catcher on three pitches to end the innings. Over his first inning of relief work for the Twins, De León looked effective in utilizing a sinker that hovered around 95 MPH as well as an 80-81 MPH slider that was effective against the right-handed hitting Taylor and Thompson.
De León's next inning started out even more encouraging than his first as he struck out former MVPs Mookie Betts and Freddie Freeman on three straight pitches. Not many pitchers can say they struck out Betts and Freeman back-to-back on just six pitches. Unfortunately, the wheels began to fall off after the impressive beginning of his second inning of relief work. After striking out Freeman, De León gave up a first-pitch single to arguably the best catcher in baseball in Will Smith, another single to Max Muncy, and was pulled for the soon-to-implode Pagán. Of course, those baserunners were charged to De León's ERA. 
De León's second relief appearance had similar results to his first. On May 21st, while facing the Los Angeles Angels, De León replaced López in the bottom of the seventh inning and was met with facing Shohei Ohtani with a runner on third and only one out. De León started the at-bat off by getting ahead of Ohtani with a 95 MPH fastball. De León then got Ohtani to chop into a weakly hit ground ball to second baseman Donovan Solano, which led to Solano throwing Angels left-fielder Mickey Moniak out at home on a 4-2 fielder's choice. De León then got Angels right-fielder Hunter Renfroe to strike out on an 80 MPH changeup, ending the once daunting threat. 
De Leon's next inning was similar to his first relief appearance against the Dodgers. After getting Jared Walsh to ground out on just two pitches, De León gave up an opposite-field single to former Minnesota Twin Gio Urshela. In the next at-bat, while facing Luis Rengifo, Ryan Jeffers threw down to second base attempting to throw out a stealing Urshela. Jeffers errant throw skipped past Carlos Correa, which led to Urshela being able to take third base on Jeffers' throwing error.
Despite having Urshela on third base with only one out, De León persevered and got Rengifo to ground out to second base. With two outs and an end to his second inning of relief in sight, De León gave up an RBI triple to Matt Thaiss, which grew the Twins' deficit to 2-4. Despite giving up an RBI triple, De León was able to hone in and get Zach Neto to strike out on an 85 MPH changeup.  
Although De León ended his first two appearances on a relatively negative note, his first 3.1 innings of work, and particularly how effective he looked against Betts, Freeman, and Ohtani, gave traction to the idea that De León could potentially become a reliable relief option for the Twins, which is something they desperately need in this particular moment of the season. De León's fastball, which head analyst Justin Morneau tabbed as a sinker, looked especially effective, as it sunk in on both right-handed and left-handed hitters. De León's slider, which he appeared to have some control issues with, was a valuable complement to his sinker as he induced the handful of the righties he faced to chase it as it slid low and outside, and De León's changeup, which he used much against the Angels than he versus the Dodgers, looked extremely effective as Angels hitters were caught swinging through it multiple times.
De León, who this Twins front office has been enamored with since they were discussing trade packages with the Los Angeles Dodgers for Brian Dozier in 2018, was impressive for most of his first two relief outings with the Minnesota Twins. Now, the only question is if he, like Stewart, can continue to impress and capitalize on his opportunities to where he can supplant himself as a reliable relief option for the Twins.