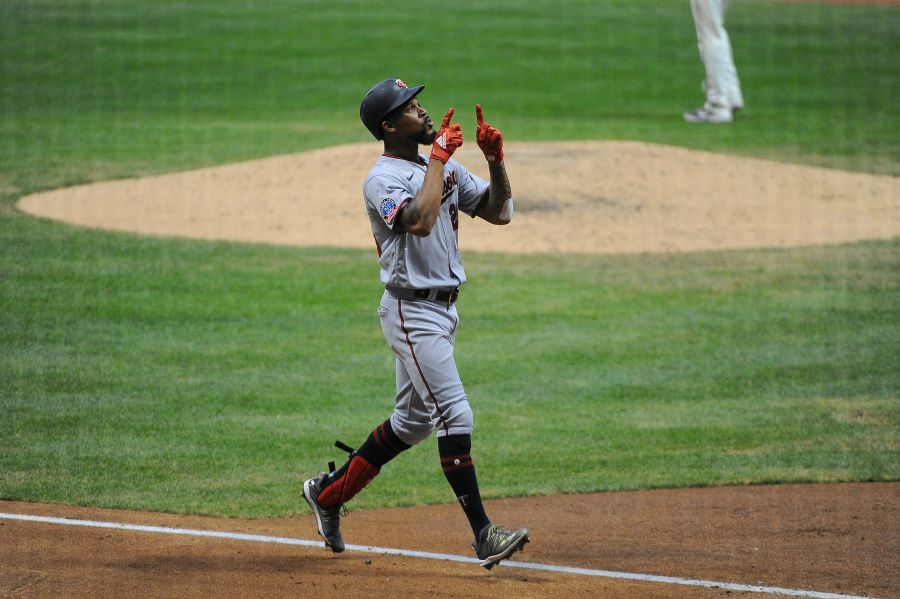 Image courtesy of © Michael McLoone-USA TODAY Sports
Minnesota's final game of the Milwaukee series was a perfect microcosm of Buxton's newfound aggressiveness. His first three plate appearances lasted all of one pitch, ending in a ground out, single, and a home run off of a first pitch slider (more on sliders later). On his fourth go-round Buxton finally worked a deep count but he still went after the first pitch and fouled off a total of four pitches before connecting for his second dinger of the game on a 3-2 sinker. That gives Buxton five home runs in his last seven games.
https://twitter.com/Twins/status/1293745189446651904
Overall, Buxton has swung at 49% of first pitches (MLB average is 28.3%) and his overall swing percentage is at 61.8%. He's kind of the anti-Mitch Garver, who is swinging at just 8% of first pitches and 34.4% of all pitches, but it's worked well for Buxton and it makes sense to go after the first pitch as pitchers are often just trying to get one over for a first pitch strike.
To give an idea of how often Buxton is swinging, consider that Eddie Rosario, who can be found in the Oxford English Dictionary under free-swinger, has a 57.1 career Swing%. And while Buxton is swinging more than average at pitches in the zone (75.9% vs. an MLB average of 66.1%) he's also chasing at an astounding 46.2% rate (Rosario's at 40.9% for his career).
As crazy as those numbers seem, it's been working for Buxton. His 33.3% HR/FB rate is obviously unsustainable but his Statcast numbers are solid, and he's already hit five Barrels for a 14.7% Barrel rate (MLB average is 6%). He's slashing .298/.306/.638 for a 150 wRC+, meaning Buxton is 50% better than league average.
One of the reasons for Buxton's early success has been his ability to do damage to breaking balls. Pitchers are throwing Buxton a ton of breaking stuff and he's making them pay. So far Buxton has seen 40.9% breaking balls (compared to 35.8% in 2019) and he's hitting a robust .615 with a slugging percentage of 1.385 against the 44 sliders he's seen this season.

The power has been great to see, but Buxton has also done some damage on the ground. His ground ball average in 2020 is at 44.1% compared to just 29.4% in 2019. While his hard hit percentage is at a career best 44.1%, Buxton is also hitting a career high 29.4% of his balls softly. The hard contact is what we like to see, but with Buxton the soft contact means slow ground balls that he can turn into hits with his speed. Buxton's naturally trying to hit the ball hard and the soft contact is more of an accident, but putting the ball on the ground is certainly less detrimental for Buxton than the majority of MLB hitters due to his elite speed.
The question is whether Buxton's approach is sustainable. If Buxton continues to swing at everything pitchers will undoubtably adjust by throwing more pitches outside of the strike zone. If Buxton continues to chase at the rate he currently is, he's going to get himself into trouble. On the other hand, if pitchers start pitching around Buxton more, he might be able to draw more walks which has been one of the drawbacks of his aggressive approach. Considering the power Buxton has hit for, his 28.6% strikeout rate is acceptable (and near his career average), but the fact that he's only taken one walk so far this year is less than ideal for a player of Buxton's speed.
We're dealing with a pretty small sample size and in the long term Buxton's overly aggressive approach will need to be toned down to some extent, but for the time being its worked well. The absurd amount of swings can also be taken as a sign that Buxton's confidence is high, and with such a superlative skill set in his possession, believing in himself is probably more important than anything. Adjustments will come, but Buxton's superb talent should allow his infectious smile to remain ever present.
MORE FROM TWINS DAILY
— Latest Twins coverage from our writers
— Recent Twins discussion in our forums