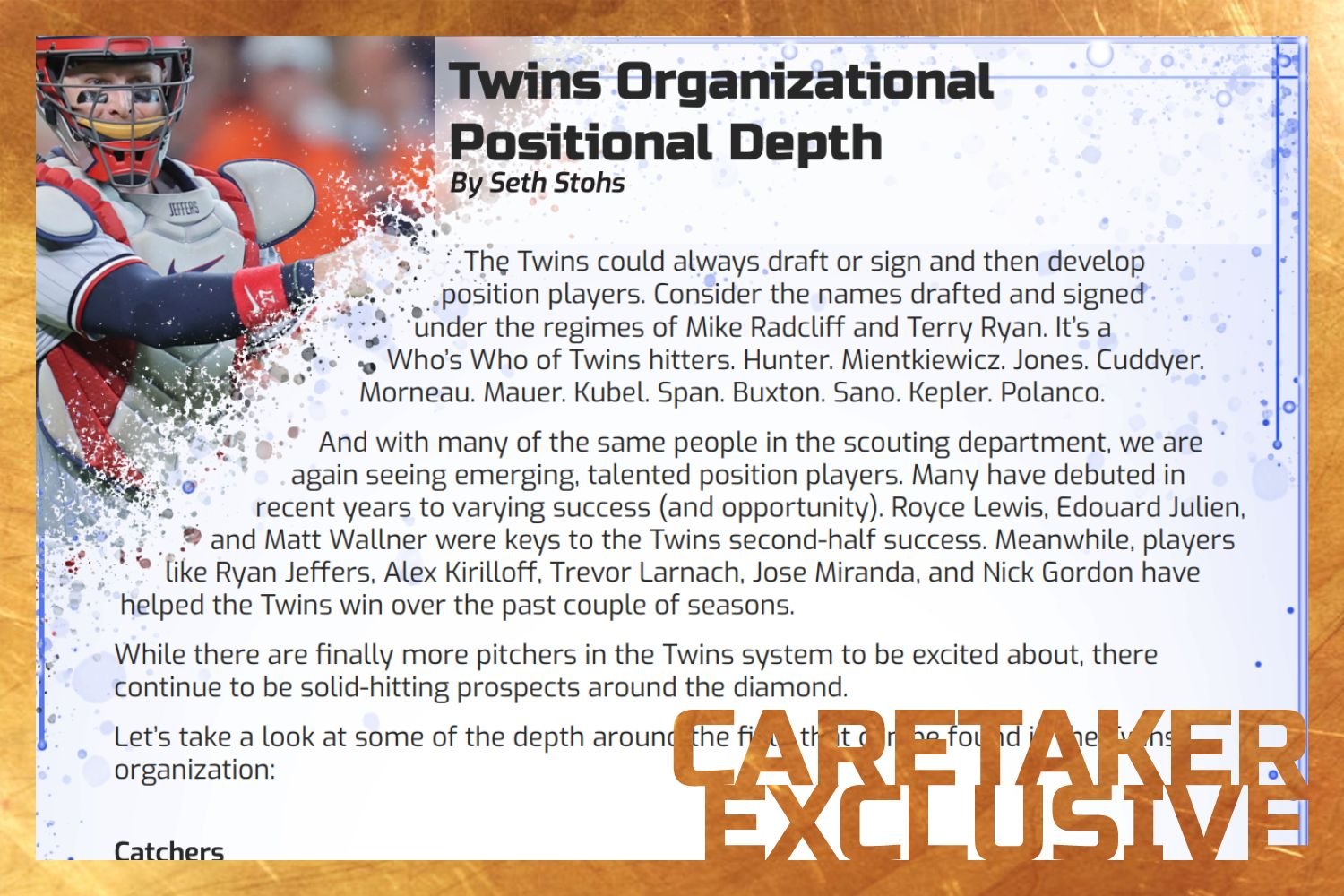 The Twins could always draft or sign and then develop position players. Consider the names drafted and signed under the regimes of Mike Radcliff and Terry Ryan. It's a Who's Who of Twins hitters. Hunter. Mientkiewicz. Jones. Cuddyer. Morneau. Mauer. Kubel. Span. Buxton. Sano. Kepler. Polanco.
And with many of the same people in the scouting department, we are again seeing emerging, talented position players. Many have debuted in recent years to varying success (and opportunity). Royce Lewis, Edouard Julien, and Matt Wallner were keys to the Twins second-half success.  Meanwhile, players like Ryan Jeffers, Alex Kirilloff, Trevor Larnach, Jose Miranda, and Nick Gordon have helped the Twins win over the past couple of seasons.
While there are finally more pitchers in the Twins system to be excited about, there continue to be solid-hitting prospects around the diamond.
Let's take a look at some of the depth around the field that can be found in the Twins organization:
Catchers
The Twins have two catchers on the big-league roster, Ryan Jeffers and Christian Vazquez. Jeffers will not be eligible for free agency for three more years. Vazquez has two years remaining on his three-year deal.
Jair Camargo was added to the Twins 40-man roster since the end of the World Series. The burly backstop showed his powerful arm and his power with the bat for the St. Paul Saints in 2023. He will likely return to the Saints to start the 2024 season and be the guy called up if there is a need.
Chris Williams, who is not on the 40-man roster, has become one of Twins most prominent power prospects the past two years with the Saints. He can catch, but he's got enough bat to be a DH or get time at first base if needed. Patrick Winkel was the primary catcher with the Double-A Wind Surge. He is arguably the best defensive backstop prospect, but he can also hit with extra-base power. Noah Cardenas spent the entire season at Cedar Rapids. He can hit and get on base at a strong clip while playing well behind the plate. Andrew Cossetti may have as much power potential and offensive prowess as any of these catching prospects. He split his first professional season between Ft. Myers and the High-A Kernels. He ended the season representing the Twins in the Arizona Fall League.