Live BP vs. Spring Training Games
---
There has been a lot made lately of the fact that Byron Buxton has not played an inning in the field or taken a single in-game AB.  If you listen to our players or beat writers you would think that the games are almost unneeded in Spring Training.  Carlos Correa got a late start to Spring games on March 1 and commented that they were not super important.  Do-Hyoung Park posts random short videos of Buxton hitting home runs off of Twins returning from injury like Winder and quotes from Falvey saying Buxton is ready for Opening Day.  Based on this we are supposed to be reassured that everything is OK and normal.
I am not a medical professional or a baseball coach so I can't prove any of this wrong but what I can do is see if this type of approach is being taken with any other top players.  I went to Fangraphs and sorted all players with 350 PA or more by OPS.  I then checked how many 2023 Spring Training games they had.  Are a lot of the top players following the Twins and Buxton and effectively sitting out Spring Training games in favor of live batting practice?  The results are fairly conclusive: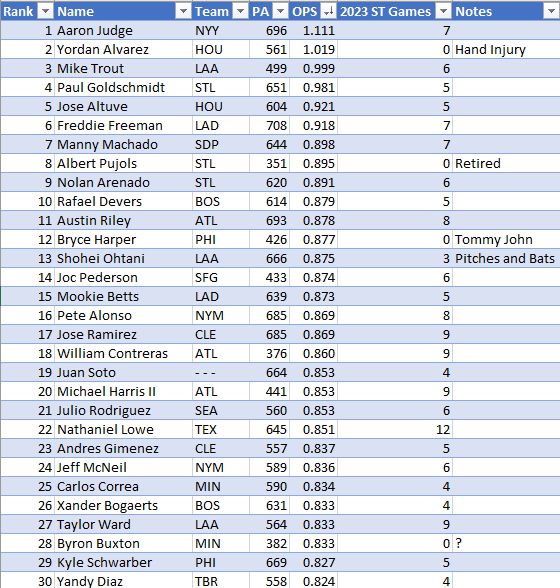 All the major stars are playing spring training games unless they are currently injured or retired.  Not one other major player in the top 30 is following the lead of the Twins.  The only conclusion I can draw is that Buxton is still injured and we are going through mental gymnastics with the Twins trying to justify that he is not. 
Occam's Razor states that the simplest explanation is often the correct one.  I would put out there that healthy players play games and injured players don't.