The threshold didn't even need to be Sonny Gray
---
At the beginning of the offseason, Nick Nelson laid out the concept of the Sonny Gray Threshold™, the idea that the Twins need to sign a pitcher better than Sonny Gray to make a worthwhile difference on next year's team, moving everyone in the rotation down a peg. I'm of the opinion that the threshold could be considerably lower than Sonny Gray, but the Twins have yet to even do that.
Mind you, if you just read that last sentence and, in your head, it said "I don't want the Twins to sign a good pitcher" please do not run down to the comments to start sentences with "JA Happ, Matt Shoemaker, Homer Bailey, Dylan Bundy, Chris Archer." If you do, I will light myself on fire.
I, instead, am of the opinion that the Twins have a serviceable pitching rotation, in theory, that could use one more reinforcement that does not need to be a potential 1 or 2 starter. A mid-rotation starter would be just fine, though I would not say no to someone at the top of the rotation. At minimum, though, I would like to see a guy who can be plugged in in the Kenta Maeda-Bailey Ober area.
With the Rangers' signing of Nate Eovaldi, there are no more free agents seen as above the Sonny Gray Threshold, even if you squint. Unless the Twins swing a trade for pitcher a la Pablo Lopez, the ship has sailed. However, the Twins also lost out on pitchers in the Noah Syndergaard-Andrew Heaney-Jameson Taillon area as well. Although that type of pitcher is not exciting, it does benefit the roster as currently constructed
The Starting 5
This Christmas, I was eating dinner with my great-uncle Oscar, who was lamenting the modern pitching rotation. "Back in my day, we only needed 2 pitchers. Bloomington had Seven Radishes Niederreiter and Slappy LeFleu. After Radishes died of scurvy, Bloomington brought in Georgie O'Sullivan. Back when MEN were MEN, that's all we needed." I, a learned and worldly man, gave him a heart attack when I said the Twins should start 2023 with a six-man rotation.
Why would I suggest such heresy?
I actually love this starting rotation. Its ceiling is as high as any Twins rotation ever has been. It does not have an elite arm at the top of the rotation, but there are no clear weak spots. Joe Ryan has been impressive early in his career and profiles as a solid, mid-rotation starter. Both Sonny Gray and Tyler Mahle have the potential to be borderline #1 starters. Kenta Maeda finished second in Cy Young voting during the abbreviated 2020 season, and was a good starter for the Dodgers prior to that. Bailey Ober has shown flashes in his limited work as a high-strikeout, low walk hurler, and I am very high on him, no pun intended, if he stays healthy.
And therein lies the issue--if he stays healthy. It applies to more than just Ober.
Gray has started 28 games just twice in his 10-year career. Mahle's entire 2022 second half amounted to seven starts due to indiscriminate shoulder pain. Maeda is coming off of Tommy John surgery, and did not look particularly good a season and a half ago when he last pitched. Ober has never thrown more than 109 innings due to a number of injuries. It is easy to see any member of this rotation needing a trip to the IL within the first month of the season.
The Cavalry
Admittedly, the Twins are in a better place in terms of starting pitching depth than they have been in recent years. Josh Winder and Cole Sands both spent significant time in the bigs during 2022, though to limited success. Upper-level pitching prospects Louie Varland, Simeon Woods-Richardson, and Ronny Henriquez all seem ready to make the jump and are not terrible options if needed. Although it should not be counted on, Jordan Balazovic may bounce back after an injury-riddled year, Chris Paddack may be ready to rejoin the club in August or September, and Randy Dobnak may also be around to make spot starts if needed.
None of those reserve options are particularly appetizing, though, especially if starts are needed in May. Should Mahle's shoulder flare up (or any other number of maladies befall a member of the rotation) during Spring Training, Varland or Winder would probably break camp in the starting rotation. A midseason call-up would be more palatable for a couple of pitchers with a combined 16 Major League starts.
So, Six?
Yes, six. Those with long memories will recall April 7th, 2022, when the Minnesota Twins acquired a sixth starter via trade in the form of Paddack, then opened the year with six in the rotation. My proposal is simply that they do that again. The chances are high that within the month, one of the starting pitchers will land himself on the IL, solving the problem and reducing the rotation to the standard five.
If there are no early shutdowns, the Twins will face a problem rarely seen in MLB: too many pitchers. This problem is one that they would surely tolerate. It also gives the team the flexibility to cut ties or reassign players when needed. For example, should Maeda's new elbow struggle to support a starter's workload, he may become a bullpen arm, though I would monitor that situation carefully. Maeda has made it very clear that he is opposed to working out of the bullpen, and his salary is tied to the number of innings he throws.
Building off of that thought, one of the biggest reasons that the Chris Archer signing in 2022 was such a misstep was because of the lack of viable internal options. Signing a former ace to an incentive-laden deal is a terrific strategy, in theory. If he pitches well and regains his form, you'll be happy to pay his incentives. If he struggles, you have little sunk cost preventing you from cutting him loose. However, if the rotation is bogged down with injuries, like it was in 2022, and the team does not have competent minor leaguers in the wings, the team will find it hard to cut ties with a relatively healthy veteran to turn to, say, Devin Smeltzer and Chi Chi González. This season presents an opportunity that past seasons have not, in that regard.
Of course, this is all incumbent on the team being able to manage a seven-man bullpen, which is another ordeal all together. For the sake of argument, let's pretend everything is hunky-dory.
Current Options
Given that all of the true Big Arms™ have been plucked up by now and even notable higher-upside flyer candidates are falling off the board--between beginning this post and now, even Corey Kluber has been signed--the pickings are slim in free agency. Instead, the options appear to be in the Zack Greinke-Michael Wacha range, though even Greinke seems like a longshot. Just under that lie Johnny Cueto or Wade Miley. If the Twins front office sees any of those arms as being in the 1 - 2 WAR range around $10MM, I say go for it, though no one would be excited by a Johnny Cueto signing (despite his 3.5 bWAR season in 2022).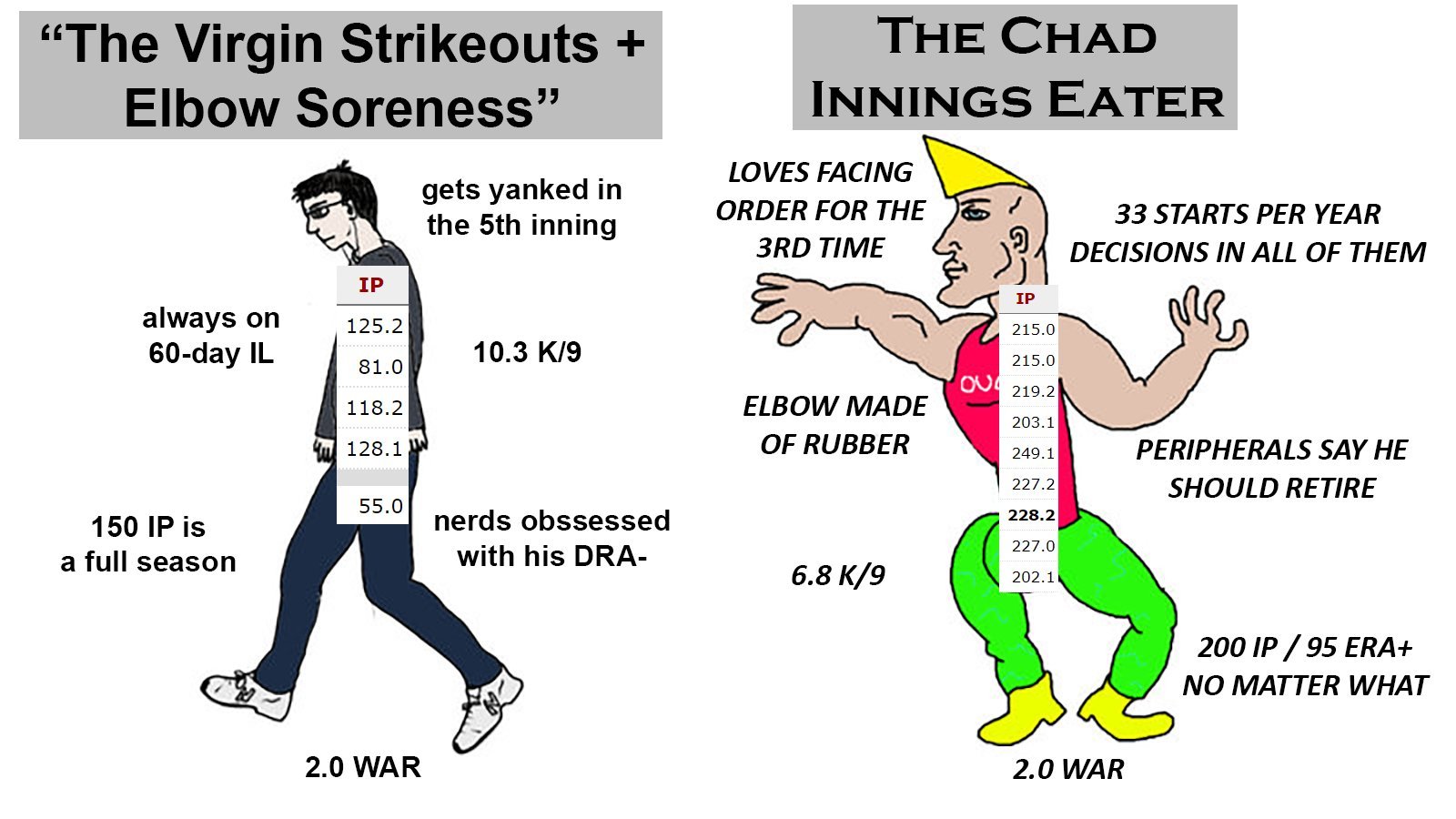 That comes with the caveat that said pitcher performs more like 2020 Rich Hill or 2019 Michael Pineda than 2021 Matt Shoemaker or 2020 Homer Bailey. The front office has more hits than misses at this level, but hopefully the current depth would allow them to shed the sixth starter if needed. Okay, now you can run down to the comments to say "Happ Shoemaker Bailey Archer Bundy."
This would all look like a much better idea, had the brass jumped on Carlos Rodón or Eovaldi, or even Mike Clevinger or Matthew Boyd. They have had months to acquire one additional even marginally competent pitcher, but that has yet to happen, though I will hold judgement until the end of the offseason. Still, the threshold didn't need to be Sonny Gray, but they haven't even eclipsed Josiah Gray.
_________________________________________________________________
If you've read this far, you might be interested in the "highlight" tape that I put together for the 2022 Twins bullpen last week (language warning):
https://youtu.be/OD_5kc8IiHY
If you liked that, here's also the Miguel Sanó Experience:
https://youtu.be/OD_5kc8IiHY
And a more serious farewell video for Miguel:
https://youtu.be/rI-yYQ1IsQo