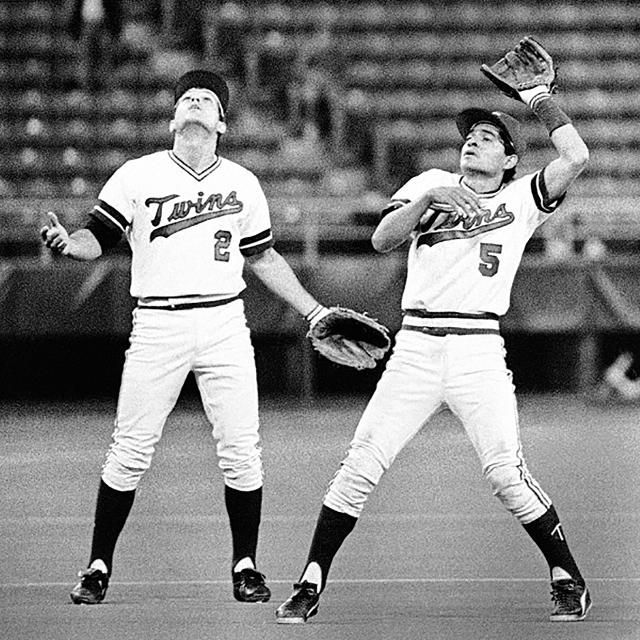 Seventy five for a seventy five year old
Okay, it is my birthday and I love life and all my ex-students, friends, participants in the guided tours, neighbors and family. So I am reflective and that means I have to think of 75 memories – there are many more. But here are 75 Twin memories.
1. Ushering during season one
2. Mudcat Grant – you want colorful – this is it.
3. Vic Power taking over first base in a way I have never seen anywhere else.
4. Jim Kaat just delivering and delivering and delivering.
5. Harmon Killebrew with a swing that seemed to cut the night air into pieces.
6. Rod Carew just toying with the fielders.
7. Sandy Koufax showing us what HOF means – despite out loss it was great.
8. Tony Oliva doing everything and then those knees just radiated pain.
9. Joe Mauer being so Minnesota that everyone in MN complained he was too plain.
10. Tovar playing everywhere and playing so good.
11. Everyday Eddie coming in day after day and giving us ulcers everytime.
12. Calvin Griffith reminding us that owning a team did not make a man into a good man.
13. Sid Hartman telling us everything MN was great even when it wasn't.
14. Metropolitan Stadium, a dream for all of us with erector sets.
15. The dome collapsing like a big pimple.
16. 1987 Twins being champions when they looked like a below average team
17. 1965 Twins being the best team in our history, but losing to a historic event
18. Hrbek doing his wrestling move on first base – I am still laughing
19. Sitting in the upper upper deck of the metrodome at game 7 1991
20. Jack Morris refusing to quit – HOF for no other reason
21. Kirby Puckett showing that determination can change an outcome
22. Dan Gladden a non-star who gave us grit
23. Herb Carneal giving us a transistor seat at all the games
24. Halsey Hall so outrageous that we loved him even if we did not know what he was talking about
25. Cool nights with a breeze from right field in the sixties
26. Lousy hot dogs that still were satisfying in the early decades
27. Bob Allison looking so fit and intimidating
28. Nelson Cruz reminding us old guys that old does not mean feeble
29. Kirby Puckett taking over game six
30. Hrbek's WS grand slam
31. Knoblauch at second base
32. Knoblauch returning to a shower of boos and hotdogs
33. Jim Perry 1970 Cy Young
34. Tom Kelly blowing it with Ortiz
35. Zoilo Versalles 1965 MVP
36. Byron Buxton in Centerfield
37. Torii Hunter robs Barry Bonds in All Star game
38. Frank Viola Cy Young 1988
39. Harmon Killebrew MVP 1969
40. Billy Martin and the marshmallow salesman
41. Johann Santana Cy Young award 2004
42. John Castino – rookie of the year 1979
43. Seeing Carew leave
44. Johann Santana Cy Young 2006
45. Paul Molitor at DH 1996
46. Dean Chance No-hitter
47. Joe Mauer 2009 – major league player of the year
48. Camilo Pascual's curveball
49. The collapse of the Metrodome
50. Marty Cordova Rookie of the year 1995 (or last rookie of the year)
51. Justin Morneau MVP 2006
52. Mitch Garver in 2019
53. The Turtle running the bases
54. Bob Allison's sliding catch
55. Randy Bush pinch hitter with 13 hits in one year
56. Gene Larkin's walk off pinch hit
57. Puckett to the HOF
58. Harmon Killebrew's 520-foot Home Run June 1967
59. The last playoff game won by the Twins 2004
60. 18 game post season losing streak 2020
61. 1984 Dave Kingman hits a 208 foot double – straight up and into the metrodome roof
62. Tony Oliva wins batting title in 1964 and 1965
63. 1971 Rod Carew Rookie of the Year
64. Lyman Bostock and Larry Hisle came together for one great year
65. 1977 Rod Carew batted 388
66. 1969 Harmon Killebrew hit 49 HRs
67. Billy Martin gets in fight with his own 20 game winner – Dave Boswell
68. 2016 Twins lose record 103 games
69. 1987 home team wins all the games in WS and we have four home games
70. Watching the famous Hrbek game in Sierra Vista AZ bar as the only Twins fan in the place
71. Killebrew in the HOF
72. Rod Carew in the HOF
73. 2002 Pohlads agree to contraction – we almost lost the team
74. 2006, the year of the Piranhas
75. Bert Blyleven in the HOF