shs' Realistic Trade Candidates to better the Twins

#1 SP RHP Neil Ramirez AAA Texas Rangers. Turns 23 in 1 Month.





The Rangers are sooo loaded with both Pitching and Offense both at the Major Lg. Level and the Minor Lg. Level that they may not be open to making deals with any team unless injuries occur. Well, even with that said, I think Ramirez is more than expandable. He is a FB pitcher who the Rangers NEVER like in the ballpark in Arglinton, see: Wieland, Joe and Erlin, Robbie from a year ago. *Also Even If Ramirez continues to impress and pitches even more dominant He'll likely not even be called up as a SP if he stays a Ranger: Feliz, Darvish, Lewis, Harrison, Holland, Feldman, Martin Perez. I don't really see room there ? !

Ramirez's tendencies are getting fly balls, striking people out, and not walking anyone. His K's per 9 are about, well 9!! While a late bloomer really breaking out not untill last year in the minors, even today he's seen as more of a mid-rotation starter (upside) and the Rangers may even view him as more of a #4. But for the Twins he'd have #2 Upside or potential , with our staff/ strategies, tendencies, ballpark and situation.

WHAT would it take to Acquire him? Anyone not named Sano, Hicks or Rosario. How about Oswaldo Arcia & Tyler Robertson straight up. Has to sound Great for both teams as Texas will need LH reliever help this season.
You know somthing else.. come this July Francisco Liriano may be the perfect Left-handed Reliever for the Rangers out of the bullpen setting- up Ogando, Adams and Nathan ..before Uehara, Feldman, Scheppers and Kirkman. Liriano for Ramirez might be very appealing to them in a few months. & if I was the Twins i would't even so much as HESITATE to pull the trigger.

#2 SP LHP Erik Surkamp AAA San Francisco Giants Turns 25 in 3 months.

http://ts4.mm.bing.n...ber_6,_2011.jpg
While he may be seen as the eventual replacement to LHP Barry Zito in the Starting Rotation (thats why the Twins better Hurry HERE while he's struggling a bit in AAA) , Surkkkamp as I like to call him, doesn't exactly fit the Giants persona as a power pitching, deep into ball games, lots of innings pitched guy. Surkamp is a southpaw throws high 80's, doesn't K a lot of guys but more than he's given credit for. And Doesn't walk many. Would be the Perfect Fit for Twins style of pitching and Rick Anderson would love Him!

To give you some idea, 2 years ago in the mid level minors he struck out 108 batters in 101 Innings pitched.
Last year he stuck out 170 batters in 148 IP at AA. Was a Cup of coffee call-up for the Giants last September.

He basically is Scott Diamond w/ potential and upside!
He can strike guys out at much better rates gets swings and misses with less than 90-91 MPH stuff. And would fitt perfectly as a #3 or #4 starter in both the short and long term.

*Giants have Cain, Bumgarner, Lincecum, Vogelsong, and Zito in their rotation right now. Cain and Bumgarner just inked LONG-Term deals.


WHAT Would it take? Any half-way decent bat. Luke Hughes? Joking. Ryan Doumit. I'd throw Alexi Casilla and Carlos Gutierrez at them if their middle infield woes continue.. And Casilla gets hott. or Maybe Brian Dozier?
I wouldn't be in favor of the ladder, but they'd strongly be behind that I'd like to think. Gutierrez, Doumit and Casilla this trade deadline might suffice.


#3 SS Adieny Hechavarria AAA Toronto Blue Jays. Turned 23 last week.

http://ts2.mm.bing.n....jpg?1276460714
Bats R, Throws R.
There is no doubt, the Blue Jays are one of the up and coming teams, possibly ranking in as the BEST farm system in all of baseball this year and LOADS of young pitching talent in the minors. But When it comes to many of their position players they are pretty well set at the AAA/ Major Lg. Level. Yunel Escobar is their everyday SS, and Hechavarria could be on the trading block for them.

Often compared to the Royals' Alcides Escobar, Hech can pick it with the best of them, he plays an above average defense something certainly good in the Twins clubhouse. Also similarly to the Royals' Escobar -Hechavarria's offensive game has many similarties, (which may lead to his downfall.) Although, Hechavarria for about the past year now, SEEMINGLY after all the prospect gurus in the Industry... Baseball America, Baseball Prospectus and even John Sickles have GIVEN up on him. Has Been Tearing The COVER off the baseball over almost the last year dating back towards the end of the 2011 Minor Lg. Season. Remember When Trevor Plouffe got sooo many of us excited based on what he did in 2 months in AAA last year? Thats nothing compared to this guy! - AND He's a REAL SS.

Idealy he'd probably bat 8th or 9th right away but could become or mold into a decent #2 type hitter, or 7 hole guy even.
This would allow us to move J. Carroll over to 2nd base and DFA / Demote Alexi Casilla or keep his much appreciated versitlity as the 5th infielder. His Strikeouts this year in the PCL are a little worriesome right now he's at 16 K's to only 4 BB's but based on what he's done for years before that i'm not too worried about it.

He should be a high 270's-280's hitter or better in him prime with marginal power and some stolen bases mixed in.

WHAT WOULD It Take? Not much, in my honest opinion, unless the Jays really don't see Yunel Escobar as part of their 2013 roster in which case most of this is just jibberish at that point. I think he could be had for a few marginal players or a solid pitcher. Maybe Carl Pavano or Matt Capps at the trade deadline if we're faar out of the race. Would be MORE than enough to net him.


#4 SS Didi Gregorius AA Reds Turned 22 Two Months ago From Amsterdam, Netherlands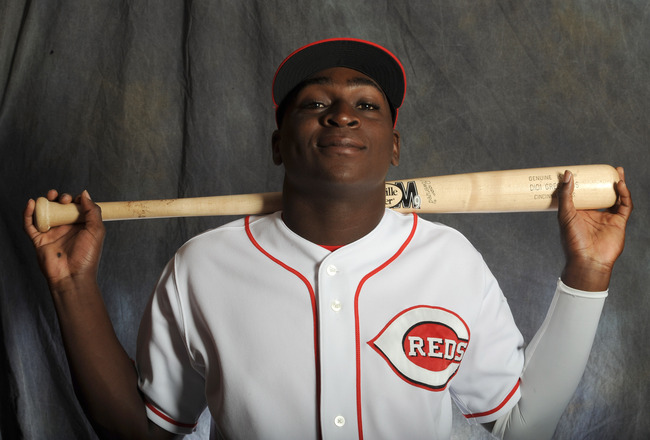 Bats L, Throws R.
Now listen here folks, out of all of these players this one is Easy as Pie to make a Twin. No? I'm scoffing, you heard me (*or Yourself cough) *cough again* Or go, "yeah right i'm on pills". ? Well think again. The Cincinnati Reds...Ahhh Yes those Wayne Krivisky lovin, waiver claimin pitchin Cinncinatti Reds. Please Let me do a little informing very quickly. They have this Kid named Zack Cozart (National League rookie of the Yr. in 2012 Candidate) as their brand spanken new Starting SS. And he can play. He can hitt, he is the complete package, however he may not stick as SS because of his size. Therefore the Reds surely wouldn't want to give up Gregorious right? WEll GUESS AGAIN! There is a little someone in AA as well named Billy Hamilton, yeah you know the guy who stole 100 Bases last year in High A. That Billy Hamitlon who happens to play SS. SO even if Cozart fails, faulters, gets moved to different postion they have their sights Squarely on Hamilton as their SS of the future. Because Hamilton is soooo fast he Makes Carlos Gomez look like Delmon Young and Hamilton, apparently can hitt.

Okay, maybe Gregorius isn't exactly Major League Ready as I'm typing this, but he will be IMO by Mid-season surely by the end of 2012.

Gregorious is similar to Hech in that he'll only have marginal power, but decent to slighlty above average speed, maybe Alexi Casilla like base stealing abilites. But I like him because unlike Casilla, he should be able to Hitt VERY WELL in the not so distant future, probably even better than Hechavarria.
The Reds subconciously may very likely vastly underrate Didi, just do to the simple fact their blinded by the fascinating and over achieving young offensive outburts within their own system. Guys like Hamilton, Cozart, Todd Frazier and Devin Mesoraco. No The Twins wouldnt' be able to steal him, but if they like a pitcher in our org, thats a match i'd strongly consider it if I was the Twins and Krivisky. Unfortunately for the Twins, Baseball America's Jim Callis recently stated in a Public Chat that Gregorius, " May be the best unherladed SS in all of the Minors." Or Best SS currently on nobody's radar. But now may be on everbody's map.

WHAT Would it Take? Pitching most likely. Maybe Scott Diamond. Or David Bromberg + Gutierrez if David bounces back strong? How about Anthony Swarzak? I don't want to speculate too much here, but i'm sure theres a great match somewhere for Krivisky's EX club- and Gregorious is DUTCH how could he not want to be a Twin?



Edited by shs_59, 26 April 2012 - 12:52 PM.