Nothing like an unplanned baseball game taking place on a should be off day! The Twins were part of the third rainout in Los Angeles since 1995, and will finish their season series against the Angels this afternoon. Minnesota has already locked up the season win, as well as the series win. They will also travel back to Minnesota with another successful road trip.
The Pitchers:
Martin Perez (6-1, 2.89 ERA, 53 K's) vs Matt Harvey (2-3, 6.35 ERA, 34 K's)
Martin Perez would be the clear cut choice for most improved player in the American League if the season were to end today. However, it does not. The former top 100 prospect has put together an amazing year on the bump for the Twins, and are making the Twins FO look like geniuses. Perez is striking out exactly one hitter per inning, which is a massive upgrade from where he used to be. He is walking half a batter more per 9 innings, but that is something I am willing to accept for someone that looks like an All-Star. Speaking of All-Stars, Matt Harvey has been very bad ever since being injured. The Dark Knight is struggling in LA. He looked like he maybe turned the corner in Cincy last year, but Great American Ballpark can make almost any pitcher look good. He has walking a full two more batters this year per 9 than he did last year, and his strikeout rate has also fallen. He is also giving up his fair share of long balls, which could spell trouble against this Twins lineup.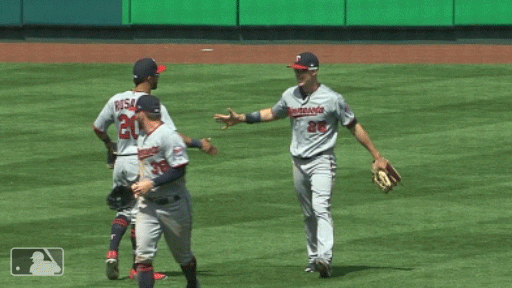 The Lineups:
Twins
CF Max Kepler L
SS J. Polanco S
RF M. Gonzalez S
LF E. Rosario L
1B C.J. Cron R
DH Luis Arraez L
3B Miguel Sano R
2B J. Schoop R
C W. Astudillo R
Angels
LF D. Fletcher R
DH Mike Trout R
1B A. Pujols R
C J. Lucroy R
3B T. La Stella L
2B Luis Rengifo S
RF Kole Calhoun L
SS Zack Cozart R
CF B. Goodwin L
The Twins are giving Byron Buxton a well deserved off day, and Max Kepler will start in center field. Marwin Gonzalez will make his second start of the season in right, which saw him misplay a ball last time he was out there. Luis Arraez serves as the DH, which I don't even think he would believe if you told him that just a few days ago. Sano is back at the hot corner after homering in his last at bat, and La Tortuga is starting behind the plate on National Turtle Day. Only two Twins have ever seen Harvey before. However, some Angels are very familiar with Martin Perez as he started for divison foe Texas for quite some time. Mike Trout is hitting just .217 off the lefty in 23 AB's. Albert Pujols has better luck, hitting .385 in 26 at-bats, including a homer. Shohei Othani is being given the day off, which isn't surprising given a lefty starter on the mound for the Twins. Let's just hope Tommy La Stella doesn't keep hitting like an MVP candidate.
Mill's Moments
1. Nelson Near Return
Nelson Cruz is eligible to come off of the DL tomorrow, and I think he should be activated sometime this weekend if all goes well. At the start of the week the answer to the roster crunch was seemingly clear. You option Luis Arraez back to Rochester. However, he has made that choice much more difficult. Arraez has hit the cover off the of the baseball since his debut, and is passing the eye test with flying covers. The only other choice is to send Ehire Adrianza packing. However, he is out of options, and would have to clear waivers. I am almost certain he would be claimed by someone, and he is even starting to hit the ball well as of late. I still think the solution is to send Arraez down whenever Cruz is activated, but it makes an interesting situation.
2. Terrible Trevor
Trevor Hildenberger was sent down a little over a week ago after nearly blowing a huge lead against the Angels, and his return to AAA has not been promising. In his first game he threw one inning against AAA affiliate of the Rays, the Durham Bulls. He gave up 4 earned runs on 3 hits. The problem wasn't that he was not locating his pitches, as he threw 19 of his 27 pitches for strikes. He was just very hittable, even in AAA. His second outing was not any better, as he gave up 3 earned in two innings against the Buffalo Bison. The Toronto affiliate also didn't take any walks, but just hit Trevor around the park. This is very concerning, and makes me wonder if he is either battling an injury, or tipping his pitches. Whatever it is, the Twins need to get him right for a late season run.
This Day in History: 1991 - Kirby Puckett strokes five singles and a triple in the Twins' 10-6 loss to Texas at the Metrodome. It is the second time the outfielder has collected six hits in a game, making him the first major leaguer to have accomplished the feat twice.
Pick to Click: Jonathan Schoop is going to get a significant extra base hit in today's game
Go Twins!!!