If he's above average defensively, then talent evaluators on a bunch of teams have a lot of explaining to do. 9 year career minor leaguer at a position of scarcity? That does not compute.
Astudillo's a bit of a long shot at this point, but the Twins have reached a point where they have little to lose by seeing what the long shots can do.
And as an aside to end the series on a high note... 30 years ago, the Twins took a look at a castaway catcher who had knocked around the minors and occasionally ridden the bench in the majors through a decade of pro ball.
Also like Astudillo, he was seen as an average defender and a total anomaly at the plate, avoiding strikeouts and walks with equal disdain but showing some line drive power.
And that guy took hold of the starting catcher job for the next five seasons, finishing in the top five among all MLB catchers in WAR over that span.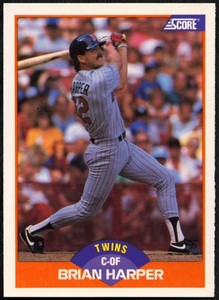 Edited by LaBombo, 01 July 2018 - 11:04 PM.