LEWIS THORPE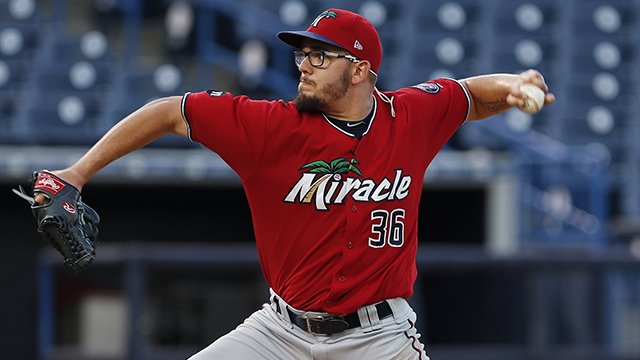 Position: Left-Handed Pitcher.
Height/ Weight: 6'1'' 160 lbs (all the websites have his weight at 160 lbs but he looks much heavier in all the photos and video I've seen – my fair-carny estimate would be a minimum of 195-200 lbs—nothing is skinny about him and he looks to have a big lower-half)
Age: 22 years old all season (11/23/95 d.o.b.).
Drafted: Signed as an International Free Agent out of Australia in July 2012 (16 years old)
Signing Bonus: $500,000
2018 Twins Prospect Rankings: Lewis is nationally considered a top-15 Twins prospect and, in many cases, falls just outside the top-10:
MLB.com (No. 12);
ESPN (No. 13);
John Sickels (No. 11);
Fangraphs (pending)
Expert Sentiment: The experts find a lot to like about Lewis with a mid-rotation projection but sentiment is tempered by the fact that he lost two seasons to injury and illness and has a delivery that's been described as violent:
MLB.com:
Scouting grades: Fastball: 60 | Curveball: 50 | Slider: 45 | Changeup: 55 | Control: 50 | Overall: 45
If adversity is indeed a good teacher, then Thorpe might be the smartest pitcher in the Twins' system. The Australian lefty was humming along the lower levels of the Minors when an elbow injury shut him down late in 2014 and led to Tommy John surgery in the spring of 2015. He missed all of that season and when he came down with mono as he was rehabbing in 2016, that season was lost as well. He did return and throw well enough in 2017 to get added to the 40-man roster in the offseason.
Thorpe is getting back to the starting pitching prospect with a four-pitch mix he was looking like before the injury and illness setbacks. His fastball will sit in the low 90s, touching a tick more at times, with solid command of it. His changeup is his best secondary weapon, an above-average off-speed pitch thrown with good sink. His two breaking balls are distinct pitches, with a tight slider and more of a pure curveball he mixes in effectively. He's generally around the strike zone, and it's easy to see his overall command improving the further removed from the disabled list he gets.
The Twins are looking forward to Thorpe having a full, normal year without any further hiccups. He'll be at the upper levels of the system, still with a ceiling of a Nos. 3 or 4 starter.
John Sickels:
11) Lewis Thorpe, LHP, Grade B-: Age 21, from Australia, posted 2.69 ERA with 84/31 K/BB in 77 innings in High-A; missed 2015 with Tommy John surgery and 2016 with mononucleosis, but back in action in '17 and performed well, 90-94 fastball with a good change-up, solid curve, could stand to tighten his command, possible number three starter; watch the strikeouts and K/BB ratio as he moves up to Double-A, especially as his workload increases. ETA 2019.
Fangraphs (from 2017)
Before injury, Thorpe looked like an Australian version of Julio Urias. He carved through full-season ball as a teenager in 2014 armed with good stuff, advanced sequencing and a mature ability to hold runners. When healthy, Thorpedo sat 89-93 and was touching 95 with nasty arm-side run. The arm action was explosive but violent despite relative stillness throughout the rest of the delivery. In addition to the velocity, Thorpe had a potential plus curveball, plus changeup and was flashing signs of an impact cutter/slider during his second pro season. He profiled as a potential No. 3 starter before he was consumed by health issues. He's purely a wait-and-see prospect at this point, and he'll probably have to pitch through multiple healthy seasons to allay concerns about the violence in the delivery and of his modest size.
2017 Minor League Season and Selected Stats: Lewis spent most of last season with Fort Myers and started one game for Chattanooga . . .he made 17 total appearances (including 16 starts) and pitched 83.0 innings both of which established career highs . . . he struck out 91 batters (roughly 27% of batters faced) for a 9.9 SO/9 rate . . . he had a 3.16 ERA at Fort Myers, a 2.93 FIP, and a 1.21 WHIP . . . he surrendered a total of 5 home runs for a solid 0.5 HR/9 rate . . . control was a bit of an issue as he had a 3.6 BB/9 rate (9.7% of the batters faced) and uncorked 12 wild pitches
Video: A good video of an outing last season can be found here:
2018 Assignment: Lewis will begin 2018 as part of the Chattanooga Lookouts' starting rotation.
Edited by Dance with Disco Dan, 10 April 2018 - 10:24 AM.