Game Thread
Twins vs. Bad Guys at their pad
10/2/2016
Urgent and Horrifying News Story Edition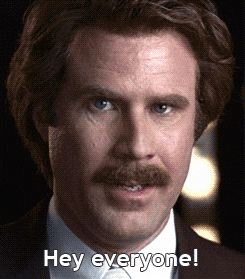 "Ladies and Gentlemen, may I have your attention please! The 2016 Minnesota Twins season is ending today! And the weirdo who always posts jpgs and gifs is doing the game thread!"
Hello, long-suffering Twins fans. Game thread veteran and game thread creation rookie Labombo here. "Hi, Labombo!"
So before we get on with the rest, let me assure you that this mess was created only after carefully reviewing the guidelines for game thread creation, from which this nugget of wisdom stood out:
4. We like positivity.
I believe that's what my team of psychiatrists would call a conundrum. So let's just get this out of the way: the 2016 Minnesota Twins will finish the season with the worst record this franchise has ever had, leaving their indelible mark on the history of the Twins.
'Nuff said. Plenty of ink has been spilled, and billions of bits fired across the internet, about how bad the Twins were and what to do about fixing it. But not today. Today we celebrate the positive. But first, the lineups...
Chicago White Sox
1. Adam Eaton (L) RF
2. Tim Anderson ® SS
3. Melky Cabrera (S) LF
4. Jose Abreu ® 1b
5. Justin Morneau (L) DH
6. Todd Frazier ® 3b
7. Alex Avila (L) C
8. Carlos Sanchez (S) 2b
9. Leury Garcia (S) CF
- SP Chris Sale (L)
Minnesota Twins
1. Byron Buxton ® CF
2. Jorge Polanco (S) SS
3. Robbie Grossman (S) DH
4. Miguel Sano ® 3b
5. Kennys Vargas (S) 1b
6. Max Kepler (L) RF
7. Eduardo Escobar (S) 2b
8. JR Murphy ® C
9. Logan Schager (L) LF
- SP Jose Berrios ®
Weather: 65 and cloudy, with a chance of a blowout.
As expected, Brian Dozier is out of the lineup with a strained oblique.Tough break, since he's stuck at 99 RBI and has 3 HR in 38 career AB against Sale.
So where was I? Oh, right... positivity. But look at the time! Game starts in less than two hours, the suggested deadline for posting the GT. So... positive... positive... I'm trying.
Ok, so...Dozier. He had an amazing season while the Twins basically disintegrated like an experimental 1950's rocket plane around him.
And Ervin. He posted a 3.38 with a worse defense than Grenada circa 1983 playing behind him.
And... Buxton had a nice September. All right, so positivity is not always my thing, and there's other good stuff in the sea of awful that was this year's Twins squad. But my Positivity MVP for the 2016 Twins season is...
The 2016 Twins Game Thread.
Yes, that's right, fellow game threaders, you are all MVP's.You made a historically sucky season fun in an almost magical way that I've only seen one other place: Mystery Science Theater 3000...
The 2016 Twins were a movie so bad it somehow managed to be good, and sharing the experience of generating laughs from baseball that was at times as inexplicably goofy as a cat in a wedding gown was FUN! And you made it fun! Well done. And thanks to the mods for patrolling and maintaining the playground.
PS An update for all the posters who've expressed concern for Carousel Corgi, the brave little dog who runs 'round in a show of solidarity with struggling Twins pitchers besieged by baserunners from all sides:
Though his little legs are tired and he's nearing his innings limit, CC is standing by for one last run, thanks to a potent cocktail of Red Bull and chondroitin coursing through his veins. A dog of few words, he asked me to pass on his thanks for your support and a plea for forgiveness if he has to go number two in the middle of another terrible Pat Dean outing.
Edited by LaBombo, 02 October 2016 - 12:37 PM.