I am a 32-year-old student of the game and aspiring baseball writer, born and raised in Zimmerman, MN. I am a '02 graduate of the Elk River Area High School. Yes, I was there in 2000, albeit as the backup catcher, when Paul Feiner dealt Joe Mauer the one and only strikeout of his high school career.I recently began a project called
Major Minnesotans
, telling the stories of the major leaguers who grew up in Minnesota. From the time I was a kindergartener learning to read by studying the backs of 1990 Topps cards, I have been fascinated by the few Minnesotans who have made it to the majors. The genesis of this project, I suppose, is an album of baseball cards of major league Minnesotans that I began putting together about a year ago.
As I researched the cards that I would need to assemble to make this album as comprehensive as possible, I stumbled upon one fascinating story after another. Furthermore, I realized that these are stories that hadn't already been rehashed every which way. I don't have many original insights to offer by way of prognostication or parsing sabermetrics. These stories though, they are that elusive niche I'd been looking for since giving up my
Reader Weekly
column years ago.
The details available in 2016 are mind-boggling. For instance, you can look up Dan Smith (Apple Valley class of '87) on
Baseball Reference
, click "Debut," scroll down to play by play and see that the first big league batter he faced, Devon White, dropped down a bunt single, promptly stole second, was moved to third by a Roberto Alomar sacrifice bunt, and scored on a Joe Carter sac fly. Welcome to the big leagues, am I right? Incidentally, you will also notice that Smith was opposed in his MLB debut by St. Paul-native, Jack Morris. Does anyone else remember digging through the library basement to do the kind of research you can now do on your phone from anywhere?
Another fun fact gleaned from the play-by-play on
Baseball Reference
is that Greg Olson (Edina East class of '79) made his major league debut with Minnesota in 1989, pinch-hitting for Kent Hrbek (Bloomington Kennedy class of '78) and replacing Tim Laudner (Park Center class of '76) behind the plate. Laudner took over at first. The fact that Greg Olson was playing catcher in the first place is another interesting story. Olson was a third baseman in high school. The Gophers converted him to catcher to make room for third baseman, Terry Steinbach (New Ulm class of 1980). Steinbach was in turn converted to catcher while in the Oakland organization to make room for up-and-coming third baseman, Mark McGwire. Olson went on to become an NL All-Star catcher in 1990, while Terry Steinbach was a 3x All-Star catcher in the American League. McGwire, of course, moved across the diamond and became a 12x All-Star first baseman.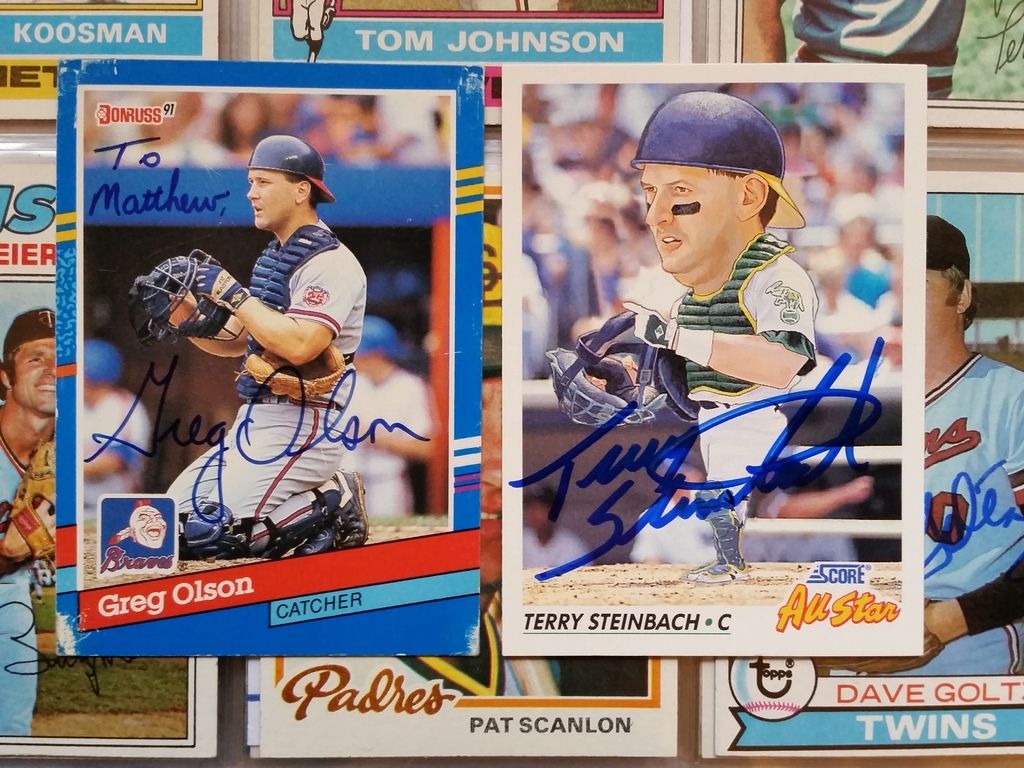 Briefly a resident of Duluth, like myself, Jerry Ujdur is another major league Minnesotan who caught my attention. Second in career wins at the University of Minnesota, Ujdur went on to a brief, wholly unremarkable major league career. A deeper look at his Baseball Reference page, though, shows that he was peculiarly successful against several Hall of Famers:
Major Minnesotans
will publish its first article on March 17th, the birthday of Washburn High School graduate, Hy Vandenberg, who pitched in the major leagues from 1935 to 1945. For a more succinct look at the Major Leaguers who grew up in Minnesota, like Major Minnesotans on Facebook (
Facebook.com/MajorMinnesotans
), and follow me on Twitter
@MajorMinnesota
.
In addition to
Major Minnesotans
, I have also started
The Twins Almanac
, telling the story of the Minnesota Twins one day at a time.
The Twins Almanac
will revolve around a weekly compendium of Twins history, and also include occasional pieces on specific items of Twins history.
Here is a foretaste of
The Twins Almanac
for the week of April 3rd-9th:
4/3/82
: The Twins beat the Phillies 5-0 in an exhibition game, the first major league game played at the Metrodome.
Pete Rose
collects the first hit, and Bloomington-native
Kent Hrbek
hits the Dome's first two homers.
4/4/90
: The Twins trade future-KARE 11 anchor,
Mike Pomeranz
, to Pittsburgh in exchange for
Junior Ortiz
and a minor league pitcher. Ortiz, who wore #0, is best-remembered as
Scott Erickson
's personal catcher during the Twins' 1991 World Championship season.
4/5/14
: The Twins beat Cleveland 7-3 for
Ron Gardenhire
's 1,000th managerial win.
4/6
is the birthday of Rik Aalbert "
Bert
"
Blyleven
...
A little more about myself: my baseball career peaked in 1998 when, at age 15. I threw 18 strikeouts over 10 innings in an 11 inning loss. I majored in English at Gustavus Adolphus College where I took all the classes I could from Minnesota's current Poet Laureate, Joyce Sutphen. The first piece I ever wrote outside of school, an interview with and profile of the poet Louis Jenkins, made the cover of Duluth's
Reader Weekly
. My second piece, on the musician Charlie Parr, was also the cover. Nearly a decade later I started
Major Minnesotans
and
The Twins Almanac
.
For two sample
Major Minnesotans
articles and
The Twins Almanac
for the week of April 3rd to the 9th, visit my WordPress site at
MajorMinnesotans.WordPress.com
.
Thank you,
Matt
Click here to view the article