Twins Almanac, August 13-19
Posted by Matt Johnson , 11 August 2016 · 5,142 views
twins almanac
tom kelly
kent hrbek
jim thome
gary gaetti
The Twins Almanac for August 13-19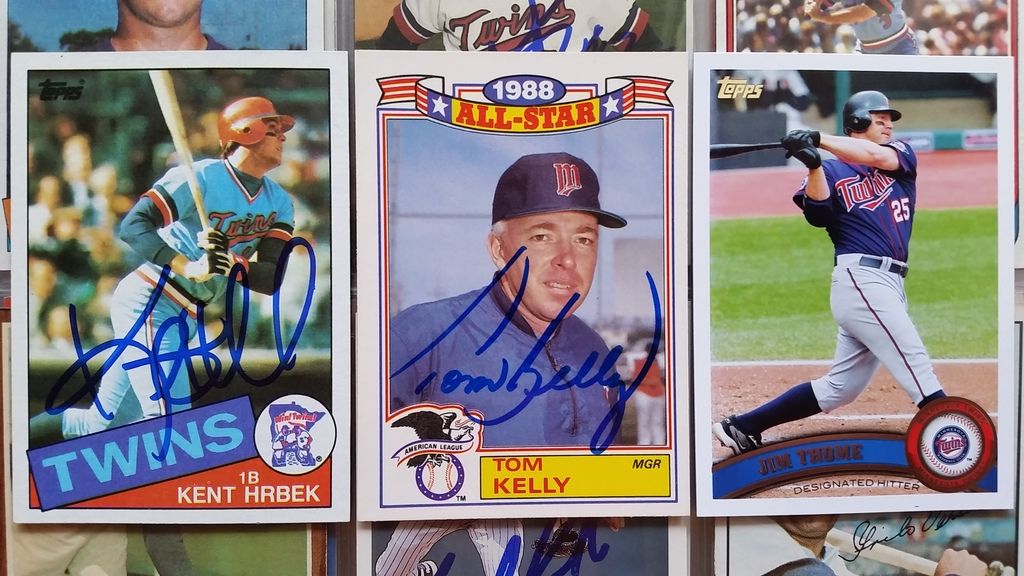 And here is the first full-fledged Twins Almanac in awhile. In my absence from Twins Daily, many of you have been keeping in touch on Twitter, with over 1,000 new people following @TwinsAlmanac over the past month. It's good to be back writing posts of greater than 140 characters, though. This was a fun week in Twins history to write about. My childhood hero Kent Hrbek's number 14 was retired this week in 1995, Tom Kelly's 66th birthday is this week, and Jim Thome hit two very memorable home runs.

In other news, after nearly a decade in Seattle (and lately Bellingham...) I'm moving back to Minnesota next week, and I'm bringing Mrs. Almanac with me. We are expecting our rookie to make it's debut in January. I'm sure we'll make it out to Target Field a time or two before winter sets in. Hopefully we'll be seeing you.
August 13
Happy 81st Birthday, Mudcat Grant
It's the birthday of Jim "Mudcat" Grant, born in 1935 in Lacoochee, FL. Grant had a 14-year major league career spanning from 1958 to 1971. The Twins acquired Grant in a trade with Cleveland on June 15, 1964. He was an All-Star in '65 and finished sixth in American League Most Valuable Player balloting. He led the league with 21 wins and 6 shutouts. He also tied with St. Louis's Bob Gibson for most home runs allowed with 34.
Grant started three games in the 1965 World Series, winning games one and six before Sandy Koufax outdueled Jim Kaat in game seven. Following the 1967 season, the Twins traded Grant and Zoilo Versalles to the Dodgers for 1969 All-Star catcher John Roseboro, Ron Perranoski, and Bob Miller.


August 13, 1986
Twins Swap Ron Davis for George Frazier
The Twins traded pitchers Ron Davis and Dewayne Coleman to the Chicago Cubs for Julius McDougal, Ray Fontenot and George Frazier. Davis, who was the supposed centerpiece of the trade that sent Roy Smalley to the Yankees and brought Greg Gagne to Minnesota in 1982, had a shaky tenure as Twins closer. In 1984 he tied a single season record with 14 blown saves, a dubious feat which no pitcher has since matched. Four pitchers had blown 14 saves in a season prior to Davis, including Hall of Famers Rollie Fingers (1976) and Bruce Sutter ('78).

George Frazier pitched in 54 games for the Twins' 1987 World Series champion team. It was his final season.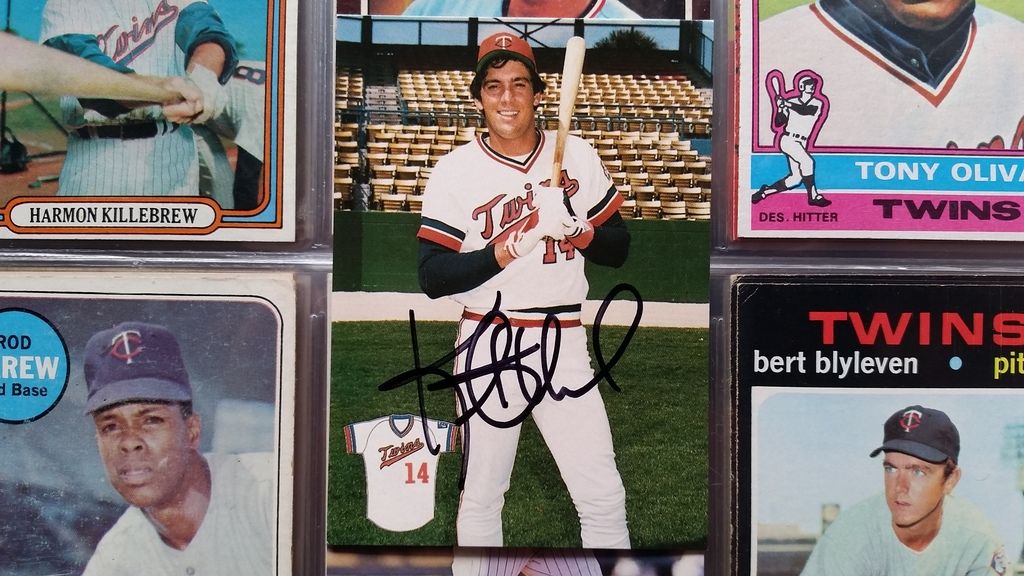 August 13, 1995
Kent Hrbek's Number Retired
Kent Hrbek grew up in Bloomington, less than a mile from Metropolitan Stadium. He graduated from Kennedy High School in 1978 and was drafted by the Twins that spring in the 17th round. He jumped straight from A ball to make his major league debut on August 24, 1981 at Yankee Stadium. With the game tied at 2-2 in the 12th, Hrbek hit a home run off of future-Twin George Frazier for his first big league hit. Four days later Tim Laudner would also homer in his major league debut, and less than a month later Gary Gaetti would homer in his first at-bat.

In 1982, his first full season in the show, Hrbek batted .301 with 160 hits, 23 HRs and 92 RBI, made his only All-Star appearance, and finished second to Cal Ripken Jr. for American League Rookie of the Year. In 1984 Hrbie was runner-up to Tigers pitcher Willie Hernandez for American League MVP.

Kent Hrbek hit a career-high 34 home runs in 1987. It would be the Twins' last 30-home run season until Justin Morneau hit 34 in his 2006 MVP season. So much for the Steroid Era in Minnesota.

Only Harmon Killebrew and Kirby Puckett played more games in a Twins uniform than Kent Hrbek. His 293 career HRs, 1,086 RBI and 838 walks are each second in Twins history to only Harmon Killebrew.

In addition to being one of the most prodigious sluggers in Twins history, Hrbek is widely praised for his defense. Many, in fact, go so far as to rank Hrbek among the greatest defensive first basemen in baseball history. And though he was not the fastest man, Tom Kelly regarded Hrbie as an excellent baserunner.

Hrbek's number 14 was the fourth number retired by the Twins, after Harmon Killebrew in 1974, Rod Carew in 1987 and Tony Oliva in 1991.

Kent Hrbek was inducted along with Harmon Killebrew, Rod Carew, Tony Oliva, Kirby Puckett and Calvin Griffith as the inaugural class of the Twins' Hall of Fame on August 12, 2000.
August 14, 2010
Brian Duensing Pitches 3-Hit Complete-Game Shutout
On a Saturday night at Target Field Brian Duensing pitched the first of two career shutouts as the first-place Twins beat the Athletics 2-0. Duensing gave up a hit in each of the first three innings before holding the A's hitless the final six innings of the ballgame. He also walked two batters while striking out four. Reigning American League MVP Joe Mauer went 3-for-4 with an RBI. Orlando Hudson drove in the Twins' other run.

The Twins went on to win the Central Division in 2010, their sixth division crown in nine seasons. They were swept out of the playoffs by the New York Yankees.


August 15
Happy 66th Birthday, Tom Kelly
It's the birthday of Tom Kelly, born in 1950 in Graceville, MN, though he grew up in Sayreville, New Jersey and attended Monmouth University also in New Jersey. Graceville, with a population of 565 at last check, is also the birthplace of Bill Davis, who played sparingly for Cleveland and San Diego in the sixties. Davis attended Richfield High School just south of Minneapolis.

Kelly was drafted in the 8th round by the Seattle Pilots in 1968. After three lackluster seasons in the Pilots/Brewers organization, TK was signed by the Minnesota Twins prior to the '71 season. He made his major league debut on May 11, 1975 at age 24. He played 49 games in the majors, going 23-for-117 (.181) while playing primarily first base. In his tenth game, May 26th, TK hit his one and only big league home run in Detroit off of Vern Ruhle.

Ruhle makes at least one other appearance in the annals of Twins home run history. On August 22, 1975, Ruhle, who shares a 1975 Topps rookie card with Edina High School and University of Minnesota alumnus Paul Siebert, gave up a home run to the Twins' Dave McKay in his first big league at-bat.

Kelly spent the 1976 season in the Baltimore Orioles' organization playing for the Rochester Red Wings, who were Baltimore's AAA affiliate at the time. Kelly returned to the Twins' organization in 1977 as a player-manager. Kelly joined the major league club as a coach in 1983 under manager Billy Gardner. Kelly, only 35-years-old, was named Twins manager with 23 games remaining in 1986, replacing Ray Miller. In 1987, with a cast of characters many of whom he played a large role in cultivating down on the farm, Kelly "became the youngest non-playing manager to win the World Series since John McGraw in 1905" (per Baseball Reference). Following back-to-back losing seasons in 1989 and '90, TK won his second World Series in 1991 with only seven players and four starters remaining from the '87 World Series roster. The only pitcher remaining from 1987 was Allan Anderson who only played in 4 regular season games in '87 and did not play in either postseason.

After eight of the most miserable seasons in Twins history, TK piloted the club to second place in the Central in 2001 before handing the helm to Ron Gardenhire who won three consecutive division championships in his first three seasons, a total of five in the decade and another in 2010.

Tom Kelly's number 10 was retired on September 8, 2012.
August 15, 2011
Jim Thome Joins the 600-HR Club
The Twins traded outfielder Delmon Young to the Tigers prior to the first game of their series against them in Detroit. Young, batting third in his debut with his new team, hit a 2-out home run off of Francisco Liriano in the first inning.

It would prove to be Jim Thome's day, though. With the Twins and Tigers tied at 3 in the sixth, Thome hit a 2-run opposite field home run to left-center off of Rick Porcello, driving in Jason Kubel. It was the 599th home run for the 40-year-old Thome, playing in his 21st big league season. Then, just one inning later, the Twins clinging to a 6-5 lead, two on and two out, Thome hit Daniel Schlereth's 2-1 offering to straightaway left field and into the Tigers' bullpen, becoming the eighth member of the 600-HR Club.

The Twins went on to beat the first place Tigers 9-6. Thome finished the day 3-for-4 with 5 RBI and the 2 runs scored.

Thome, whose final season was 2012, officially retired on August 2, 2014 with 612 home runs. He hit 66 of those home runs against the Tigers, more than he hit against any other team. The team he hit the second-most against was the Twins, 61.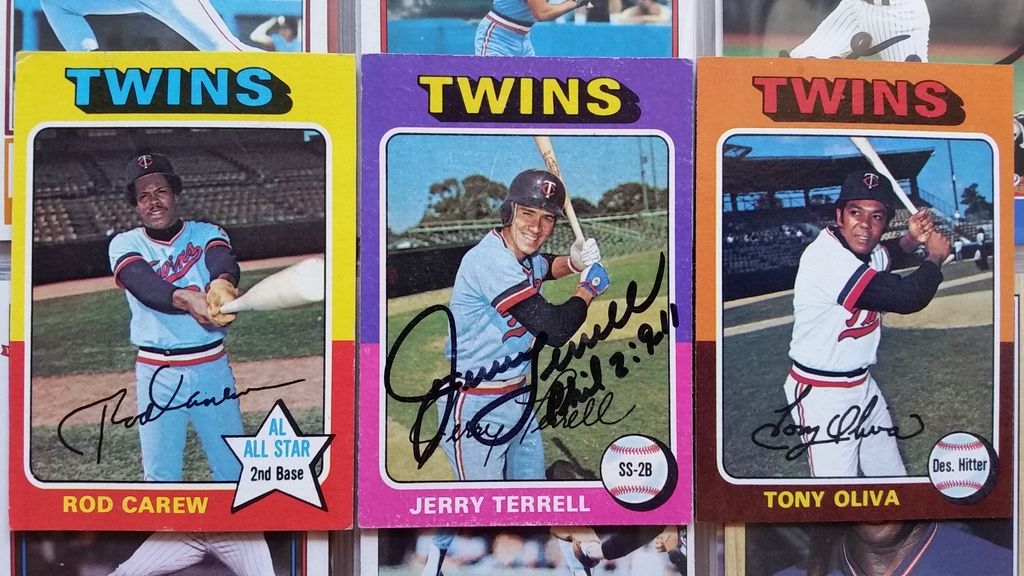 August 16, 1975
All Nine Twins Get 2+ Hits
Twins batters collected 20 hits in a 9-1 victory over Cleveland at Metropolitan Stadium in Bloomington. All nine Twins batters got at least 2 hits. Center fielder "Disco" Dan Ford and catcher Phil Roof each got 3 hits. Of the 20 hits only five went for extra bases, with Roof hitting a home run. The starting lineup that day was Lyman Bostock, Dan Ford, Rod Carew, John Briggs, Tony Oliva, Eric Soderholm, Steve Braun, Jerry Terrell (Waterville High School '64; Minnesota State, Mankato '68), Phil Roof.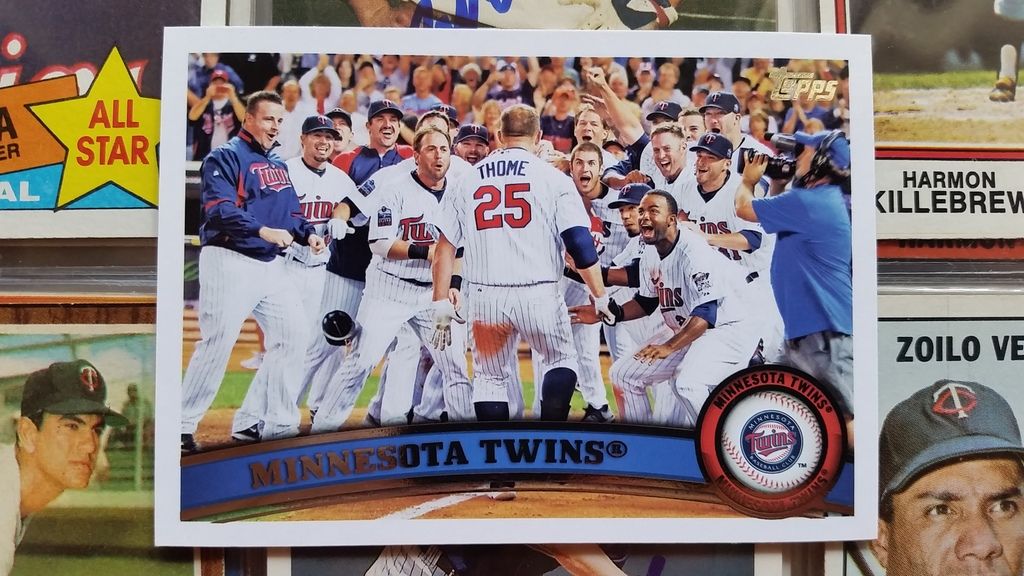 August 17, 2010
Jim Thome Walk-Off Home Run
Trailing the Twins by three games in the Central Division standings, the White Sox were in town for the first of a three-game series. The Twins jumped out to a 4-0 lead in the first against Chicago pitcher John Danks. Entering the top of the ninth, however, the Twins clung to a 5-4 lead. White Sox shortstop Alexei Ramirez, hitting in the 8-hole, tied the game on closer Matt Capps' second pitch of the inning. The White Sox threatened to take the lead, but after intentionally walking Alex Rios to load the bases, Capps induced an inning-ending double play from none other than Paul Konerko. Alexei Ramirez came to the plate again in the tenth, this time with big Jon Rauch on the mound, and this time with a runner in scoring position. Ramirez singled to center, driving in the go-ahead run. Delmon Young led off the bottom the tenth with a single against 2010 All-Star Matt Thornton. Jim Thome then hit Thornton's 1-0 offering, a belt-high fastball, well-over the limestone facade onto the plaza for the first walk-off hit in Target Field history. It was Thome's 17th home run of the season, and 581st of his career.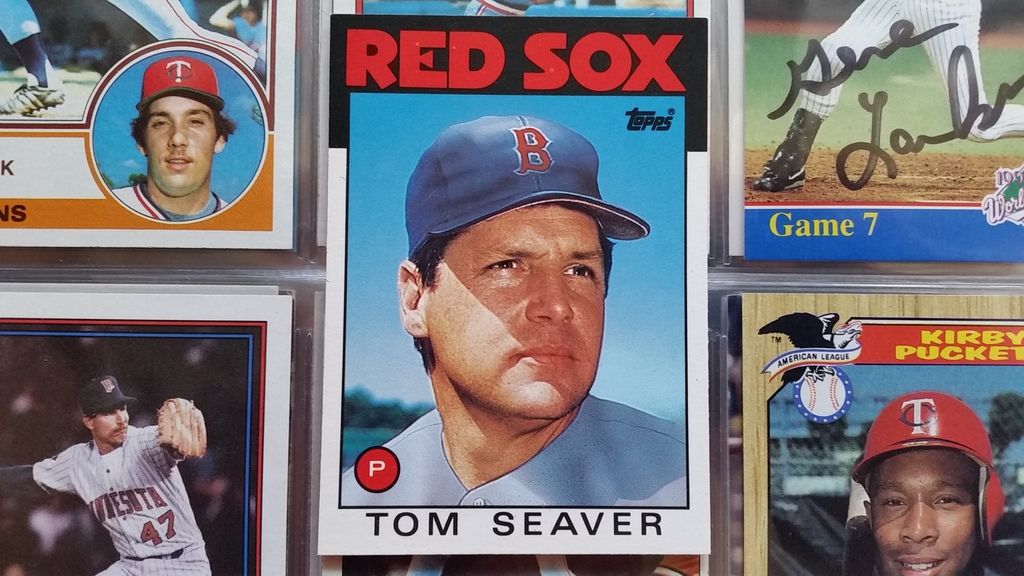 August 18, 1986
Tom Seaver Wins 311th and Final Game
Pitching for the Red Sox, 41-year-old Tom Seaver won his 311th and final major league game in a narrow 3-1 Boston victory over the Minnesota Twins in the Metrodome. Seaver pitched 8 ⅔ innings, allowing just 1 run on 3 hits and 4 walks while striking out 7.

Seaver gave up a single to the first batter he faced, leadoff hitter Kirby Puckett. In the bottom of the third he gave up a solo home run to Roy Smalley, tying the game at 1-1. Seaver, though he would issue 4 walks over the course of the game, would not give up another hit until he had two outs in the ninth.

Frank Viola, too, pitched a strong game. After finding himself in a 1-0 hole two batters into the game, he held the Red Sox scoreless, allowing just 4 hits in the second through eighth innings. Tied 1-1 in the ninth, however, Viola gave up a single to center fielder Tony Armas and 2-run home run to catcher Rich Gedman to give the Red Sox a 3-1 lead heading into the bottom of the ninth.

With two out in the ninth, Seaver gave up a his third and final hit, a double to Randy Bush. With Tom Brunansky pinch-hitting for Billy Beane and representing the tying run, Red Sox manager John McNamara brought in Bob Stanley who got Bruno looking to secure Tom Seaver's 311th win.

It is also interesting to note that Tom Seaver earned his 300th win the previous August while pitching for the White Sox against the Yankees in the city that he is most associated with, New York, on the same day that Rod Carew got his 3,000th hit off of Frank Viola, pitching, of course, for Carew's former club.
August 19
Happy 58th Birthday, Gary Gaetti
It's the birthday of Gary Gaetti, born in 1958 in Centralia, IL. The 20-year major leaguer played 10 seasons in Minnesota, 1981-1990. On September 20, 1981, Gaetti homered in his first major league at-bat. He was the third Twin that season to homer in his first major league game (Kent Hrbek, August 24, and Tim Laudner, August 28). Six Twins have homered in their first major league at-bat: Rick Renick, Dave McKay, Gaetti, Andre David, Luke Hughes and Eddie Rosario.
Like Eddie Rosario, Andre David's home run was on the first pitch. The pitcher was Jack Morris and it was the only major league home run he would ever hit.

Gaetti won Gold Gloves at third in 1986, '87 and '88 and represented the Twins in the 1988 and '89 All-Star Games. He hit 201 home runs in a Twins uniform, eighth most in team history, one spot behind Kirby Puckett (207).
August 19, 1991
Randy Bush Hits Record Pinch-Hit Double
In an 8-7 loss to division-rivals Oakland at the Metrodome Randy Bush got his seventh consecutive pinch-hit dating back to July 5, tying an American League record set in 1981 by the Rangers' Bill Stein. Jose Canseco and Kirby Puckett had traded solo home runs in the first inning. Tied at 7-7 in the ninth, 1980 New Ulm High School graduate Terry Steinbach drove in Dave Henderson with a two-out line drive single to center off of Steve Bedrosian. After Oakland closer Dennis Eckersley struck out Mike Pagliarulo to lead-off the ninth, Bush pinch-hit for Al Newman, hitting a 1-0 double to right. Eckersley, however, retired Knoblauch and Larkin to preserve the victory for the Athletics.
August 19, 2007
Johan Santana Strikes Out Twins Record 17
In a Sunday afternoon game at the Metrodome versus Texas, reigning Cy Young Award-winner Johan Santana struck out a team record 17 batters in only eight innings. Santana struck out all nine Rangers at least once. The only two hits that Santana allowed were to the designated hitter, known steroid user Sammy Sosa who singled in the fifth and doubled in the seventh. Santana finished strong, striking out the side in his eighth and final inning. He did not issue a walk.

Joe Nathan came in in the ninth to preserve the 1-0 Twins win. Michael Young, who had struck out in all three at-bats against Santana, struck out swinging to end the game.

The only run that the Twins could muster against Rangers starting pitcher Kevin Millwood was a Michael Cuddyer home run leading off the second.
The End
Well, that's all. Thanks for reading. And if your townball team is looking for a legitimate 32-year-old base stealing threat for next summer, stop into Johnson's Hardware Hank & Rental in scenic downtown Zimmerman and ask for the prodigal son.
And keep in touch with the Twins Almanac on Facebook.