The Twins Almanac for May 23-25
Posted by Matt Johnson , 22 May 2016 · 1,615 views
twins almanac
kirby puckett
lyman bostock
joe mauer
anthony swarzak
May 23, 1991
Kirby Puckett Has Second 6-Hit Game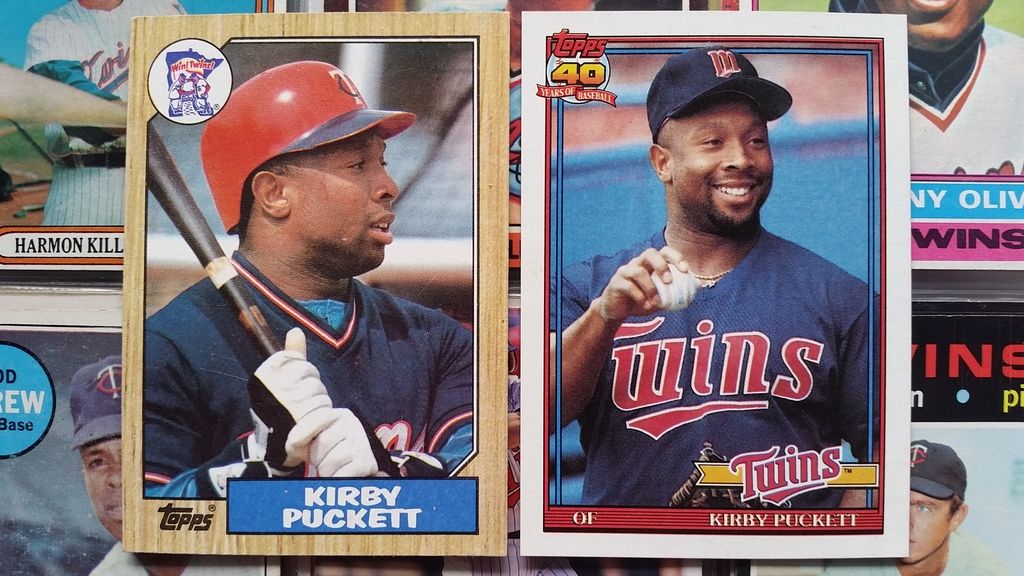 Kirby Puckett collected 6 hits for the second time in his career, going 6-for-7, scoring 2 runs in an eleven inning loss to Texas at the Metrodome. Kirby had 5 singles and a triple. His 6th hit, a single, came in the eleventh inning. The game was tied 5-5 entering the eleventh, but the Rangers were able to score 5 runs off of Steve Bedrosian. Kent Hrbek drove in
Shane Mack
in the bottom of the eleventh, but the Rangers hung on to win 10-6. There have only been two 6-hit games in Twins history, both by Kirby Puckett, one is each of the Twins' championship seasons of '87 and '91.
May 23, 2009
Anthony Swarzak Pitches 7 Scoreless in MLB Debut
Anthony Swarzak pitched seven scoreless innings in his Major League debut versus the Brewers at the Metrodome. He gave up 5 hits and 2 walks, striking out 3. Swarzak struck out Prince Fielder on three pitches in the first for his first Major League strikeout. The Twins went on to win the game 6-2. Joe Mauer was 3-for-3 with a walk, 2 RBI and 3 runs scored, hitting his 9th home run of the season.
May 24, 1973
Bert Blyleven One-Hitter
Bert Blyleven pitched a complete game, one-hit shutout at Metropolitan Stadium as the Twins beat the Royals 2-0. George Mitterwald and Danny Thompson drove in the Twins' 2 runs. Blyleven pitched three one-hitters in his career, two in 1973 and another in '74. Jim Kaat also pitched a one-hitter for the Twins in 1973.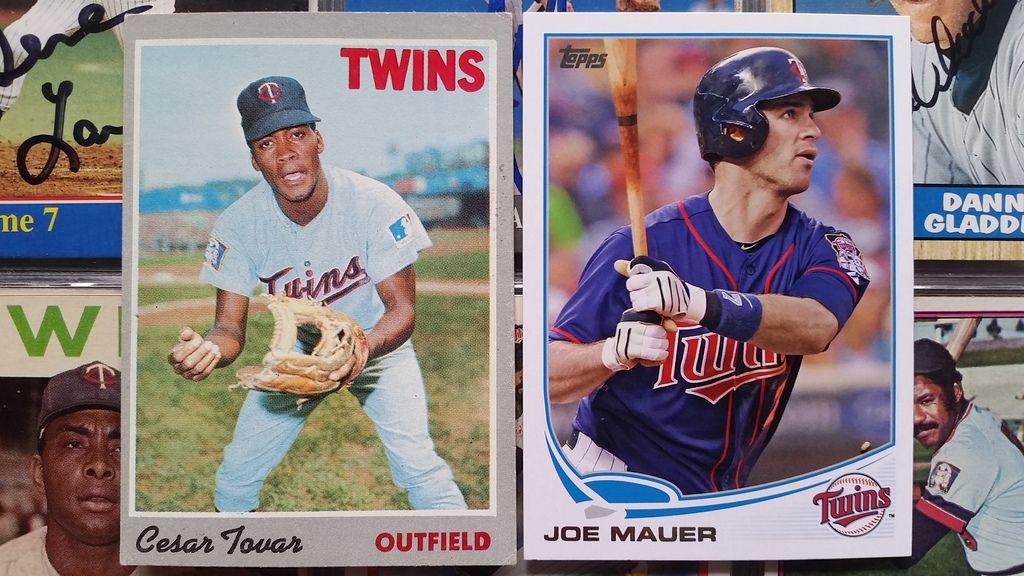 May 24, 2013
Joe Mauer Breaks Up No-Hitter
The Twins extended their losing streak to 10 games with a 6-0 loss in Detroit. Tigers pitcher Anibal Sanchez was tossing a no-hitter until Joe Mauer broke it up with a one-out single in the ninth. It was the third time that Joe Mauer had broken up a no-hitter in the ninth inning.
Cesar Tovar broke up five no-hitters in his career, tied for the Major League record. He broke up four no-hitters as a Twin, and another while playing for the Texas Rangers. He broke up two no-hitters in the ninth inning in 1969. He broke up the other three prior to the ninth inning.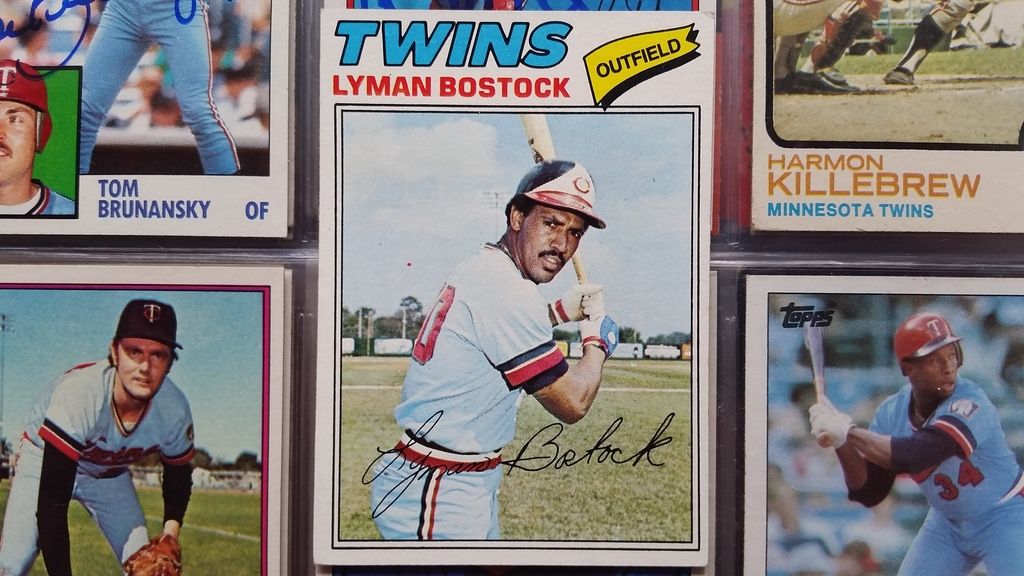 May 25, 1977
Lyman Bostock Ties MLB Record for Outfielder Putouts
Centerfielder Lyman Bostock tied a Major League record with 12 putouts in a 9-4 Twins win to sweep a doubleheader at Fenway. The Twins had beaten the Red Sox 13-5 in the first game. Dave Goltz (Rothsay HS class of '67) was the winning pitcher in game 1 with Tom Burgmeier (St. Cloud Cathedral class of '61) earning a 3 ⅔ innings save. Paul Thormodsgard earned the win for the Twins in game 2. Though "Thormodsgard" sounds like a good Minnesotan name, but he was actually born in San Francisco. However, Tom Johnson (St. Paul Murray class of '69) pitched the final inning of game 2.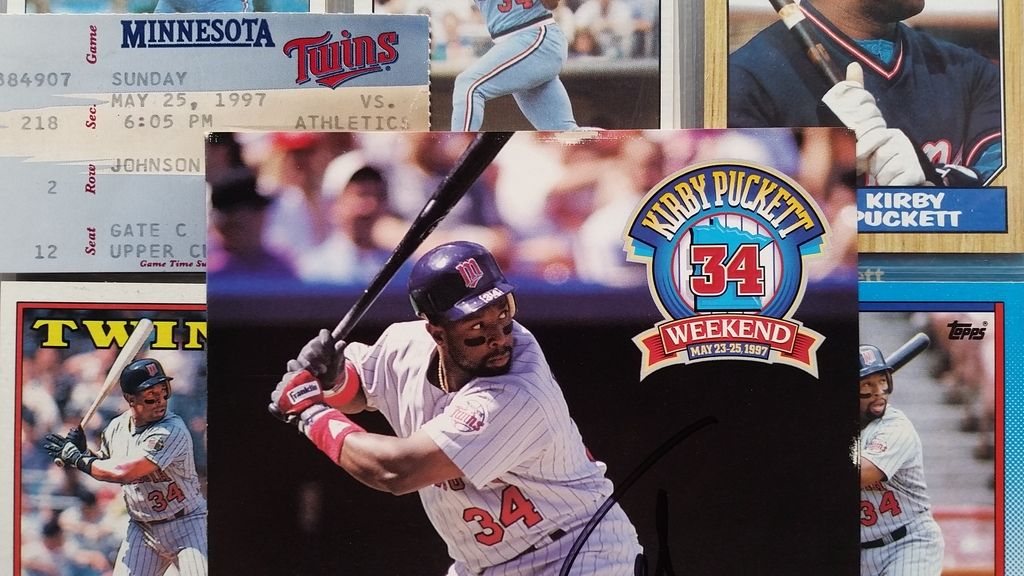 May 25, 1997
Kirby Puckett's Number Retired
Culminating a three day celebration of his career, the Twins retired Kirby Puckett's #34 before a dramatic 7-6, 10-inning victory versus the Oakland Athletics. The Twins led 6-4 entering the bottom of the ninth, but Rick Aguilera allowed 2 runs, blowing his 4th save of the season. He held the A's scoreless in the tenth, however, and picked up the win when Rich Becker delivered a two-out, walk-off single, driving in Matt Lawton, pinch-running for Terry Steinbach.
Keep in touch with the Twins Almanac by following
@TwinsAlmanac
on Twitter.