Twins Almanac for May 20th
Posted by Matt Johnson , 18 May 2016 · 1,354 views
twins almanac
rod carew
harmon killebrew
randy bush
marty cordova
May 20th has been such an eventful day in Twins history that it gets its own dedicated edition of the Twins Almanac.
May 20, 1970
Rod Carew Hits for Twins' First Cycle
Rod Carew hit for the first cycle in Twins history in a 10-5 win in Kansas City. He completed the cycle with an eighth inning triple, driving in Cesar Tovar. Carew was 4-for-5 with 2 RBI and 2 runs scored on the day. After Carew's triple, St. Cloud Cathedral High School graduate and future-Twin, Tom Burgmeier, came in to finish the game for Kansas City.
Ten Twins have hit for the cycle: Carew (1970), Cesar Tovar ('72), Larry Hisle ('76), Lyman Bostock ('76), Mike Cubbage ('78), Gary Ward ('80), Kirby Puckett ('86), Carlos Gomez ('08), Jason Kubel ('09) and Michael Cuddyer ('09).
May 20, 1984
Clemens Allows First HR to Brunansky
Roger Clemens earned the first of his 354 career victories, allowing 4 runs on 7 hits and a walk over 7 innings in a 5-4 Red Sox win at the Metrodome. With two out in the bottom of the sixth, Tom Brunansky hit the first of the 363 home runs that the Rocket would allow over his 24-year career.
May 20, 1986
Keith Atherton Acquired from Oakland
The Twins traded a player to be named later and cash to Oakland for pitcher Keith Atherton. The player to be named wound up being minor league pitcher, Eric Broersma, who never made it to the Majors. Atherton, on the other hand, pitched in 62 games for the 1987 Twins, including games 1 and 5 of the World Series.
May 20, 1989
Randy Bush Collects Twins Record 8 RBI
Randy Bush drove in a Twins single game record 8 runs in a 19-3 win in Texas. Six of those RBI came in the final two innings of the game, as Bush hit 3-run home runs in the eighth and ninth. He was 3-for-4 with a walk, 8 RBI (one on a sac fly) and 2 runs scored on the day. Leadoff hitter Dan Gladden tied a Major League record with 7 plate appearances in the game, going 1-for-7 with an RBI and run scored.
Two players have driven in 12 runs in a game, both playing for the St. Louis Cardinals. Hall of Fame first baseman Jim Bottomley did so versus the Dodgers at Ebbets Field in 1924. And, in 1993, Hard Hittin' Mark Whiten drove in 12 of the Cardinals' 15 runs with 4 home runs, including a first-inning grand slam, versus the Cincinnati Reds.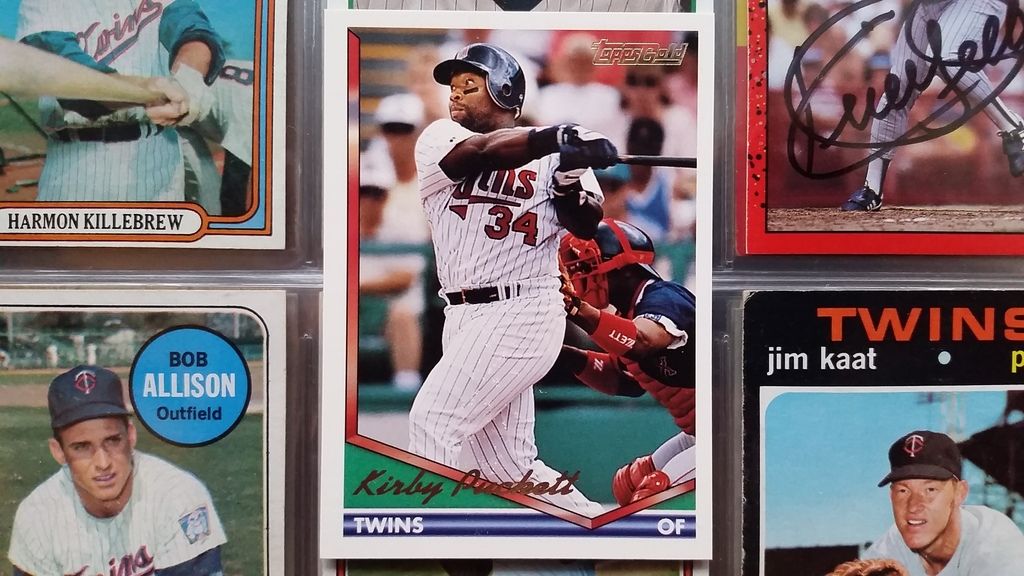 May 20, 1994
16 Twins Bat in 11-run Inning
Already beating Boston 10-1 at the Metrodome going into the bottom of the fifth, the Twins sent a team record 16 men to the plate, tying team records for runs in an inning (11), hits (10) and consecutive hits (8). The Twins won 21-2, improving to 21-19 on the season. Kirby Puckett had a huge day, going 3-for-3 with a HR in the fifth, 7 RBI and a run scored.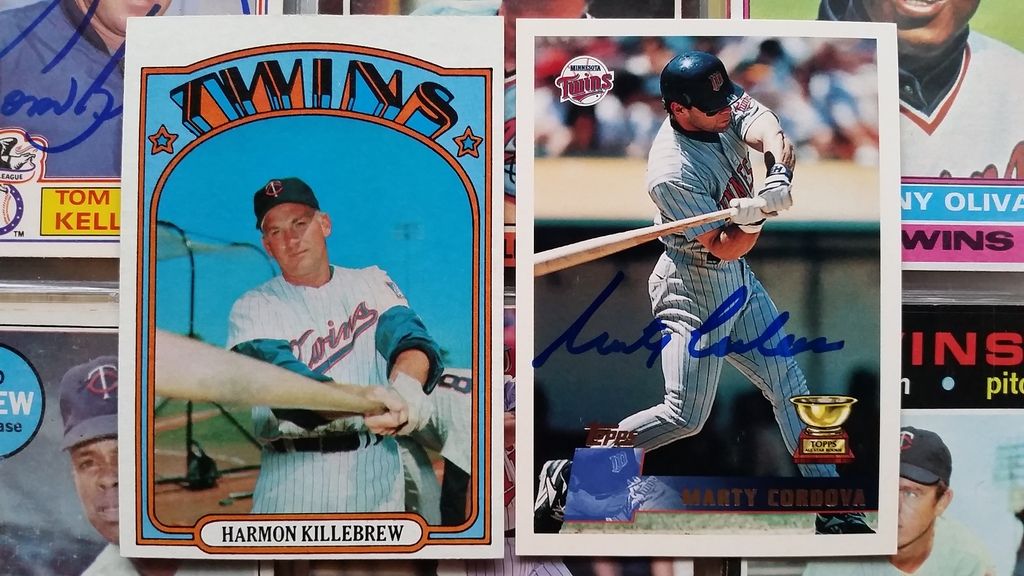 May 20, 1995
Marty Cordova Homers in Fifth Consecutive Game
Marty Cordova tied a Twins record, homering in his fifth consecutive game as Scott Erickson and the Twins fell to Lou Piniella's Seattle Mariners 10-6 at the Metrodome. Cordova would hit a career-high 24 home runs in 1995 en route to being voted the American League's Rookie of the Year. Harmon Killebrew homered in five consecutive games on two separate occasions during the Twins' 1970 Division championship season.
Twenty players have homered in at least six consecutive games. Barry Bonds is the only player with two such streaks, homering in six straight in 2001 and seven straight in '04. Jim Thome homered in seven straight for Cleveland in 2002. The Major League record for consecutive games with a home run is eight. Pittsburgh's Dale Long did so in 1956, followed by Don Mattingly in 1987 and Ken Griffey Jr. in 1993.
May 20, 2005
Silva Needs Only 74 Pitches for Complete Game Win
Carlos Silva allowed just 1 run on 5 hits, no walks and 3 strikeouts in a complete game 7-1 Twins win over Milwaukee at the Metrodome. Silva needed only 74 pitches to complete the game, an average of 8.2 per inning. Second baseman Nick Punto was 4-for-4 with an RBI and run scored. The Twins had 16 hits as a team. The only Twin without a hit was Torii Hunter, though he did drive in Punto with a sac fly.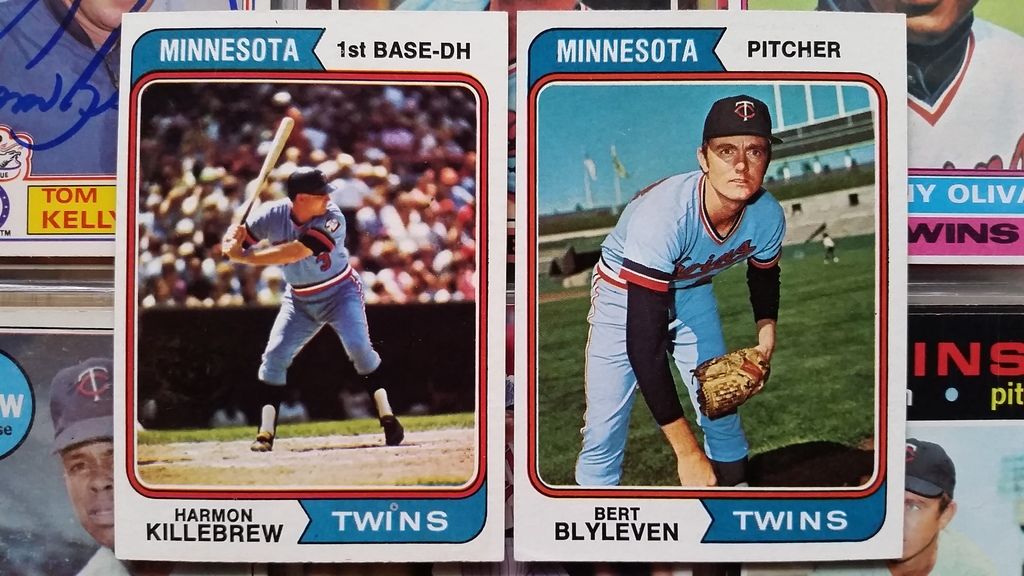 May 20, 2011
Twins Attend Funeral of Harmon Killebrew
Putting a silver lining around an otherwise sad situation, the Twins were in town to play the Arizona Diamondbacks and able to attend the funeral of Harmon Killebrew, who had passed away three days earlier. Bert Blyleven spoke at the funeral, while Rod Carew, Tony Oliva, Frank Quilici, Joe Nathan, Michael Cuddyer, Justin Morneau, Ron Gardenhire and Paul Molitor served as pallbearers.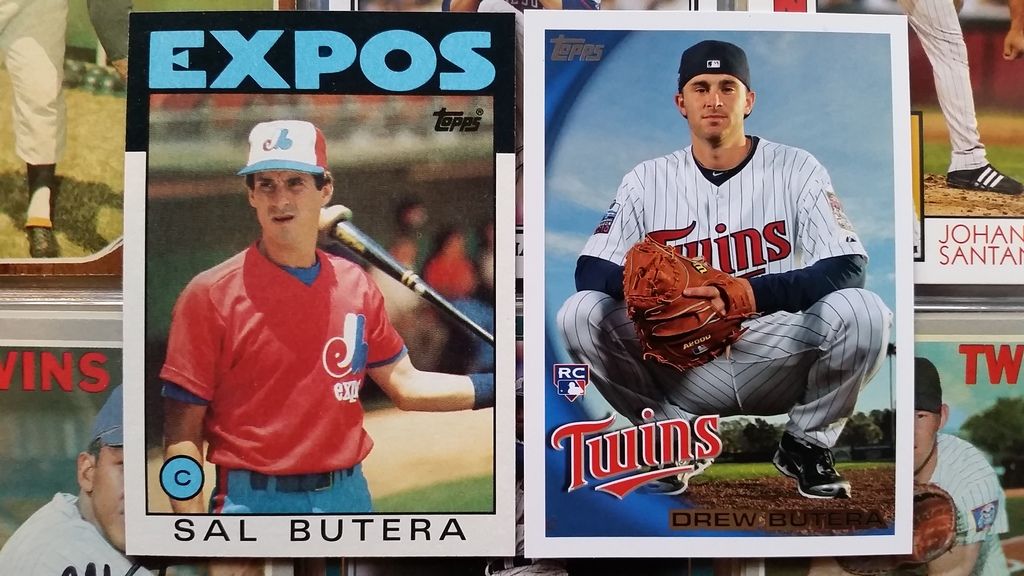 May 20, 2012
Drew Butera Pitches a Scoreless Inning
Trailing 16-4 in Milwaukee, Ron Gardenhire called on Drew Butera to pitch the bottom of the eighth. Butera pitched a scoreless, hitless frame, walking one and striking out Carlos Gomez. Drew threw several pitches in the 90s, topping out at 94 on the radar gun.
While playing with the Dodgers in 2014, Butera pitched a 1-2-3 ninth inning versus the Miami Marlins. He pitched again for Los Angeles just three days later, this time giving up a 2-run HR to Paul Goldschmidt as he recorded the final two outs of the game.
Drew's dad, fellow catcher Sal Butera, did not allow a hit in his two Major League pitching appearances. He pitched a 1-2-3 inning in his big league pitching debut for Montreal in 1985. In 1986 he pitched a scoreless ninth for the Cincinnati Reds, walking one and striking out one.
Keep in touch with the Twins Almanac by following
@TwinsAlmanac
on Twitter.