The Twins Almanac for April 24-30
Posted by Matt Johnson , 23 April 2016 · 2,204 views
twins almanac
harmon killebrew
luke hughes
camilo pascual
mickey hatcher
And here is the Twins Almanac for the week of April 24th through April 30th. This week in Twins history Paul Molitor and Greg Myers each collected 5 RBI as the Twins scored a team record 24 runs. Scott Erickson pitched the third no-hitter in Twins history. Camilo Pascual hit his 2nd career grand slam. Harmon Killebrew hit both his first home run as a Twin and his 400th career home run this week in history. Mickey Hatcher tied Tony Oliva's club record for consecutive hits. And Luke Hughes became the fifth Twin to homer in his first career at-bat.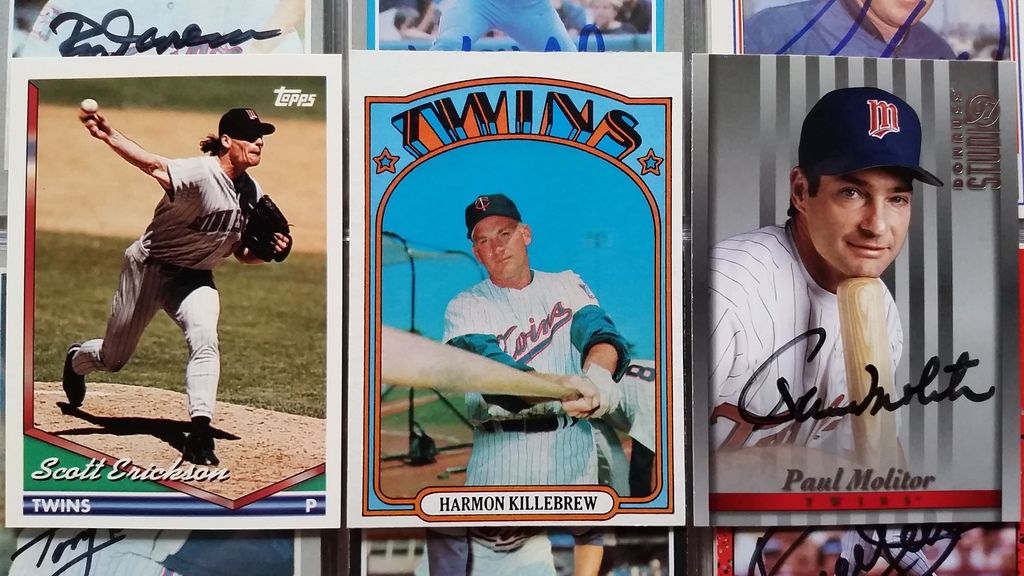 April 24, 1996
5 RBI Game for Both Molitor and Myers
Paul Molitor was responsible for 10 of the record 24 runs the Twins scored in a 24-11 win at Tiger Stadium. Molitor went 2-for-5 with a walk, 5 RBI and 5 runs scored (he reached on two fielder's choices). Catcher Greg Myers went 5-for-6 with 5 RBI and 3 runs scored.
The Twins jumped out to a 6-1 lead after two innings, but had used three pitchers by the end of the third and trailed 10-7 at the end of four innings. But the Twins kept adding on, outscoring the Tigers 17-1 over the final five innings. They scored in every inning but the fourth, never scoring more than 5 runs in an inning, which they did in the eighth.
April 25, 1961
Fred Bruckbauer Has Career ERA of Infinity
With the Twins already trailing 7-2 in Kansas City after three innings, Fred Bruckbauer, a 22 year old New Ulm-native and alumnus of St. Mary's High School (Sleepy Eye, MN) and the U of M, made his Major League debut coming in to pitch to the Athletics in the bottom of the fourth. Bruckbauer gave up 3 runs on 3 hits and a walk before being pulled without recording an out. Unfortunately, this was Bruckbauer's one and only big league appearance. Since he never recorded an out, his ERA is infinity. The Twins went on to lose the game 20-2.
April 26, 1986
Dome Roof Deflates, Twins Lead Collapses
The Twins led the California Angels 5-1 in the bottom of the eighth on a stormy night in Minneapolis when a tear caused the Metrodome roof to deflate. The L.A. Times described the scene, with "80-m.p.h. winds tearing holes in the fiberglass dome and whipping through the stadium, sending speakers and light standards swaying on their cables like yo-yos in a wind tunnel… Above the third base line, a geyser of water shot through a drainage hole in the roof, dousing a handful of spectators." The roof was re-inflated and, remarkably, the game was only delayed nine minutes. The Twins went on to score once more in the eighth, with Mickey Hatcher driving in Steve Lombardozzi with a sacrifice fly.
With a 6-1 lead in the ninth, starting pitcher Frank Viola gave up a leadoff double to Brian Downing and a two-run home run to George Hendrick before being relieved by closer Ron Davis with the Twins still up 6-3. Davis gave up a single and two-run home run to the first two men he faced. With one out he walked pinch-hitter Reggie Jackson, representing the tying run. After striking out Bobby Grich for the second out, Ron Davis gave up a go-ahead, two-run homer to Wally Joyner, who had made his Major League debut less than three weeks earlier. Tom Brunansky, Roy Smalley and Gary Gaetti went down in order in the bottom of the ninth and the Twins lost 7-6.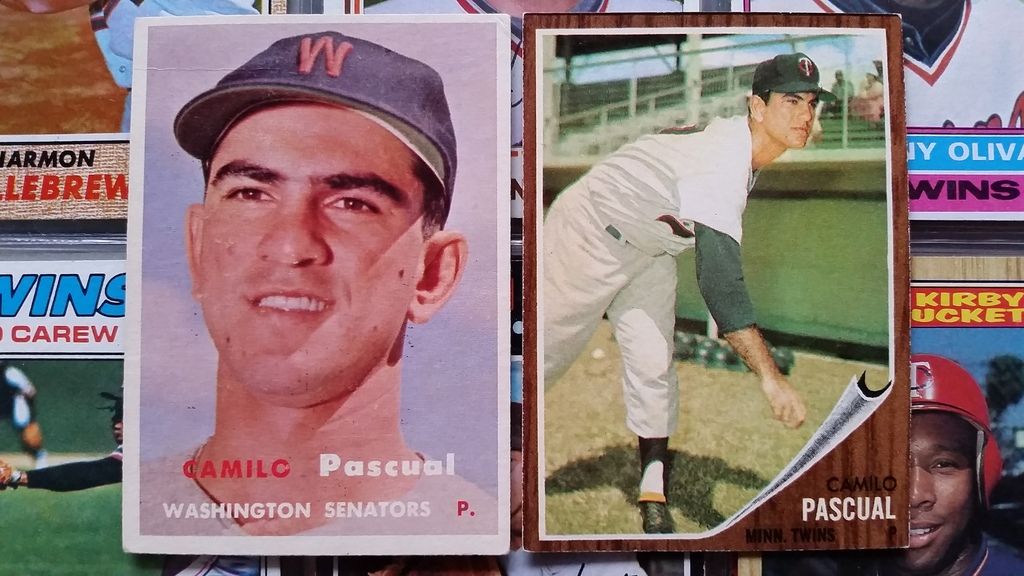 April 27, 1965
Camilo Pascual Hits Second Career Grand Slam
Camilo Pascual allowed just 1 run on 2 hits in an 11-1 Twins win on the road in Cleveland. With the Twins already leading 3-0 with two out in the first inning, Pascual hit his second career grand slam, and the only grand slam by a pitcher in Twins history.
Pascual hit his first grand slam in the Senators' final season in Washington, on August 14, 1960 in a 5-4 win in the first game of a doubleheader at Yankee Stadium. The Senators won the second game 6-3 in 15 innings.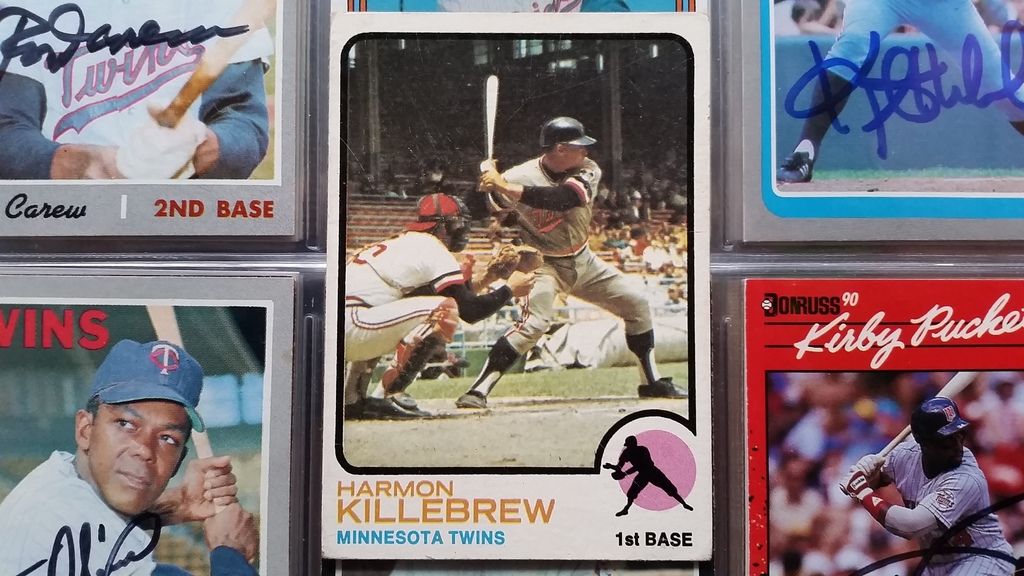 April 27, 1969
Killebrew's 400th Home Run
Harmon Killebrew hit his 400th career home run with two out in the top of the first inning of an afternoon game in Chicago. Down a run in the seventh, Rod Carew hit a two-run homer and pitcher Dave Boswell and the Twins went on to win 4-3. The top of the Twins lineup that day went Tovar, Carew, Killebrew, Oliva, Alison.
All told, Killebrew hit 573 home runs, 5th most in baseball history at the time he retired, and still 11th all-time in 2016. He hit 84 home runs as a member of the Washington Senators, 14 as a Kansas City Royal in 1975, and 475 in a Twins uniform.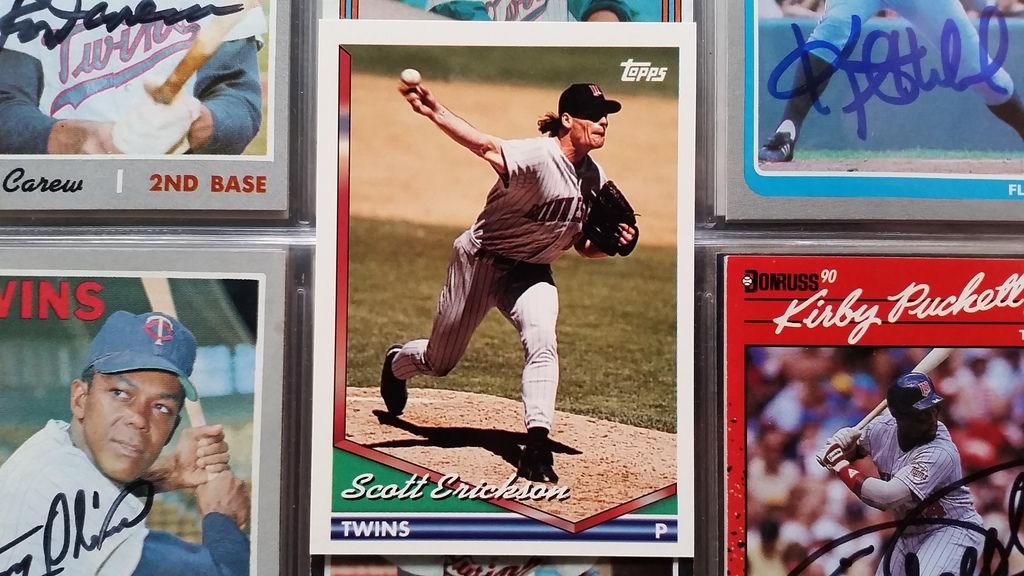 April 27, 1994
Scott Erickson No-Hitter
Scott Erickson pitched the first no-hitter at the Metrodome, the third no-hitter in Twins history, and the first since Dean Chance threw one in the second game of a doubleheader in Cleveland in 1967. Erickson, who had led the American League with 20 wins and finished second in Cy Young voting in 1991, was coming off of a '93 season in which he led the league with 19 losses and 266 hits allowed.
The Twins scored in each of the first four innings to lead the Milwaukee Brewers 5-0. Milwaukee's first baserunner, John Jaha, reached on a hit-by-pitch leading off the 6th. With two out in the ninth, Erickson walked two batters before getting the dangerous Greg Vaughn to fly out to Alex Cole in left. Erickson struck out five Brewers, including the DH Greg Vaughn twice and former Twins catcher, Brian Harper. Kirby Puckett went 4-for-5 with an RBI.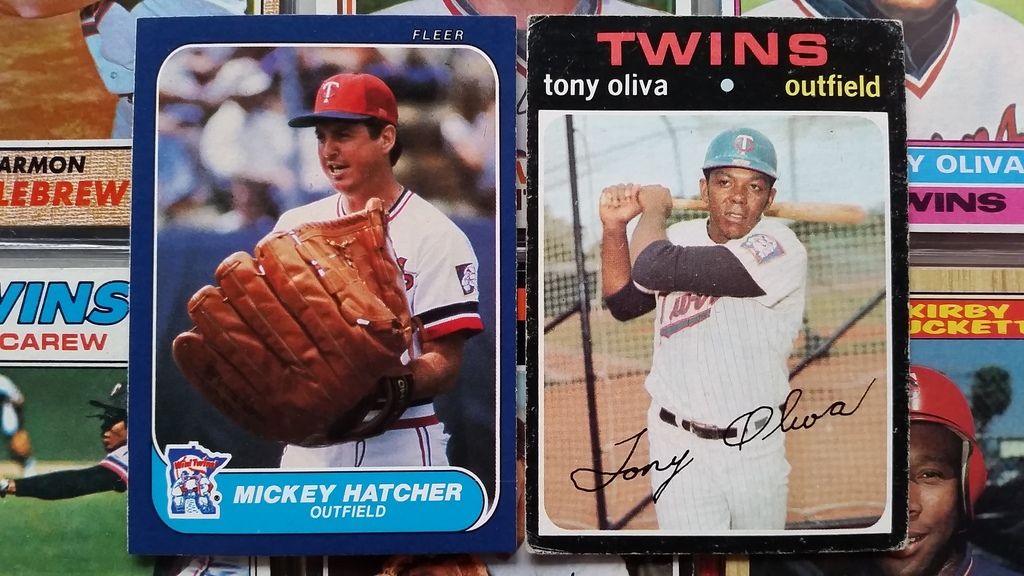 April 28, 1985
Mickey Hatcher Ties Tony O.'s Consecutive Hit Record
Mickey Hatcher went 4-for-5 in a 10-1 Twins win over Oakland at the Metrodome. Having gone 5-for-5 the previous day, Hatcher's 4 hits tied Tony Oliva's 1967 team record of 9 consecutive hits. Todd Walker matched the feat in 1998.
April 28, 2010
Hughes Homers in First MLB At-Bat
Leading off the top of the 3rd with the Twins already up 2-1 on a Thome home run, Luke Hughes lifted Max Scherzer's 2-2 pitch to right for an opposite field home run in his first Major League at-bat.
Hughes originally came up to bat in the second when Delmon Young was thrown out trying to steal third for the third out of the inning. The Tigers would come back and win the game 11-6.
Six Twins have homered in their first Major League at-bat: Rick Renick, Dave McKay, Gary Gaetti, Andre David, Hughes and Eddie Rosario. Between August 26th and September 20th, 1981, Kent Hrbek, Tim Laudner and Gary Gaetti each homered in their first Major League game.
April 29, 1962
Twins Hit Six Solo Home Runs
In the 2nd game of a doubleheader in Cleveland, the Twins hit six solo home runs, one each by Lenny Green, Don Mincher, Zoilo Versalles and Bill Tuttle, and two by Johnny Goryl. The Twins scored in each inning but the third and ninth and won the game 7-3. The Twins did not hit a home run in game one, winning 8-4.
April 30, 1961
Killebrew's First HR as a Twin
Trailing the White Sox 5-2 in the bottom of the 11th in Bloomington, Harmon Killebrew hit his first home run in a Twins uniform after having hit 84 as a Washington Senator. The White Sox held on to win 5-3 with Bob Shaw pitching all eleven innings.
For the history of the Minnesota Twins, told one day at a time, follow
@TwinsAlmanac
on Twitter, and like The Twins Almanac on Facebook.
For the stories of the Major Leaguers who grew up in Minnesota, follow
@MajorMinnesota
.