The Twins Almanac for April 3rd to 9th
Posted by Matt Johnson , 01 April 2016 · 1,379 views
twins almanac
bert blyleven
kent hrbek
tony oliva
ron gardenhire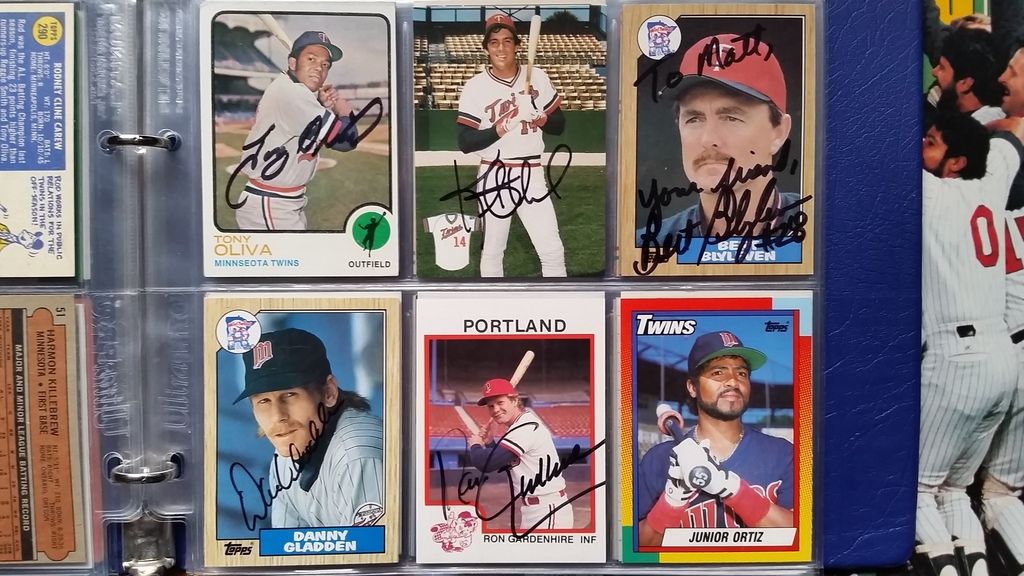 4/3/82
: The Twins beat the Phillies 5-0 in an exhibition game, the first Major League game played at the Metrodome.
Pete Rose
collected the new stadium's first hit, and Bloomington-native
Kent Hrbek
hit the Dome's first two home runs.
4/4/90
: The Twins traded future-KARE 11 anchor,
Mike Pomeranz
, to Pittsburgh in exchange for
Junior Ortiz
and a minor league pitcher. Ortiz, who wore #0, is best-remembered as
Scott Erickson
's personal catcher during the Twins' 1991 World Championship season.
4/5/14
: The Twins beat the Indians 7-3 in Cleveland for
Ron Gardenire
's 1,000th managerial win. Leadoff hitter
Brian Dozier
homered on the second pitch of the game. Leading 7-1 in the 9th, 2001 Stillwater Area High School graduate and former Golden Gopher,
Glen Perkins
, gave up 2 runs before securing the Kyle Gibson victory.
4/6
is the birthday of Rik Aalbert "
Bert
"
Blyleven
, born in Zeist, Holland (1951). Blyleven grew up in Garden Grove, CA and was drafted by Minnesota out of high school in the 3rd round in 1969. After only 21 minor league starts, Bert made his Major League debut on June 2nd, 1970 at age 19. Blyleven would pitch for 22 seasons, 11 in Minnesota ('70-'76, '85-'88). He is a 2x World Series champion, winning his first in 1979 as a Pittsburgh Pirate, and his second as a member of the '87 Twins. Blyleven won 149 games as a Twin, 2nd only to
Jim Kaat
(190). His 3,701 career strikeouts rank 5th in Major League history. Bert Blyleven was elected to the Baseball Hall of Fame in 2011, his 14th year on the ballot. His number 28 is retired by the Minnesota Twins.
4/6/66
: The Twins traded Nimrod, MN-native and 1954 Sebeka High School grad,
Dick Stigman
, and a player to named later to the Boston Red Sox for backup catcher Russ Nixon and second baseman Chuck Schilling who never appeared in a Major League game for Minnesota and retired rather than accept a minor league assignment. Schilling became a math teacher in Long Island, NY.
4/6/73
:
Tony Oliva
hit the first home run by a designated hitter in Major League history off of Oakland's
Catfish Hunter
in the top of the 1st, driving in
Rod Carew
.
Bert Blyleven
pitched the first of his season's 25 complete games in the Twins' 8-3 victory.
4/7/70
: Outfielder
Brant Alyea
drove in 7 runs to back winning pitcher
Jim Perry
in the season-opener. Alyea went on to collect 21 RBI in the Twins' first 12 games, 19 of which came in Perry's first 4 starts of the season.
4/8/88
: The Twins beat the Blue Jays 6-3.
Dan Gladden
went 4-for-5 with 3 runs scored, 4 RBI and 2 home runs. He homered in the 1st and 8th and, and stole home off of
David Wells
in the 7th with
Kent Hrbek
batting.
Gladden stole home 3 times in his career, twice in '88 and once in '89. He was caught attempting to steal home 5 times.
Rod Carew
stole home 17 times, and
Paul Molitor
10 times.
4/9/00
: The Twins hit back-to-back-to-back home runs is a 13-7 win in Kansas City. Already leading 6-0 entering the top of the 6th,
Corey Koskie
led off the inning with a base hit.
Ron Coomer
,
Jacque Jones
and
Matt LeCroy
then proceeded to hit three consecutive home runs on four total pitches, Coomer and Jones hitting first-pitch homers, and LeCroy taking an 0-1 pitch out of the park. Coomer homered again in the 7th, again with Koskie on base.
Eric Milton
had retired the first 20 batters in order and had a 2-hit shutout going into the 8th. After retiring the first two batters, including former Twin David McCarty, Milton allowed two hits and was relieved by
Eddie Guardado
. Guardado gave up an RBI single and then back-to-back home runs to Carlos Beltran and Jermaine Dye. He was relieved by Hector Carrasco who surrendered the Royals' third consecutive home run to Mike Sweeney. It was the first game in Major League history in which each team hit back-to-back-to-back home runs.
The Twins are one of seven teams to have hit four consecutive home runs, doing so on May 2, 1964 in Kansas City versus the Athletics. With the score tied 3-3 entering the top of the 11th,
Tony Oliva
hit a leadoff home run followed by
Bob Allison
,
Jimmie Hall
, and
Harmon Killebrew
, giving the Twins a 7-3 victory.
The Twins set the American League record by hitting 5 home runs in a single inning on June 9, 1966, also against the KC Athletics, but this time in Bloomington at the Met. The Athletics erupted for four runs in the first off of
Camilo Pascual
, who only lasted ⅔ of an inning. Facing 1987 Hall of Fame inductee,
Catfish Hunter
, the Twins pulled within 4-3 on a
Bob Allison
RBI double in the 5th and a 2-run
Killebrew
homer in the 6th. Then, in the bottom of the 7th,
Rich Rollins
and
Zoilo Versalles
connected for back-to-back homers off of Hunter to take the lead. Reliever Paul Lindblad retired Sandy Valdespino before allowing back-to-back homers to
Tony Oliva
and
Don Mincher
. The Athletics then turned to John Wyatt who allowed the Twins' third consecutive home run, and the fifth of the inning, to Harmon Killebrew, his second of the game.
Four National League teams have hit 5 home runs in an inning. The first time was in 1939 and the most recent in 2006. All four were against the Cincinnati Reds.
For the history of the Minnesota Twins told one day at a time, follow
@TwinsAlmanac
on Twitter.
For the stories of the Major Leaguers who grew up in Minnesota, like
Major Minnesotans
on Facebook and follow
@MajorMinnesota
on Twitter.