Cliff Notes for the 2015 Twins: Chapter 4
Posted by PeanutsFromHeaven , 31 August 2015 · 1,917 views
cliff notes
miguel sano
eduardo escobar
ervin santana
trevor may
The first days of school are right around the corner for many tykes in Twins Territory, so to help you with that summer reading you neglected, here's some more notes about that local best-seller: The Minnesota Twins
Chapter 4: Post-All-Star Break to End of AugustPlot Summary:
While the doldrums in Chapter 3 appeared foreboding, the climactic triumph of Glen Perkins and Brian Dozier's march to the All-Star Game (and accompanying 6-1 stretch) offered a great deal of hope to Twins fans. As I wrote
then
"As Perkins and Dozier rise as protagonists, it will be interesting to see what obstacles and conflicts are thrown in their way to create dramatic tension for the rest of the season."
In many ways, those obstacles and conflicts are part of Chapter 4's great unraveling....
On a Summer Vacation style trip to Oakland and Los Angeles, Glen Perkins' save streak came to an abrupt end. Home series against the Yankees and Mariners didn't help matters and a swift sweep at the hands of the Blue Jays at the start of August left many people questioning whether or not the whole season was doomed.
It didn't help that the Twins' attempts to bolster their squad were...underwhelming, as very few kids clutch their "Kevin Jepsen" or "Neal Cotts" trading cards. Sure enough many people targeted the bullpen as a disappointment, and the starters didn't help matters by following the struggles in Toronto by spending a weekend in Cleveland where no starter got through 4 innings.
Meanwhile, in the line-up, Dozier's daunting numbers have slipped, dropping forty points in On-Base Percentage, and one-hundred points in Slugging Percentage, right when (as the pitching shows) his bat would be quite valuable. An eleven run outburst against the Rangers helped them in the Wild Card, but by the time the Twins hit New York for another series agains the Yankees the rival Royals' division lead had stretched to 12 games. After (yet another) sweep in the Bronx, that lead was 14, and even the wild card seemed out of reach. Particularly when the two All-Stars were so far from the heroes they seemed to be just months before.
Or so it would have been, if another hero had not emerged over Chapter 4. Twins' fans hearts have begun to pitter-pat in a way they haven't since the days of "Baby Jesus", fittingly thanks to an Angel...or rather, an Ángel. Miguel Ángel Sanó. The burgeoning power and satisfying patience offset a strike-out happy debut, and once joined with his fellow rookie sensation Byron Buxton, Sano helped carry the Twins to a staggering 8-2 run to close out the month, with all the wins coming against fellow playoff contenders in Baltimore, Tampa Bay and Houston.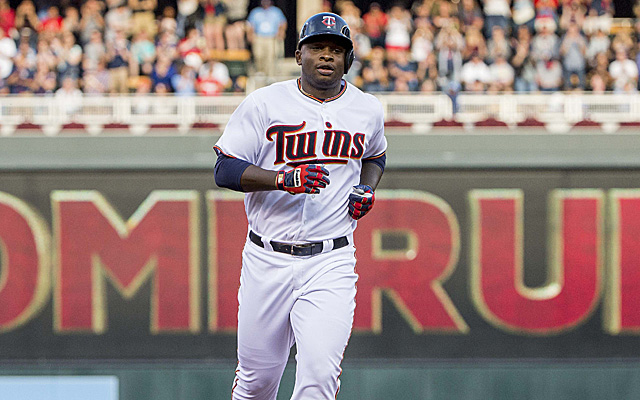 Do it again Miguel!
So despite the doom and gloom that pervades chapter four, again the authors' of the Twins season offer reasons to hope entering the next thrilling chapter.
Main Character Development:
We've mentioned the falls of both
Perkins
and
Dozier
and the plot summary referenced the rise of
Sanó
, but baseball seasons' don't just develop the obvious protagonists, they develop everyone.
Consider
Eduardo Escobar:
this was a player who seemed for all the world to be an tossed-in trading chip on an insignificant deal during the middle of a lost year. A player so insignificant, that our review of the trade focused
more on a poem about the departing Francisco Liriano
than any reflection on who was coming over. Three years later, while the man he was traded for has been solid on the mound, Escobar has become something of a cult figure in Twins Territory, occupying a space once reserved for Nick Punto or Gene Larkin. He has out-hit Pedro Florimon, out-fielded Danny Santana, and out-everythinged potential trade bait to become the starting short stop on a play-off contender. That's a heck of a return for three months of poor performing Francisco Liriano.
If you want a less optimistic development consider Ervin Santana: At the end of Chapter 3, Santana twirled a fine game against the division leading Royals, with eight strikeouts in eight innings, leaving the K deprived Twins fans eager to #SmellBaseball (and in many cases, learn what hashtags really meant). He seemed to be a bright spot on the dispiriting West Coast road trip and then spent a six game stretch allowing an average of 5 runs per start and winning exactly zero of those games. High hopes were dashed, and the cheers turned to questions about whether we had been bamboozled by steroid inflated numbers, just like Joe was hoodwinked by Samantha's 200 texts on Bachelor in Paradise (don't pretend you don't know what I'm talking about). Perhaps his 10 Strikeout performance will redeem him...or perhaps he's a pineapple.
Pictured: The Bachelor in Paradise
equivalent of Terry Ryan holding
Ervin Santana.
Key Quote/Stat Explained+tOPS in High Leverage At Bats
+tOPS is a way to tell if a player is performing better or worse than they normally do. 100 is average, so any thing above that is good for a hitter (and bad for a pitcher), anything below 100 is bad for a hitter (and, obviously, good for a pitcher).
Leverage is a means of measuring how any individual at bat can affect the outcome of the game. If a pitcher can get an out in a high leverage situation (like, say, the bases loaded with no outs and a one run lead) that's a little more important than a low leverage situation (like, say, facing the number nine-hitter with two out, nobody on, and a ten-run lead).
Right at the end of Chapter 3 the Twins turned
Trevor May
into a relief pitcher, and while it hasn't been as narratively satisfying as some other characters' arcs, it is instructive in this situation. After all, May has pitched a lot this season, in all kinds of situations as both a starter and a reliever. In low leverage situations, he's performed like he usually does (tOPS = 104). In medium (or average) leverage situations he's performed like he usually does (tOPS = 108). In high leverage situations he has been significantly better (tOPS = 74).
Those numbers are all still about average by league standards, but it suggests that Trevor May can be quite good right when the Twins need him to be (no matter which role he's pitching in).
Literary Terms to Impress English Majors:
If the 2015 Twins are a mystery to you, as they are to most fans, then you're ready to find out exactly what this year has been a
Red Herring
and what isn't.
The 2015 Twins plot points
Many hard core mystery fans know to expect red herrings, or misleading clues in the course of their story, say when a suspect is called "a bad, bad man" by a trustworthy source right when the detectives are looking for a "bad, bad man". Naive readers may assume, the "bad, bad man" is the villain, trained readers know that there's something else a foot.
So the best writers (or those who like messing with readers the most) enjoy piling red herring on top of red herring until you have a veritable smorgasbord of deceptive head fakes, winks, nods and suggestions leaving everyone totally bewildered. So, if you're trying to figure out your team's identity and you're perpetually bombarded by mediocrity, then brilliance, then ineptitude, you know you've got a Red Herring, you just don't know which one. The same goes for players: is Glen Perkins the shut down closer of your dreams, or an injured work horse? Is Brian Dozier an MVP candidate, or a great head of hair and a winning smile? Is Ervin Santana a disaster or a diamond? Is Neal Cotts another Bargain Bin retread, or just what the doctor ordered?
The climactic chapter of the Twins' season is yet to come, all will be revealed, and all the herrings will be eaten.