Minnesota Twins' Top 10 Moments of 2013 [Video]
With the calendar flipping to 2014 tomorrow, Twins fans must be eager to hurry that process along. After all, the previous season was a mire with yet another 90+ loss year on the ledger.

Although no one should be criticized for having his attention wander from the team before spring training, there were still plenty of entertaining moments to remember - little things that make the entire sport of baseball beautiful.


Below are the Top 10 moments from 2013.
[PRBREAK][/PRBREAK]
Honorable Mention: Glen Perkins Pitches With Fly Down


Just what it sounds like.

(h/t
cjzero
)
10. Aaron Hicks: Card-Carrying Member of the NRA


He has to be when you see his gun. It should be no surprise considering teams were thinking about drafting him as a pitcher out of high school where he threw upper 90s cheddar on the mound. Turns out that velocity translates well to the outfield.


At Yankee Stadium, after letting the ball carom off the wall, Hicks caught up with it just short of the warning track and delivered a bullet to third to nail the Yankees' Vernon Wells who was looking for the extra base.


Wells was just one of Hicks' nine outfield assists in his rookie year -- that was the highest number of assists for someone with so few innings (701 innings).

(h/t
@cjzero)

9. Oswaldo Arcia Tries To Bo Jackson His Bat, Fails


All rookies have a tendency to struggle as they adapt to a higher level of pitching. Oswaldo Arcia was no different. While demonstrating mouthwatering power at times, he also went through a long stretch where he could not make contact with a pitched ball.
With it, apparently, came frustration.

In Tampa, Arcia could not take it anymore. After another K, he tried to take it out on his bat but the bat -- presumably not weakened by contact -- wouldn't give.


<iframe class="vine-embed" src="https://vine.co/v/h73OVwntnhr/embed/simple" width="480" height="480" frameborder="0"></iframe><script async src="//platform.vine.co/static/scripts/embed.js" charset="utf-8"></script>



(h/t Me and my Vine)


8. Darin Mastroianni's Belt-Busting Grab


Mastroianni, who spent a significant portion of the year sidelined with a foot injury, showed that he can cover a sizable amount of real estate. In limited time, he made plays on 32 of the 34 balls in his zone while playing outfield. Additionally, he managed to snag eight more that were outside of the typical fielder's zone - including this one in Houston.


While thwarting this should-be extra base hit, Mastroianni lays out on the warning track. In doing so, the coarse Texas dirt did more damage to his belt than a night at Old Country Buffet.

Mastroianni was saved by borrowing the pants holder-upper from a member of his bullpen: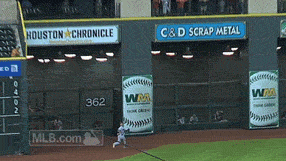 Just a reminder that baseball is the only one of the four major sports to have belts as a part of their uniforms.


(h/t
Giphy.com
)


7. Brian Dozier's Glorious Hair


After an unsuccessful season at shortstop in 2012, Brian Dozier moved one position to the left. There, he displayed solid glove work and, occasionally, flashy plays like this one.

OK, so it is less about the actual catch and more about the Hollywood hair. This must be female baseball fan's equivalent of watching Phoebe Cates climb out of the pool in slow motion in
Fast Time At Ridgemont High
. Makes you feel all funny inside; like climbing the ropes in gym class.


It is clear he lathers, rinses and repeats. Repeating is so important.


(h/t:
Yahoo Sports Big League Stew
)


6. Joe Mauer Is An Athletic Freak


The study of measuring a catcher's contributions has grown exponentially among the statistics crowd with the proliferation of framing studies and data. While the jury may still be out on how much value those extra strikes can provide a team, having an athletic freak of nature wearing the tools of ignorance still pays dividends.


Case in point, with a relay from Hicks-to-Florimon-to-home gone awry Mauer, a towering former football and basketball recruit out of high school, leaps in the air to secure the errant throw and adjusts to tag out Boston's Stephen Drew at the plate. Simply amazing to watch.

With the move to first base set for 2014, Mauer should be remembered as one of the game's most athletically gifted catchers because of plays like this.

If that is not enough, surely this honorable mention will convince you that he has not just a sixth but a seventh sense for the game of baseball:


http://mlb.mlb.com/assets/images/custom/tumblr_mo4u1rJw0i1ro5xweo1_400_tl8m82rv.gif

(h/t
Drawn To MLB
)


5. Justin Morneau High-Fives Nobody


Justin Morneau had a career-high streak of 168 at-bats without a homer when he busted out with a long one on June 20. When he returned to the dugout, his teammates gave the veteran the big snub. Rather than succumb to their silent treatment, Morneau threw out a bunch of air fives.


http://24.media.tumb...o5xweo1_400.gif


Traded to Pittsburgh at the waiver deadline, Morneau has signed with the Rockies and rejoined former teammate Michael Cuddyer who, according to former Twins teammates, distributes an extremely painful high five.


(h/t
Drawn to MLB
)


4. Ballboy Makes Second Best Catch At Target Field


Paul Neshek, former Twins reliever Pat Neshek's brother is patrolling the left field line. The White Sox' Alexi Ramirez laces a liner that is destined for a fan's face. Neshek leaps from his perch and snares that mofo before it can do damage. Look at the clearance he gets in order to intercept this missile.


<iframe src='http://wapc.mlb.com/shared/video/embed/embed.html?content_id=28195859&width=400&height=224&property=mlb' width='400' height='224' frameborder='0'>Your browser does not support iframes.</iframe>
[video]http://wapc.mlb.com/play?content_id=28195859[/media]

(h/t MLB.com)


3. Jared Burton Knocks Out Brian Duensing


Oh, the fun you have in a bullpen.

http://img.gawkerass...f/ku-xlarge.gif

Apparently, former teammate Matt Maloney had the idea of miming a knockout punch in the bullpen and so when Chris Colabello (Italian for "Beautiful Cola") launched a drive that would clear the Twins bullpen in Chicago, Brian Duensing told Burton to throw a punch, to which Burton obliged. Naturally, the results were amazing.


(h/t
Deadspin
)


2. Trevor Plouffe Goes Ass Over Tea Kettle In Kansas City For A Foul Ball


For good reason, Plouffe takes a lot of heat for his defense at third. This was not one of those times.


http://25.media.tumb...o5xweo1_400.gif


(h/t
Drawn To MLB
)


1. Chris Parmelee Makes Twins Fan Lose His Effin' Mind


Chris Parmelee, giving Justin Morneau a reprieve at first, chased a Milwaukee Brewer foul ball towards the camera well near the Twins' dugout. The ball appeared well out of reach of Parmelee's grasp, easily being a play that could have been given up on. Instead, Parmelee superman'd himself over the padded gate, over the three concrete steps down and somehow found the ball as he landed at the feet of FSN's Marney Gellner.
It was a play that was made with complete disregard for human life.


http://s3-ec.buzzfed...69931506-13.gif

OK, so full confession: the reason this was - in my opinion - the best play of 2013 was because I saw the play up close and personal. With seats on the rail, the foul ball tailed off the field of play and was headed directly to where I was sitting. In fact, I believe I called it in the air. The ball, however, landed a few feet short of my outstretched hands. Fixated on the ball the entire time, I completely missed Parmelee's approach. Out of my peripheral vision, I saw a white blur diving and gloving the ball before landing hard on the concrete surface below.
Outside of seeing my daughter being born, it was the single-greatest thing I have ever eyewitnessed. Thus, I made this face:


http://s3-ec.buzzfed...69931744-19.gif
Buzzfeed later dubbed it a "Mom made Pizza Rolls" face. I defy any of you to watch the play from the same spot I had and not to have had the same reaction.


(Bonus fact: That's my Dad doing the double-barrelled fist-pump next to me.)


(h/t
Buzzfeed
)