Wednesday's Twins Minor League Daily
It's time again for my recap of tonight's action in the Twins' farm system. The parent club couldn't pull out a win tonight, so let's see how the affiliates fared.
The Rochester Red Wings were off tonight.
They are in last place
in the International League North, 9 games out of first place with a 16-26 record.
[PRBREAK][/PRBREAK]
New Britain 1, Binghamton 8
Today's game was quite a test for the Rock Cats, facing top Mets pitching prospect
Zack Wheeler
. He routinely hits 97 with the fastball, and probably won't be too long for AA. He looked good against New Britain this afternoon, throwing 8 innings and allowing 2 hits and 1 run. But David Bromberg, starting for the Rock Cats, also had a solid performance, going 6 strong innings, striking out 8, walking 3 and giving up just 1 run on 4 singles. Blake Martin relieved Bromberg, tossing a scoreless 7th and walking 1 batter. He gave up 1 hit to lead off the 8th before being removed in favor of Luis Perdomo. Then things got ugly. Perdomo walked one, but the Mets scored twice following a sacrifice bunt, a single, and a Danny Lehmann throwing error. Brett Jacobson threw 2/3 of the 9th, issued 5 walks and gave up 5 runs (2 earned) -- a 3-run home run and a bases-loaded walk. Bobby Lanigan came on to get the last out in the 9th, which he did after hitting a batter with the bases loaded to bring in the Mets' 8th run (charged to Jacobson). Martin ended up with the loss. To sum up: starting pitching was good; the bullpen wasn't.
There wasn't much offense to speak of for the Rock cats. Minnesota's own Nathan Hanson had an RBI single in the 5th to score Aaron Hicks, who had walked and stolen second (stolen base #13 for Hicks). Reversing a recent trend, Chris Herrmann did not get 4 hits today, but he did coax a walk out of Wheeler. Danny Lehmann had a double.

Here's the link
to the box score.
Ft. Myers 3, Clearwater 4
With a lengthy rain delay, starter Pat Dean went only 3 innings for the Miracle, allowing no runs on 2 hits and striking out 1. His outing was cut short as a result of the delay. Reliever Jose Gonzalez was excellent out of the bullpen, going 5 innings and allowing 1 run on 2 hits, and striking out 2 and walking 1 along the way. Ricky Bowen had a tough night, giving up 3 runs after allowing 3 hits and a walk in the 9th inning, picking up the loss.
The Miracle banged out 12 hits tonight, including 2 hits (1 double each) from Daniel Ortiz and Josmil Pinto, and 2 singles from catcher Daniel Rohlfing. Jairo Perez had a double, and Daniel Santana, Levi Michael, Andy Leer, Angel Morales and Lance Ray each had singles. Santana, Perez and Leer each had an RBI tonight, and Santana picked up his 5th stolen base of the year.

Here's the link
to the box score.
Beloit 3, Cedar Rapids 5
The Snappers couldn't put it together tonight against the Cedar Rapids Kernels. Starter Matthew Summers went 5 innings, gave up 7 hits and 4 earned runs. He struck out 2 and walked 2, but gave up 3 home runs. The bullpen, however, was better. Ryan O'Rourke, Clint Dempster and Corey Williams all pitched scoreless innings in relief.
On offense, the Snappers had 7 hits, including 2 hits from first baseman Adam Bryant, as well as doubles from Jairo Rodriguez, Wang-Wei Lin, Drew Leachman and Eddie Rosario. Lin drove in all 3 Beloit runs. TwinsDaily's own AJ Pettersen also had a single for Beloit. Miguel Sano continued his slump, going 0-for-4 with 2 strikeouts, and his average stands at .250 now. He also committed an error, his 15th of the season.
Here's the link
for the box score.
----------------
Players of the Day for May 23, 2012
Hitter of the Day: Wang-Wei Lin (photo courtesy of
Jim Crikket
)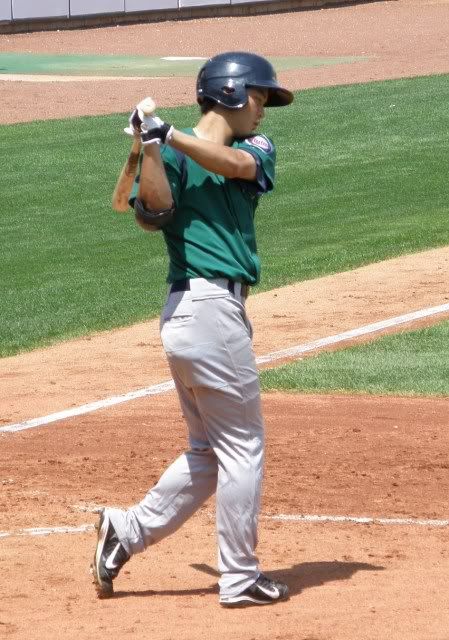 Pitcher of the Day: Jose Gonzalez (photo also courtesy of
Jim Crikket
)
----------------
Thursday's Action
Rochester @ Gwinnett -- RHP Liam Hendriks
New Britain vs. Binghamton -- RHP B.J. Hermsen
Ft. Myers vs. Clearwater -- RHP Madison Boer
Beloit vs. Cedar Rapids -- RHP AJ Achter
---------------
Feel free to leave any comments or questions in the comments section, and either Seth or I will get to them!