Twins 2013 Mock MLB Draft: Rounds 6 to 12
I started the Twins mock 2013 draft a week ago, suggesting that they
should select Sean Manaea with their first round and fourth overall pick
. A couple days ago I presented the
second to fifth round picks
for the Twins in this mock draft, and now I am concluding with picks from the 6th to the 12 round.
As I indicated in the first pick presentation, like every other mock draft out there, unless someone can see all the draft boards of all teams, this is a purely recreational endeavor.
[PRBREAK][/PRBREAK]
~~~ Originally posted at The Tenth Inning Stretch ~~~

A reminder of the picks so far:
Round 1
(4 overall)
Sean Menaea
LHP, Indiana State
Round 2
, (43 overall):
Hunter Dozier
, SS, Stephen F. Austin State
Round 3
, (78 overall)
Andrew Knapp
, C, Cal
Round
4
(110 overall)
Edwin Diaz
, SS, Ladislau Martinez Otero HS, Puerto Rico
Round 5
(140 overall)
DJ Snelten
, LHP, Minnesota
And the new picks:
Round 6
(170 overall)
Mike Wagner
, RHP, San Diego
Starter turned closer turned starter again. Plus plus fastball (peaking in high 90s) and average slider; could be a starter if he develops a third offering and improves his slider, otherwise a solid back of the pen guy.
Here is a 10 minute scouting video:
(EDIT: for some reason I cannot include videos here,
please go to the original post if you would like to see the video
)
Round 7
(200 overall) Xavier Fernandez, C, Puerto Rico Baseball Academy
Strong righty out of Puerto Rico. 6' 210 lbs and growing. Good hand eye coordination, projected to hit with power. Natural in the catcher position, but still pretty raw. Not on many radars, but well worth the pick for an organization starved for catchers.
Round 8
(230 overall)
Mike Yastrzemski
, OF Vanderbilt
The Twins' love bloodlines, and there is nothing like that of a Hall of Famer. Carl's grandson was drafted by the Red Sox in 2009 in the 30th round and by the Mariners last season in the same round but did not sign. This season he will be drafted higher, because his plate discipline, fielding and contact has improved. He might be a reach in the 8th round, but he is Yaz's grandson, which beats being Liddle's nephew, also from Vanderbilt, who in 2009 was picked in the 15th round by the Twins. Mike was raised by his grandfather after his father died from a heart attack in 2004 (
not a pretty story
). He is a senior and will get drafted. He has his grandfather's size (5'10", 185) and is a lefty hitter and thrower.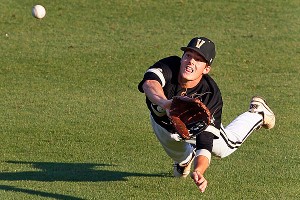 Round 9
(260 overall)
Marcos Ventura
OF/1B Puerto Rico Baseball Academy
This is the third Puerto Rican High School kid I project the Twins will select and for good reason: If
Dave Ortiz
is
Big Papi
and
Kennys Vargas
Little Papi
,
Marcos Ventura
is
Baby Papi
. Tremendous physique for a growing 17 year old (6'3" 220), with a lot of power now and potential for more. Fielding is a work in process, like the aforementioned two Puerto Ricans, but the lefty will have a job given his bat.
Round 10
(290 overall)
Weston Wilson
SS/3B Wesleyan Christian Academy (NC)
6'3" 190 lbs right, committed to Clemson so he will probably have to be over slot to sign. Good hands, good range and looks like a natural on the field, but some feel he is already too big for shortstop. Pretty good with the bat utilizing all fields, but his bat needs to mature.
http://d3fsqtc6sy2z2...4b3a4974c_large
Round 11
(320 overall)
Tyler O'Neill
C/SS Maple Ridge H.S. (BC, Canada)
Strong Canadian righty who started as a SS and has ended up behind the plate. Not an unusual combination, a lot like former Minnesota Twins' C
Jose Morales
.
Here
is a story on him from last season. Committed to Oregon State, so a team will probably have to go over slot even this late in the draft. Needs to mature with the bat a bit.
http://ts4.mm.bing.n...&h=185&c=7&rs=1
Here is a short video:
(EDIT: for some reason I cannot include videos here,
please go to the original post if you would like to see the video
)
Round 12
(350 overall )
Billy Waltrip
LHP Oklahoma
Closest comparables:
Scott Diamond
and
Pedro Hernandez
. 6'2", 215 Lefty with a 87-89 mph FB with good command, above average curve and work in process change up. Drafted by the Orioles in the 12th round last season but did not sign. He will this season. Unlike in 2012, he has lost his starting job due to some loss of command and has been pitching out of the Sooner's pen. A Twins' kind of guy who will be hard for them to pass up at this spot. His 2013 stats are
here
.
Here is a 3.5 minute video of Waltrip pitching in a game:
(EDIT: for some reason I cannot include videos here,
please go to the original post if you would like to see the video
)
This post completes the 2013 Twins mock draft selections.
As a reminder, you can find all 2013 MLB draft related posts here.