Bizarre Foods: New Items And Prices At Target Field
Mar 30 2017 06:48 PM | David Brauer in
Articles
Image courtesy of Twitter: @TFEats
Beer prices are up … by $2, for local brews! CAN YOU BELIEVE THIS CRAP TEAM IS RAISING BEER PRICES.
The local brews are being upsized, to 16 ounces from 12. I'M SORRY I DIDN'T HEAR THAT MY TORCH IS CRACKLING.
That means the per-ounce price is actually dropping 3 cents per ounce. OK ST. PETER IT'S SAFE TO COME OUT.
The Butcher & Boar rib tips are gone. WHERE DID I PUT MY TORCH MATCH.
Mainstays like popcorn, peanuts, pretzels, cones are up 50 cents. GO BACK TO THE PART ABOUT THE RIB TIPS.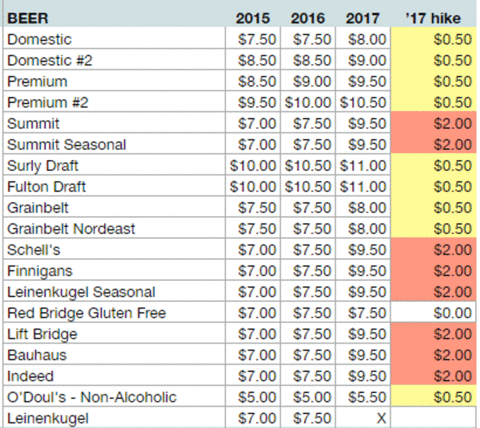 I know, Mr. or Ms. Hipster, you NEVER eat at the ballpark and you ONLY pre-game beer at a brew pub, but piss off, you're lying.
I'm not a huge fan of Target Field food - it's clever on paper, but not "OMG Garlic Fries at Pac Bell" when it hits your mouth. Except for the rib tips. And the Hot Indian (which they did not take and even added a Chicken Tikka salad). My personal short list also includes Kramarczuk's and the filling, overachieving Chicken Tenders.
Target Field's beer list, like the franchise itself, once punched above its weight but is now behind places like Comiskey Park —excuse me, GUARANTEED RATE FIELD — that just debuted a new Craft Cave (eyeroll) with over 75 craft beers (eye-pop).
Philosophically I'm OK with the beer upsizing, and the Twins are too, looking to get an extra few bucks from the lightweights who buy just one. The one specialty beer that didn't go up is Red Bridge Gluten Free — I'm guessing because they couldn't upsize the bottle. We are all celiacs now.
A lot of food items also didn't go up: all the hot dogs (including Kramarczuk's), Hot Indian, tacos, chips/guac, chili, corn dogs, Cracker Jacks, seeds, cotton candy, mini-donuts, and root beer floats.
For some reason, Papa John's Pizza (which is crap) and Angie's Kettle Corn (yum), are going up a buck. The fish & chips is up $1.50 (they no longer mention walleye, by the way). No other 2016 food item went up more than 50 cents.
You'll get nicked that for souvenir sodas (but not regular), bottled ice tea (but not bottled water), and Killebrew root beer (but not Gatorade, hot chocolate, or milk).
The cones are going up 50 cents but not the Dippin Dots THANKS TRUMP.
Other 50-cent hikes include the burger with fries, Tony O's Cuban, Red Cow's 60-40 burger, the turkey burger, Luce's by the slice, Grande Nacho Helmet and Chicken tenders.
What items got dumped? Zimmern's Korean Fried Chicken Sandwich. I like Andrew, but his stuff always seems like a 13-layer cake when pie will do. I'm still trying to wash out the grease of that pork belly thing he had a couple years back.
RIP Murray's Cheese Steak Sandwich, fried pickles and loaded pretzel bits — all mercy killings. A bit sad for the Pork Chop on a Stick, but only because it's Minnesota and a stick. Calzones seem inoffensive enough, but they are gone from the website.
I am mystified they killed the perfectly pleasant Pulled Pork sammy - between this, the rib tips and the Pork Chop, it's Hogmaggedon at Target Field — but Zimmern has something called the Sloppy Ko, so maybe we're getting the kimchee version, probably with artisan lard.
There's also some switching. Murray's has replaced steak with smoked beef, which let's face it is probably easier to eat. Red Cow Poutine is missing, but it's possibly rebranded as Buffalo Chicken Poutine. Burritos are now branded Barrio Burritos and cost $1.50 more. The $6.50 tacos are gone, limiting you to Barrio's $9 Carnitas or Chicken version.
So there you have it: the news the ELITE NEWS MEDIA won't tell you. Sometimes, it takes a jerk.
David Brauer used to be a paid journalist for MinnPost and City Pages
but now he tweets for free and podcasts for free at Britt &
Brauer.
This blog entry was originally posted on David Brauer. The mission of Twins Daily is to develop independent writers, so if you would like to try your hand at writing, you can start your own blog at Twins Daily. The best blog posts are promoted to the front page where thousands of Twins fans stop by every day. Or, if you already have an independent Twins blog, double-post your Twins story on your blog here with links back to your blog so our readers can find you.
Parker Hageman, Oldgoat_MN, Sconnie and 2 others like this